Chapter 36. Deal (2)
Translator: Aura
---
After Krasue received that unexpected blow, he completed the investigation with the servant of Crimson Garden, who had returned to her role as an investigator.
Krasue then left the head manor.
While he was rubbing his head, still tingling where he had been struck, a bird tapped its beak on the window of the carriage in which he had boarded.
It was a bright red bird with a black star on its neck.
When Krasue opened the window, the bird landed on his shoulder.
"Crim, doesn't that color stand out too much?"
As soon as he called it Crim, the bird pecked at his cheek.
This bird was another servant of Crimson Garden.
"Don't worry. I can change its color to whatever I want."
With that said, Crimson Garden changed the color of its feathers to black.
"How about it? I've made it match my unattractive disciple's hair color. Now it looks identical to a crow, exactly like you."
"Thank you for the compliment. Crows are clever."
'Should I roast this bird soon?'
Krasue thought about it seriously. He then asked,
"What about your main body?"
The fact that she sent a servant meant that her main body was elsewhere. At Krasue's question, she scratched her own feathers.
"You know about that too, right?"
"You treat me like I'm the damn regressor."
In fact, Krasue knew what state her body was in.
To be precise, she was an immortal in an eternal sleep. With her eyes closed, her body lay asleep somewhere in this world.
Unless her immortality was erased, she had no way to escape that sleep.
For her, eternal sleep was more terrible than death, which made her wish to wake up.
She could only see the real world through the eyes of her servants. For that reason, she was the Erosionist who had the largest number of them under her control.
'Related to that, her servants had shown battle power comparable to Arthur's.'
Despite this, all her servants were killed in the clash.
Based on that alone, wouldn't Crimson Garden's main body be stronger than Arthur?
'In the end, her body was cut into pieces and thrown into the lava. Of course, this time it will be different.'
At that moment, he felt the rattle of the carriage. It had finally set off.
'When my father returns I'll most likely have to come back here, but if it were up to me, I would never set foot in this place again. Until then, goodbye to this sickly manor.'
After about four hours in the carriage, Krasue finally arrived at the Green Pine Lodge. He had only been away for a few days, but he was happy to be back home.
Once the carriage stopped, Krasue saw a white-haired girl. He immediately thought of a white chick.
The chick was none other than Bianca.
When Krasue got out of the carriage, she stood in front of him and said,
"Welcome."
'Did she come to meet me because I'm her fiancé?'
Judging by the book she held tightly under her arm, she must have heard the carriage rattle while she was reading and hurriedly ran towards the entrance.
Bianca, still expressionless, took a quick lap around Krasue.
After she examined him up and down, Bianca nodded.
"I see you're not hurt."
"Did you expect me to get hurt?"
"I heard it was dangerous."
'Had she been worried about me?'
"You promised you would be back soon, but you were gone for several days."
"I did my best to get back here quickly."
Bianca nodded. However, it seemed like she didn't believe him.
For some reason, Krasue found Bianca's expression colder than usual.
"How was it, Young Master Krasue?"
Just then, Alioth appeared and bowed to Krasue.
"Good. Hasn't anything important happened these days that I've been away?"
"Except for a letter addressed to Young Master Krasue, nothing has happened."
"A letter?"
The moment Krasue seemed surprised, Alioth took out the letter as if he had anticipated this.
As soon as Krasue saw the letter, he knew who the sender was.
There was only one woman who would send a letter with a lip mark like this.
'Darling.'
Darling Danfellion, the future Lord of the Alchemy Castle.
'It hasn't been long since I was in the Holy Land of the Stars. I didn't expect her to contact me so quickly.'
Krasue opened the letter and took a look at the contents.
After a while, Krasue's expression turned to wonder.
'Is this what it means to be a nerd?'
She had managed to make a cure for the skin discoloration disease, so she would come to visit him in a few days.
It was incredible that she had made the cure in such a short time.
Krasue looked up at Alioth.
"This is good news for you."
Krasue said this because Alioth's daughter suffered from the skin discoloration disease, he then folded the letter neatly and put it in his pocket.
"Yes?"
"We will have a guest soon. Her name is Darling Danfellion. Let her in when she arrives."
"Yes, I understand."
Despite his curiosity about what Krasue had said, Alioth behaved professionally and bowed immediately.
This was another reason why Krasue wanted to keep him by his side.
At that moment, Krasue noticed that Bianca was still nearby, staring at him blankly.
"Young Master Krasue, Miss Bianca was very worried about you."
Alioth whispered to Krasue.
"Is that so?"
Since he returned to the past, he had become closer to Bianca.
Still, he couldn't believe she was worried about him. However, the next words made Krasue realize that his butler had not imagined it.
"When the news came that only you survived the erosion of the world, she wanted to leave for the head manor."
Despite her lack of emotions, she looked like she could still worry. Or maybe she did it as part of her role as a fiancée.
'Come to think of it, it's been quite a while since I checked the locked safe to steal Bianca's curse. At this point, shouldn't I be her friend?'
Krasue immediately activated 'Black Hood'.
Then a safe appeared in front of her.
When Krasue looked at the double lock, his eyes widened.
'The first bolt of the lock opened.'
That meant that he had finally met the first condition to steal her curse.
Krasue approached the expressionless Bianca.
He felt that the time he had spent with her had been worth it. He seemed to have become a kind of a friend to Bianca.
Now there was only one bolt left, so Bianca would soon recover her emotions.
For some reason, this made his mood improve. Krasue raised his hand and stroked Bianca's head.
Bianca then looked at Krasue with a puzzled expression. However, she remained still, as if she didn't care that he stroked her head.
"Bianca, did you have dinner?"
"Not yet."
Dinner was still a few hours away, but his stomach was empty.
"Alioth, please prepare a delicious meal."
"Yes, sir."
As he watched Alioth head off to carry out his order, Crimson Garden, who possessed the crow-like creature, flew out of the carriage through the window and landed on Krasue's shoulder.
Bianca's eyes widened slightly at the sight of it.
"Oh, I forgot to introduce it. This bird is a family member."
Krasue caught the sparkle in Bianca's eyes, so he leaned over so she could see the bird better.
Bianca carefully raised her little hand and stroked its feathers.
"… It's soft."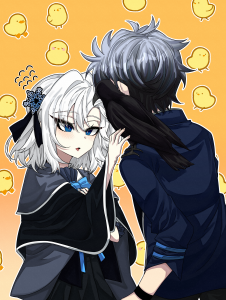 Crimson Garden stayed still as Bianca had done, as if she liked her caresses.
"What is its name?"
Bianca liked animals. She didn't even ask why he had brought a crow with him.
When Bianca asked about its name, Krashu's mouth curved into a mischievous smile.
"Crim."
As expected, Crimson Garden pecked at him once more.
---
Do you want to support us? Rate this novel here
Illustrations in our Discord. https://discord.gg/hZ8SZxmZa7