Chapter 40. Darling's Plan (2)
Translator: Aura
---
— But that's just talking about your pure talent.
If Crimson Garden had only considered Krasue's talent, she would never have accepted him as her disciple.
— With me by your side, it doesn't matter that you were born without any talent. As long as you covet it, you will snatch the talent you were not blessed with.
Crimson Garden slowly flew into the sky.
She flapped her wings incessantly. It seemed like her rise would never stop.
— You will no longer live crawling on the ground, I will make you fly. You just have to flap your wings vigorously. In the end everything will be beneath you.
Crimson Garden spread her wings in such a way that even the moon above the sky was hidden.
— Devour even my immortality.
Those were Crimson Garden's words on the first day at the Green Pine Lodge.
Krasue realized it was a vow of some kind. A vow made to her disciple…
Undoubtedly, the elixir that Crimson Garden wanted to make would be very helpful. Krasue had no reason to object in his current position.
"Darling, there is something else I want to ask of you."
"You have too many requests. I am an expensive woman. I don't serve just anybody."
Krasue ignored Darling's joke.
"I want you to make an elixir."
As soon as she heard the word 'elixir', she tilted her head and let out a small laugh.
"Do you want to take an elixir to become stronger? Did it make you feel pressured to hear that Anix is training harder?"
"I don't care about Anix. I have more important things to worry about."
Compared to what would happen in the distant future, Anix was insignificant.
"I need it to be able to move forward with a firm step."
Darling stared at Krause for a moment. She didn't know much about him.
He appeared out of nowhere, offered to help in her research to remove curses, and asked her for a cure for a terminal illness.
The rumor that she was a genius had spread in the Holy Land of the Stars from the moment she set foot there, so his request was understandable.
However, most teenagers who were called geniuses lost that label as time went by. There were too many young geniuses in history who in the end were just ordinary people.
For that reason, there was no one who blindly believed in her, except for Krasue.
He never doubted that she was a true genius.
'How can you be so sure? He's only a thirteen-year-old kid, but I feel like I'm in front of someone who has the whole world under his control.'
This sparked a strange interest in Darling.
Although at first she was only attracted to his tenacity as a direct descendant of Valheim, which was the complete opposite of the talented Charlotte, she slowly began to take a deeper interest in Krasue himself.
"An elixir can be extremely expensive depending on the ingredients. Are you sure you can afford it, kid?"
"What do you take the Valheim Family for?"
"The Valheim Family can afford it without problems, but you know what your position is within it."
"Don't worry. I have several ideas to solve it."
For him, it was not a difficult task to get money.
Although he had not heard about the rumors from outside while he was in the Green Pine Lodge, it was inevitable that he would find out about the rumors spread within the Valheim estate.
Krasue was aware of several important events that would take place in Valheim. These would bring with them enormous amounts of money.
"Since you are so sure, I will take your word for it. So what elixir do you want to make?"
"That…"
When Krasue looked toward the window, Crimson Garden spoke in his mind.
[Convey to her exactly what I will tell you next…]
Krasue passed on to Darling what Crimson Garden was saying.
Darling's face slowly stiffened as she listened intently.
The formula for the elixir that Krasue had just said would never have crossed her mind.
"Uh…"
She mulled over the formula in her head with a blank expression.
Krasue, who was unfamiliar with alchemy, looked up at Crimson Garden with a face of, 'what the hell did you say?'
However, Crimson Garden just smiled broadly.
"Wow, kid, how do you know this?"
"…It's a Valheim Family formula."
Krasue made it up, without looking her in the eye.
"I see. Valheim really has it all."
'She bought it.'
Fortunately, Darling was convinced. Then he asked,
"… Can you try to do it?"
Darling's eyes sparkled.
"I would like to take on this challenge, but there are some ingredients that are difficult to obtain even with money. Specifically, Red Snow Fungus and Golden Dragon Herb."
"Doesn't the Red Snow Fungus grow in Hardenhartz?"
"Yes, it's in the mountains there. There are few who collect it since those mountains are very rugged and there is a lot of erosion of the world."
"I can get it."
Darling remembered his fiancée as soon as she heard this.
"Oh, sure. It's certainly possible for you."
However, there was another ingredient that would be more difficult to obtain. She asked,
"Do you know about the Golden Dragon Herb?"
"It's an item of the empire."
"That's right, its distribution is directly controlled by the empire. It is not possible to buy it. Maybe you could get it on the black market, but you'll be in trouble if the empire catches you behind it."
"Still, there's no other way."
As Krasue thought about searching the black market, Darling raised a finger and pressed it to his cheek.
When he looked at her with an annoyed expression, she smiled widely.
"There is a way a child like you can easily obtain a Golden Dragon Herb."
"What way?"
"Two martial arts tournaments will soon be held in the empire. One is for adults and the other for youth under fifteen years of age. Actually the empire's interest is in the second martial arts tournament. It even has better prizes."
Krasue understood it immediately.
"… Do you want me to participate?"
"As long as you are in the top three, you will receive the Golden Dragon Herb. What do you think? It's worth it, right?"
'Not worth it.'
Krasue knew well why the empire would hold this tournament.
The purpose was simple. To increase the number of talents that will enter the Rachellene Academy as part of them.
Although Rachellene Academy was on paper a place of union between the four kingdoms and the empire, the reality was that the struggle for political power would prevail.
The country that had more talents in the academy, the greater influence it would have.
For that reason, the empire's intention was to support brilliant teenagers through the tournament in order to ensure its authority at Rachellene Academy.
The empire lived up to its name. The tournament had been announced with such fanfare that it was even a topic of conversation in neighboring countries.
"… Have you forgotten it? I'm from Valheim. If I participate in the Empire Martial Arts Tournament, I will get into trouble."
"I know perfectly. Still, the empire announced that anyone can participate."
"Silly, that's a mere formality."
"Hmm, didn't you say a moment ago that I was a genius?"
Krasue let out a heavy sigh with his head wrapped in his hands.
She was just trying to help him. Krasue knew it wasn't right to get upset with her, so he stared at her,
"The fact that you made this suggestion means that you have a plan."
Darling's eyes sparkled again.
"Hehehe, you're a very insightful kid."
Krasue felt uncomfortable as she laughed evilly.
Apart from the risky black market, he saw no other way to obtain the Golden Dragon Herb, so he waited in silence.
A moment later, Darling took out a potion.
"Become a woman…!"
Crack!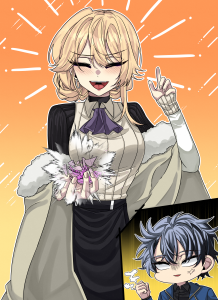 Krasue immediately shattered the potion with one punch.
He did not intend to satisfy her tastes.
"What's next?"
While Krasue had a sullen expression, Darling with a smile wiped the remains of the potion on her hand with a handkerchief.
---
Posted only on NovelUtopia.com
The next illustrations will be posted in our discord. https://discord.gg/hZ8SZxmZa7