Chapter 9. His Fiancée Misunderstood Him (1)
Translator: Aura
---
The youngest daughter of the Hardenhartz Family, ruler of the north.
Bianca Hardenhartz.
Her face was the coldest and most expressionless in the north, for which she earned the nickname of the Snow Princess.
Even so, it was said that she had such a pretty appearance that she would definitely become a very beautiful woman in the future.
So how could she be his fiancée? The reason was actually quite simple, both were perfect for an arranged marriage.
It was beneficial to the Hardenhartz Family because they would have a closer bond with Valheim, while it was beneficial to the Valheim Family because they could make use of a good-for-nothing.
However, the real problem with her was not related to an expected arranged marriage.
In his past life, she sided with the erosion of the world. She wanted to destroy the world.
White Demoness.
A nickname that she had earned after she killed one of the Ten Great Powers of the World.
"Let her in."
She had come a long journey from the north to meet her fiancé, he couldn't just not receive her.
Above all, Krasue needed her at this time.
"As you command, my lord."
Alioth left as soon as he heard Krasue's order.
Krasue looked at himself in the study mirror.
'I look like a mess. I should at least change my clothes.'
With that in mind, Krasue headed to his room before he went to meet his fiancée.
***
Bianca Hardenhartz had short, pure white hair.
True to her nickname of Snow Princess, her skin was as white as a lily, and her eyes dark blue as moonlit night.
Her fingernails were curiously etched with snow crystals. Those symbols were from a curse.
Before she was born, her mother faced the erosion of the world.
She was cursed in the process, and in the end the curse was passed on to the baby in her womb.
The curse turned her into a snow doll, unable to feel emotions.
Not even the best disenchanter could break this curse. It could be that her soul was also bound since it was a curse she had from birth.
She had lived her first twelve years without crying, much less laughing.
Her face, which looked even colder due to the color of her skin and hair, would captivate all men in the future, except for that blankness.
But such an appearance didn't mean much since the deities didn't make contracts with bodies stained by curses from the erosion of the world.
As a result, she had lived marginalized in Hardenhartz.
Her lack of emotions made it hard for her to socialize, and her own siblings didn't like her. They saw her as a cursed child who killed their mother at birth.
Unable to make a contract with a deity, she also had no value to her family.
So she was assigned without hesitation to an arranged marriage.
The reason for her visit to the Green Pine Lodge today was to see Krasue Valheim, her fiancé.
The Valheim Family was famous for its military might in the Staron Kingdom.
The mere existence of this family, from which true monsters came out, was enough for even the Empire to dare not touch the Staron Kingdom.
For Hardenhartz, Bianca's engagement to the youngest son of this renowned family was too beneficial.
While Hardenhartz was the current ruler of the north, the reality was that they faced other forces that could eventually displace them from power.
Today was the second time that she met her fiancé.
Still, she had no interest in him.
In her memories, Krasue was nothing more than a loser who had given up everything.
— Get out of my sight. Don't pretend to be my fiancée when all you and your family care about is the power of Valheim.
If she had to say so, Krasue fell into the category of those she disliked.
He spoke rudely and had a negative outlook on life.
While Bianca had no emotions, she did have likes and dislikes.
So Bianca would have preferred not to come here this time, either.
She was sure Krasue would pick on her again.
Clomp Clomp…
At that moment, footsteps began to be heard outside.
Bianca, who assumed the footsteps belonged to Krasue, adjusted her dress.
Perhaps because of her lack of emotions, she matured quickly enough to accept her reality even though she was twelve years old.
She was prepared to be humiliated.
Crrreeeaak…
Bianca raised her head as she heard the door open.
Then she saw Krasue enter.
His hair was a mix of blue and black, and his eyes were blue, similar to hers.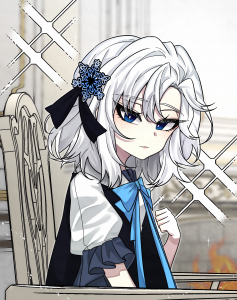 He had a well-trained body and a youthful face like a thirteen-year-old's, except for his fierce eyes.
"Bianca."
"It's nice to see you."
Bianca immediately greeted him politely. Krasue, who stared at her for a moment, came over and sat across from her.
Then he looked at her cup of tea, from which she hadn't taken a sip, and said.
"It's a lack of common sense on the part of our maid to serve you hot tea with your sensitive tongue."
As Krasue smiled bitterly, Bianca was startled.
'How had he found out that I can't consume anything hot?'
Beyond that, Bianca felt that something had changed in Krasue.
She didn't know how to explain it, he transmitted harmony.
"I'll let the maid know."
With that said, Krasue opened the box of assorted cookies.
Then, he placed macadamia nut cookies on Bianca's plate as if it were obvious.
Macadamia nut cookies were Bianca's favorite.
As she watched a little stunned at Krasue's behavior as natural as flowing water, he put some chocolate chip cookies on his own plate and said,
"The long journey you took to come here must have been exhausting."
"You are my fiancé, so I must get familiar with your face."
"Really? From the way you talk, it sounds like I'm your superior, not your fiancé."
Krasue smiled slightly. His fierce eyes softened a little.
At this sight, Bianca tilted her head a little.
"May I ask you a question, Lord Krasue?"
Krasue nodded at Bianca, who was speaking in a way that was not typical for a twelve-year-old girl.
"Did something happen to you?"
Just five months ago, Krasue acted like he didn't even want to see her face. He had completely changed since then.
He hadn't been so kind and attentive.
---
Posted only on NovelUtopia.com
The next illustrations will be posted in our discord. https://discord.gg/hZ8SZxmZa7