Remarried Empress – Chapter 175. Contrast (2)
Translator: Aura / Editor: vy
---
He was blatantly condemning Heinley for personally bringing me over. Even though he seemed to know that I had already become the Queen, his words held no hesitation as he referred to me merely as 'one woman'.
"Sir Yunim!" McKenna exclaimed in anger, but Heinley calmly warned him with a smile on his face.
"My, I have a man here in front of me who appears willing to risk his life just to say a few words."
At the remark, the expression of the knight 'Sir Yunim' became rigid. He immediately apologized for being inconsiderate.
"I have been rude. I am Yunim, Captain of the Royal Guard."
However, he stubbornly added some malicious words.
"My Master was in danger while escorting Lady Navier, so I forgot to mind my tone. I apologize."
"Sir Yunim, just as I am your master, so is Lady Navier. Mind your manners."
When Heinley warned him directly, he reluctantly relaxed his gaze, stepped back and apologized. As Heinley tried to take me to the queen's room after repeated warnings, he stepped forward again and said,
"My apologies, Your Majesty. The queen's room cannot be used until the wedding."
Heinley seemed to be on the verge of the explosion after hearing this. His smile had completely disappeared, and the atmosphere suddenly became dark.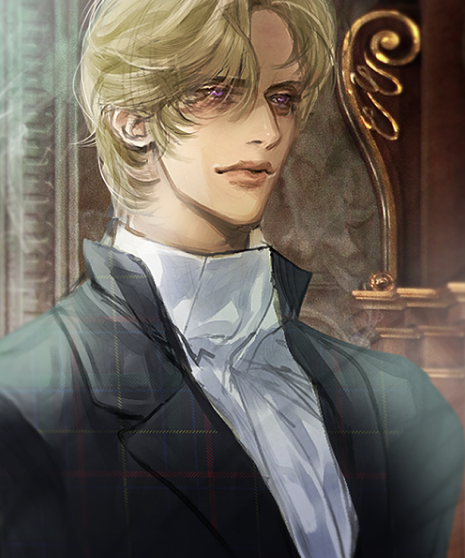 Even when we met, I thought he looked sharp when he had an inexpressive face, but…
The expression on his face was completely different now, it was frightening.
Feeling my gaze, Heinley smiled again, but it was different from the smile he showed me in the carriage.
However, now was not the time to observe Heinley's expression.
After recovering slightly from my shock, I quickly grabbed Heinley's arm.
'Don't step forward.'
Heinley's arm muscles flinched in surprise from the grip. But he didn't say a word, most likely realizing my intentions.
It was seemingly difficult to contain himself, his jaw was still tense.
I smiled to look natural and repeatedly touched his arm with my thumb as a sign that he had done well.
This was not a matter for which Heinley should act.
The knight was not angry because I had been a foreign empress, but because Heinley was detained in the Eastern Empire while trying to bring me here.
Looking at the atmosphere since I arrived, the people of the Western Kingdom still seemed to regard me as 'The Empress of the Eastern Empire' rather than 'The Queen of the Western Kingdom'.
I am sure this man thinks so too.
In such a situation, Heinley shouldn't continue to take my side, and punish a subordinate who spoke frankly even at the risk of being reprimanded by him. Long term, this would not be good for me at all.
Besides, the knight was acting as he thought was right, willing to suffer his master's wrath.
Such a man is not one to submit to power; with this kind of person one must earn their recognition and trust.
Yes, to get a proper place here, I will have to earn the recognition of those people on my own.
I smiled deliberately and spoke in a soft voice.
"If those are the rules here, then I must follow them."
Sir Yunim hesitated for a moment, as if he thought it was strange that I didn't get angry. He apologized without giving up his suspicious expression.
"My apologies."
I then asked him with the 'benevolent but dignified smile' that I had practiced hundreds of thousands of times during my days as Crown Princess.
"So, is the room where I will stay in ready?"
I don't know if he had it all figured out, but he responded immediately.
"You can stay in one of the rooms for distinguished guests."
I immediately shook my head, following his logic.
"You said I can't use the queen's room until the wedding? But we've already exchanged our wedding vows, my status is definitely queen. For that very reason I cannot agree to stay in a guest room."
"!"
Sir Yunim frowned, puzzled by my change in attitude. I continued to look at him with the same smiling expression.
It is true that I had to earn his recognition and trust, but I also had to be respected. I had to make it clear how much I was willing to give in.
"Uh, uh…"
McKenna was staring blankly at the confrontation between me and Sir Yunim. When I looked at him, he spat out something incomprehensible. He looked over at Heinley and said,
"Well, then, um… Why don't you share your room? No, I don't mean using the same room, Your Majesty has another room downstairs…"
But before McKenna finished speaking, footsteps were heard coming from the hallway.
McKenna stopped talking.
I turned my head toward the sound, and saw a lady in a blue dress approaching us.
Surprisingly, when she appeared, Sir Yunim's expression softened a bit. On the contrary, McKenna seemed uncomfortable.
'Who is she?'
While I was pondering, the lady came over to greet me.
"Greetings, Lady Navier. I am Christa, Queen of Wharton III."
(T/N: Wharton III was Heinley's brother.)
She smiled sweetly at me and suggested,
"I came to greet you and heard part of the conversation. You seem to be having problems with your temporary residence, so if you don't mind, why don't you stay in the queen's detached palace?"
It was the best suggestion I had heard so far.
Heinley frowned in dissatisfaction, but I accepted.
After expressing my appreciation, she took the initiative and told me to follow her.
Heinley tried to follow me, but this time I must go alone. I waved my hand in denial and followed.
However, I was really disconcerted inside. I never expected the former queen would still be in the royal palace.
The late Empress of the Eastern Empire deliberately took her aides with her from the imperial palace when Sovieshu and I ascended the throne. If she had stayed, it would have been difficult for me to establish myself in the imperial palace.
Having studied the system of succession in the Western Kingdom, I assumed that the former queen of the West would be in the Compshire Mansion.
Although I thought we would meet someday, I did not expect that she would be staying here.
It wasn't simply because it was uncomfortable to be together.
Because Heinley didn't get married right away, she probably continued to take care of the duties within the royal palace, even after she stopped being the queen.
The palace employees must be those she hired when she was queen.
Who would they obey if she stayed here? Of course it would be her.
Whether Christa is a good person or not—no, if she is a good person, it would be even harder to make a place for myself here.
It is a big problem.
As I worried, Christa, who was walking beside me, asked me in a low voice,
"Is the rumor true?"
"What rumor?"
"I heard that as soon as you were divorced, you married His Majesty."
"…That's right."
"Oh, my God."
At my frank answer, she smiled, covering her mouth.
It was a friendly, but dignified smile.
But her smile faded and she was suddenly silent with a grim expression.
She looked very sad.
"Christa? Are you all right?"
When I asked her worriedly, Christa looked at me with a confused expression.
"What do you mean?"
"…"
Strangely enough, she seemed to have no idea what she had done.
"Nothing. Nothing."
Is it because of her late husband?
Instead of saying that her expression was very grim a while ago, I simply smiled.
It was then.
One of the courtiers, who was passing by, greeted Christa naturally, saying, "I'm glad to see you, Your Majesty!"
I don't know if the courtier had noticed me, but he called Christa 'Queen' in front of me with a very calm attitude.
Christa was surprised and corrected his words.
"Queen? Didn't I say you shouldn't call me that now?"
"Your Majesty, I am pleased to see you."
But the courtier responded with a bright smile.
"Your Majesty has continued to play the role of queen. The new queen is a foreigner and loves her country very much. Would she be willing to give everything for ours? For us, you are the only queen."
Comments for chapter "Chapter 175"
NOVEL DISCUSSION