Remarried Empress – Chapter 176.
Translator: Aura / Editor: vy
---
At the daring remark, Christa glanced at me, puzzled.
If she were to correct him again, it would look like she was scolding him, so she was trying to make him realize who I was… Unfortunately, the courtier didn't realize it.
Not understanding anything, the courtier continued to 'praise the real queen.' Christa looked at me desperately this time.
She seemed to want me to step forward and tell him the truth.
I felt sorry for Christa… but I didn't step forward.
Instead, I looked at the courtier in silence. This was what I worried about before. Two queens with little age difference in between them.
The royal palace, where a natural transition of power did not take place and therefore there were technically two queens.
I wanted to see the courtier's honest attitude about this.
One was no longer the official queen, as of a year ago, but continued to play the role of the queen. Her friends, family and supporters were all here. Most of the courtiers must have also been hired by her.
In contrast, the other became the queen, but she was a foreigner, and her family, friends and supporters were all in another country. She had no relationship with the courtiers of the Western Kingdom.
It was obvious which queen the courtiers sympathized with, but I wanted to confirm this with my own eyes.
After that, we met more courtiers and similar situations continued to happen, but I stood still until the very end.
"Um… I hope that didn't affect you too much."
As we reached the detached palace, Christa spoke to me carefully, as if she were worried.
She had a sad smile on her pale mouth.
"They're just used to me, they're good people. They feel sorry for my current situation, but I'm sure they will soon follow you."
"I see…"
I answered a little slowly, as to not sound too dry.
However, I did not agree with her at all. Most of the courtiers we met on the way so far praised Christa, calling her 'Queen.'
Meanwhile, they said that I am a foreigner, a cunning woman who remarried as soon as she divorced her husband, and arrogant since I came from the Eastern Empire.
What else did they think of me?
Some of the courtiers who had seen me get out of the carriage approached Christa with a smile, and when they saw me standing next to her, they closed their mouths in horror…
'If I were not present, they would have said the same things as everyone else.'
They are obviously behaving for Christa.
They're good people who are there for her even if she was no longer queen.
But would they good people for me too?
"…"
"Lady Navier?"
But to tell you the truth, I didn't mention it because it reminded me too much of when Rashta came into our lives…
Of course, the situation between Christa and me was different. She was Heinley's sister-in-law, not his wife.
However, it seemed similar in the sense that she was being shaken out of her position by a newcomer.
Christa was relieved when I looked into her eyes and smiled at her. When we arrived at the detached palace, she stepped forward slightly and opened the door.
"It's here."
I tried hard to hide my troubled mind and followed her inside.
Christa spoke with a proud voice.
"It's beautiful, isn't it?"
"…Yes."
The detached palace was indeed beautiful.
Sunlight dimly illuminated the foyer. Even the furniture, which seemed to be laid out in an unorganized way, had a vintage feel to it.
Although, I was a bit puzzled, as it looked very much like the Crystal House of the Eastern Empire.
'I had heard from the former empress that many buildings in foreign countries were modeled after the Crystal House. Perhaps this was one of those…'
But if I mention it, I could be seen as someone arrogant from the Eastern Empire.
So I didn't talk about it, I simply reflected and repeated that it was beautiful.
However, even after showing me the entire interior, Christa was hesitant to leave. As soon as I wondered why, she carefully opened her mouth with her hands intertwined.
"You may not want to talk about this, but… I feel like I have to. Um… Lady Navier. I have a favor to ask you."
"What favor?"
"The people employed here, the courtiers, are far from retirement age."
"?"
"They are the people I hired."
Sighing, Christa looked at me with deer eyes and continued,
"As I said before, they are good people. Lady Navier, they can be of great help to you, they are diligent and honest workers."
"…"
"If you don't mind, I'd like you not to change any of the courtiers."
I tried to keep my expression as neutral as possible, but it was difficult.
I could understand how she felt asking for this favor. When royal authority is replaced, there are mass changes in personnel. She would be sorry if they were fired because of her.
However, it was not an easy request to accept. Courtiers are people who live next door to one another within the royal palace, but aren't they all Christa's supporters right now?
Translated by NovelUtopia.com
Even when I had my own people in the imperial palace, Rashta always knew about my actions.
But living in a palace full of people who are not on my side?
Instead of establishing myself as a queen, it was obvious that every movement would cause gossip, as it did on the way here.
But her concerns were not incomprehensible, so I thought for a moment and then came to an appropriate conclusion.
"I will leave those who work in places where there is no contact with me."
"Where there is no contact…?"
"It's hard to leave those who work in places where they might meet me. Even if I don't fire them, I will have to change their place of work."
Christa's expression darkened.
The people who worked in the places the queen frequented were certainly the ones closest to her.
She seemed to feel bad about that.
However, instead of asking me again, Christa nodded with a smile, "I see."
"It seems I asked for too much. I apologize."
* * *
"Your Majesty the Queen! How did it go with the Empress of the Eastern Empire?"
When Christa returned to her room, the ladies-in-waiting approached her and asked about Queen Navier.
They were the ladies-in-waiting that Christa had been with since she became queen, they were her friends and sisters.
Christa shook her head with a bitter smile.
"She's already keeping an eye on me."
"Oh no, what happened?"
"It was inevitable. She heard the courtiers call me Queen while she was by my side."
"By your side? Why did the courtiers do that when she was there?"
"She didn't introduce herself, she just stared without saying a word…"
At Christa's words, the ladies-in-waiting clicked their tongues.
"I've heard that she's very clever. I guess she's already choosing who she's going to expel."
Christa sighed and sat down in her chair.
"Queen, you must not let yourself be pressured now."
"You have to be the first to act!"
The ladies-in-waiting, who had been by her side since she reached the highest position, grumbled angrily, but Christa shook her head and muttered,
"I'm not the queen anymore, how could I compete for power?"
Christa smiled sadly.
She would have felt a little better if some young lady from a noble family in the Western Kingdom had become the queen.
Translated by NovelUtopia.com
She was now someone who was in a position no different than Navier was a few days ago. When she heard this rumor she had sympathized with Navier.
'It was a strange and unpleasant feeling that she should take my place to get out of her pitiful situation. Besides, as someone who remarried…'
"She took the queen's position as soon as she was kicked out of the empress's position."
"There is no reason why you cannot be the queen!"
"Can't you also remarry another king, Lady Christa?"
The ladies-in-waiting offered words of comfort, but these had little effect.
* * *
Although Navier and Christa understood each other's situation, both were in an awkward position where they could not back down.
After gathering his officials and courtiers, Heinley admitted that he was imprudent in going to the Eastern Empire alone.
However, he emphasized that he did so by choice, not because Navier had called him.
"She is the woman I have always adored and admired. I respect her extraordinary ability as an empress, and I brought her here with that in mind. But as soon as she arrived, you regard her as some kind of unicorn?"
The officials and courtiers who went out to see the remarried empress arrive coughed and looked down.
It was surprising that the empress, of whom they had only heard rumors of, remarried with their playboy king, so they were a little curious.
There were no objections to this.
"The Empress of the Eastern Empire suddenly appeared as the queen, nothing was ever mentioned about it. people still consider Christa to be the queen, and of course it's not easy to treat the empress of another country as the queen immediately."
Only Marquis Ketron, a cousin of former Queen Christa, refuted, but he had to keep his mouth shut when Heinley spoke while pointing a finger to his chest.
"In that case, I will take care of those who cannot treat her as the queen, be it you or anyone else who thinks the same way."
***
After Christa left, I sat alone at the table, thoughtful.
Suddenly, there was a knock on the window.
When I approached the window and opened it, Heinley was standing there with a bouquet of jewels.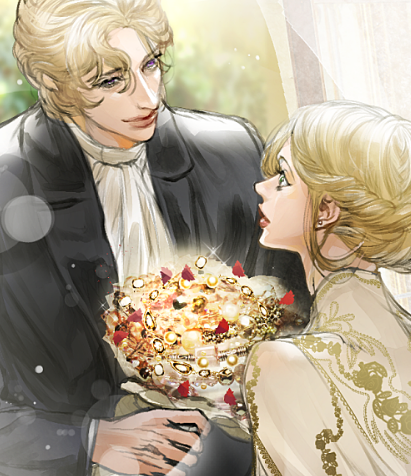 Comments for chapter "Chapter 176"
NOVEL DISCUSSION