Remarried Empress – Chapter 178. Same Strategy (1)
Translator: Aura / Editor: vy
---
"What else could we do? I'll do it myself."
"I knew you would say that, but…"
Heinley's answer made McKenna's words blur at the end.
"But?"
"Even if Your Majesty made the preparations, it would be the same."
McKenna sighed.
"If you prepare a big wedding, everyone will say it's extravagant because you're blinded by love—"
"I will self-proclaim emperor."
McKenna froze for a moment, then said with difficulty, "Say it again—"
He opened his eyes expectantly. He was thinking he had heard wrong.
"On the wedding day, I will self-proclaim emperor."
When Heinley repeated his words, McKenna covered his mouth with one hand and his eyes opened wide.
Only then did he understand correctly.
"Then…!"
"No matter how grand the wedding, no one will ever consider it extravagant."
"My… My heart. My heart is beating so fast."
McKenna muttered in astonishment.
It was a little early, but it was still a choice with more advantages than disadvantages.
Navier would become the first Empress of the Western Empire, which would renew the image of her quick marriage.
The hostility towards Navier, because she was a foreigner, would be overshadowed by the glory of the title.
But unlike McKenna, who agreed with this, Heinley had a heavy expression when he spoke of self-proclaiming emperor.
"Your Majesty?"
McKenna called Heinley concerned.
"If you don't want to self-proclaim emperor, then what could you…?"
Heinley shook his head.
"I have to do it."
But even as he spoke, he had a cold face.
Actually, he was thinking about his older brother.
The Western Kingdom was not a country that distributed land to nobles. The number of nobles with military merit was also limited.
The reason why the Western Kingdom could gather an army comparable to that of the Eastern Empire was because the royal family possessed unparalleled wealth and the king commanded the army. These two factors, their vast wealth and concentrated military power, made the royal authority of the kingdom naturally strong.
However, under the reign of Heinley's older brother, Wharton III, the royal authority weakened somewhat.
King Wharton III was a weak man by nature, spending most of his time ill.
As a result, at times he couldn't help but think that the best thing would have been to stay by his brother's side during those times.
Of course, that would have only made the awful rumors of poisoning stronger.
Heinley sighed.
Fortunately, although the royal authority was weaker than it had been in his father's time, it was still strong enough.
Reducing the number of mages on the other side did not mean an increase in the number of mages on this side, so a good army still had to be maintained…
"Ah!"
"What?"
"McKenna. What about the student from the magic academy?"
"The student named Evely? The one Your Majesty asked me to return the mana to?"
"Yes. How is she now?"
"Well, it takes a long time to take away the mana, but it takes even longer to give it back."
"I understand."
Heinley nodded. Then he looked at the papers to really concentrate on the work.
Hesitantly, McKenna asked.
"Your Majesty, do we really have to give the mana back?"
He seemed a little dissatisfied.
"Of course."
At Heinley's immediate response, the dissatisfaction on his face grew stronger.
McKenna said bluntly, frowning.
"It costs too much. Too much. Besides, she's from the Eastern Empire, if she gets her mana back, it'll be going back to the Eastern Empire."
"It's only one person. Just do it."
"…"
***
Meanwhile, Sovieshu moved anxiously around the room, waiting for news of Navier.
However, no matter how long he waited, no news came.
"Your Majesty…"
Rashta looked uneasily at Sovieshu.
He came for prenatal education, but his mind seemed to be elsewhere. Instead of being happy about his divorce, he was anxious about finding the deposed empress with a heavy look on his face all the time.
Even now, he seemed to be overlooking the promise to make her the Empress.
'I'm glad that the deposed empress has gone to the Western Kingdom.'
If Navier had stayed in the Eastern Empire with Sovieshu in this state, she would have been so worried that she could not even sleep.
"Your Majesty, people murmur that the deposed empress left as if she were fleeing."
Rashta could not help but say something to comfort Sovieshu.
"You do not have to worry; her reputation has been damaged a lot. Everyone is on Your Majesty's side."
Did it work?
Sovieshu stopped wandering, looked at Rashta for a moment and spoke,
"Rashta."
Rashta quickly approached Sovieshu and looked at him tenderly.
"Tell me, Your Majesty."
"… Who told you that?"
"Duke Elgy told me."
Upon hearing Duke Elgy's name, Sovieshu's expression was distorted.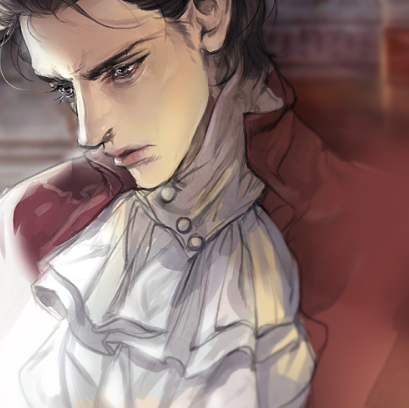 Sovieshu was convinced that it was Duke Elgy who helped Navier escape.
Duke Elgy was also a member of a foreign royal family, so Sovieshu could not say much, but he was completely angry.
In an effort not to show his anger, Sovieshu tried to avoid raising his voice at Rashta.
"Don't meet with Duke Elgy anymore."
"What? Why?"
"He's not the kind of person you think he is."
Rashta did not know that Sovieshu had sent Duke Elgy to the Troby Mansion to take Heinley away.
She thought Sovieshu was jealous of the Duke. Now, without the Empress Navier, she was the only one who could be called Sovieshu's woman.
"You have nothing to worry about, Your Majesty. It is Your Majesty that Rashta loves."
"What?"
"Duke Elgy is just a friend…"
Sovieshu looked at Rashta, wondering what she was talking about.
Rashta smiled with a shallow expression.
Sovieshu realized that Rashta had misunderstood him, but he just nodded and sat down on the couch next to her, not wanting to embarrass her with a correction.
"I came here for prenatal education, but we only talked about heavy things. So, shall we start?"
***
At the same time of the night.
After receiving a letter with the king's seal from McKenna, Sir Yunim, captain of Heinley's royal guard, did not return to his temporary residence, but to his home.
"It has been a long time since you last came, hasn't it?"
Rose, Yunim's sister, greeted him sleepily. After yawning, she instructed her maid to bring some food.
"Here, take it."
Yunim took off his heavy coat and gave Rose the letter with the king's seal.
"What is this?"
Rose yawned again and opened the letter given by Yunim.
"It is a king's command for my sister to be the new queen's temporary lady-in-waiting."
"Me?"
Comments for chapter "Chapter 178"
NOVEL DISCUSSION