Remarried Empress – Chapter 181. What Heinley Wanted to Do (2)
Translator: Aura / Editor: vy
---
It was just like yesterday.
When I opened the window, Heinley was standing there.
The only difference was that today, instead of a bouquet of jewels, he was holding a lunchbox with an ivory-colored gold leaf.
"Heinley, is that…?"
"Queen, can we eat together?"
"Miss Rose is not back yet."
Heinley smiled, tapping the lunchbox he was holding.
"It's for both of us to eat."
This reminded me of a time in my childhood when Sovieshu would bring me cookies.
I was disconsolate for a moment, but I quickly stopped thinking about it and accepted with a smile.
Heinley jumped through the window immediately. Again.
When I raised my eyebrows, it was too late, but…
'I should change that habit of his, right?'
I will scold him when we are a little more comfortable with each other. With this promise in mind, I sat face to face with Heinley at the table.
Heinley put the lunchbox down, removed the lid and asked,
"How was your day?"
"I met a journalist."
"Journalist? Ah. There are three of them hanging around."
Of course, Heinley seemed to know who they were, his eyes curling strangely.
"Which one did you meet?"
"He had navy blue hair, tied up in a ponytail…"
"Oh, I know who he is."
I told him the questions he asked and the answers I gave.
"Although you omitted many things, that's true."
"Even now I still think… I will always be grateful to you."
"Queen, I've always told you. It was I who wished to have you as my Queen."
When he finished speaking, his hand moved forward slowly, like a snail. He reached his hand to my side of the table and stopped.
Was he asking me to take his hand?
When I looked down awkwardly and put my hand over his, Heinley quickly grabbed my hand like a carnivorous plant waiting for its prey and asked me,
"What did you think of Miss Rose?"
"A carnivorous plant…"
"What? Is she that bad?"
"Pardon? Oh, no. She's smart."
Heinley asked another question, tilting his head, not realizing that when I said 'carnivorous plant,' I meant his hand.
"Any other lady-in-waitings you want besides Miss Rose?"
"I'll have to think about it carefully."
As I answered, I slid my hand out of his.
During the days of being a crown princess, I would naturally know who to keep by my side and who to keep away.
Even if I were not the crown princess, as long as I was from the Western Kingdom, I would first take women with good reputations or those who were close to me as lady-in-waitings.
However, I was in neither position, so choosing a lady-in-waiting was no easy task.
Heinley mumbled, "I understand," as he gazed regretfully at my hand, which I removed from his.
The sadness in his eyes was evident, and I put my hands together and smiled awkwardly.
It is often like this when I am with him. It is awkward, but at the same time comfortable and tickling.
However, I was also worried.
If we had a wedding, we would have to have our wedding night.
It's already so awkward…
I was worried before the wedding night came, about what would happen on the wedding night, and seeing his face afterwards.
Even then… would we still be able to see each other as colleagues?
Thinking about the wedding night, I feel like a kitten is licking my heart with its rough tongue, I felt even more awkward…
This feeling was strange, so I deliberately looked at the lunchbox and complimented the person who had prepared the food, even though I didn't know who it was.
"I did it myself."
However, the response I received was totally unexpected.
"Really?"
I asked him in surprise because it was something I would never have thought of. Heinley nodded and whispered,
"Queen, can I ask you a favor?"
"Favor?"
"We are a couple now."
"… That's right."
Why did he suddenly mention it?
As I looked at him anxiously, Heinley said in a low voice.
"There's something I want to do."
I held my breath at Heinley's words and looked around.
There is something he wants to do now that we are a couple… What did he mean?
I was perplexed, I didn't know what he was thinking when asking a question like that.
No, I actually had an idea.
Kiss… Could it be a kiss?
Maybe he wants more intense physical contact.
I was inexplicably nervous.
I looked at him awkwardly, with my hands intertwined.
How did I kiss Sovieshu? I do not know. Since my childhood, everything had progressed so naturally…
Should I refuse or should I accept?
When I looked at his lips, they looked very pure and seductive.
'Well, we are a couple, so we can't live without kissing.'
After a brief consideration, I decided to accept his kiss.
So I prepared myself mentally, pretended to be calm and allowed him to do so.
"You can do it."
It was definitely not because of Heinley's beautiful lips that I allowed him to kiss me.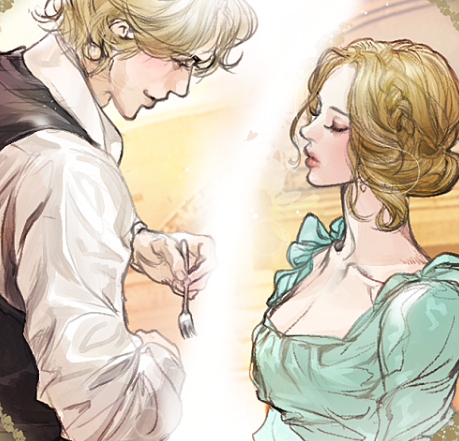 Heinley smiled broadly, and quickly picked up the fork.
'Fork?'
Then he pricked the white fish in the lunchbox, put it to my mouth and said, "Ah."
I opened my mouth, puzzled. Then something tasty came into my mouth.
I chewed the fish mindlessly and swallowed.
Heinley looked at me with bright eyes while I was still puzzled,
"What did this mean?"
What about the kiss? When I asked him embarrassed, he whispered with a soft smile.
"This has always been my wish."
I whispered even more puzzled.
"… I have hands too."
It was clearly a voice of puzzlement, but the words that came out of my mouth were too harsh for him to notice.
When I looked at him, regretting my words, Heinley apologized in shame.
"Does Queen not like this? I'm sorry."
"It's not that, I…"
"?"
I pressed my lips together tightly.
How could I tell him that I was prepared for a kiss?
I wasn't impatient to kiss him, I just made an error in judgment and prepared for it. But if I said this, it would sound like I was waiting for him to kiss me. Instead of explaining it honestly, I grabbed the cherry tomatoes from the lunchbox and put them into his mouth, one after the other.
"Queen? Too many, too many. Slow down."
"Open your mouth."
"Queen, just a little slower—"
"You said you wanted this as a married couple."
"Ugh, Queen, let's start with…"
"Don't spill anything. Eat it all."
***
Rose stopped in front of the door and stepped back in amazement at the king's groans of plea coming from inside the room.
She looked at the door with her eyes wide open.
It was not long before her face grew flushed.
The Empress of the Eastern Empire was said to have a sharp personality. In many ways, it seemed to be true.
She acts without hesitation…
Rose pressed her cheek with one hand, and quickly left the corridor of the detached palace with the bowl in her hand.
***
After giving him all the cherry tomatoes, Heinley's mouth was stained red all over.
He grumbled slightly in disgust as he wiped his mouth with a handkerchief.
"I wasn't expecting this violence."
But after a moment's thought, he changed his words with a smile.
"Still, I liked it because Queen did it."
He was so understanding.
Suddenly, I felt remorseful for taking it out on him because of my own mistake.
"I will do it for you."
In the end, I couldn't stand it. I got up, stood next to him, grabbed the handkerchief, and wiped his mouth.
He left his face in my care quietly, even though I would have preferred him to close his eyes.
Heinley was staring at me. When he blinked, his golden lashes glowed softly. As I watched his purple eyes appear and disappear, it reminded me of Queen.
Oh, speaking of which…
"I wanted to ask you something. Now I remember."
At my words, Heinley laughed.
"Ask me anything, Queen."
"Is McKenna, by any chance, your blue bird?
"!"
Comments for chapter "Chapter 181"
NOVEL DISCUSSION