Remarried Empress – Chapter 188. It Was Still Awkward (1)
Translator: Aura / Editor: Eyljee
---
Although she couldn't hear the conversation, they both had a serious expression.
'What are they talking about?'
Rashta watched the scene in silence.
She wanted to move closer to eavesdrop, but the ground was grassy so she would obviously make noise if she tried to get close.
Rashta narrowed her eyes.
Duke Elgy was a socialite, but rumor had it that he was a playboy, and he hung out mostly with women.
Whether he caused a scandal or not, his friends were mostly women.
As far as she knew, at least.
Even earlier at the tea party, wasn't he talking only to the ladies?
However, the person he was talking to now was a nobleman.
Why would he come all this way to have a serious conversation with a nobleman?
Normally, she would think it was strange. But, because of what had just happened, she felt a weight on her heart.
…
But that night.
When the nobleman, who brought up the story of the lost daughters in front of their fake fathers, came to her room to apologize, Rashta's heart was immediately relieved.
Because he himself mentioned Duke Elgy's name in his apology.
"Duke Elgy was very angry."
"Duke Elgy?"
"Yes. Saying that at the tea party was disrespectful not only to her mother, but also to Miss Rashta."
"… It wasn't that much, it's just that you brought up a sore subject out of nowhere and it hurt our feelings."
"I apologize, Miss Rashta."
'So that's why they were having a serious conversation.'
Rashta felt relieved and let out a sigh of relief.
There was only one person she could trust completely, and that was Duke Elgy.
She wondered if she should not have placed her trust in Duke Elgy, whom she had confided with all her secrets. For a while, she was feeling anxious.
Fortunately, the misunderstanding had now been cleared up.
Watching the beautiful Rashta sigh, the nobleman who made the inappropriate remark said thoughtfully,
"By the way, Duke Elgy seem to like Miss Rashta very much?"
"What do you mean?" asked Rashta hesitantly.
"Nothing, he just asked me to come apologize to you without a second thought…"
The nobleman smiled sarcastically, as if he suspected there was something between Rashta and Elgy.
"Well, it's easy for a charming beauty like Miss Rashta to captivate any man's heart."
"…"
Rashta did not respond. However, after the nobleman left, she blushed and lowered her head.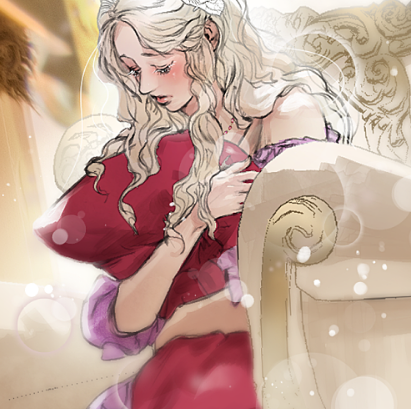 Didn't Duke Elgy have that kind of relationship with King Heinley? No? Was that letter just a joke between friends? Well, come to think of it, Duke Elgy is rumored to have been involved in scandals with many women. If he had such a relationship with King Heinley, he would not have been involved in such frequent scandals.
'Also… Duke Elgy had been especially nice to me since we met. Even I had heard that he liked me from his own mouth, but I just took it as a joke.'
Rashta looked at the ground in embarrassment as she bit her lips.
The nobleman's words from before tickled her ears.
'No, I don't think so.'
As she pondered inwardly, Rashta blushed even more and fanned herself with her hands.
'By the way, when will the wedding be held?'
***
"He said it will be as soon as possible, he will personally take care of it."
The next day, Rose, who came as soon as dawn broke, told me what she heard from her brother as she served me food.
The meal she brought consisted of clear pumpkin soup, scrambled eggs and three kinds of jam with uncut baguette.
As I looked at the pretty plates she placed on the small table, I asked, "Did he really say he would personally prepare the wedding?"
Earlier, he had told me that the wedding should be held as soon as possible and I agreed with that. However, it was a bit surprising to hear that Heinley was going to prepare the wedding personally.
"Yes."
Rose put all the dishes on the small table and asked quietly, noticing my expression, "Do you… do you want to prepare it yourself?"
"It's not that."
"Then why are you so surprised?"
"His Majesty is very busy at the moment."
"Oh, well. That's true."
But he couldn't leave the wedding preparations to Christa because she might further extend his dominance.
I smiled involuntarily as I imagined him meditating to come to this conclusion.
But what came to my mind next was the scene from last night again, and I immediately put on a serious face.
"Your Majesty, you really don't want to prepare it yourself…?"
Rose asked again anxiously because of my serious expression.
"No."
I replied with a smile and grabbed a spoon.
But the figure of Heinley…that had already arisen in my mind didn't fade.
Since Heinley had brought up the subject of the wedding, I should meet with him to find out more about it.
How could I have a proper conversation with him while feeling so awkward?
I tried not think of him and focused on eating, but his image had once again flashed into my mind with unrivaled intensity as I glanced at the food.
After taking a few spoonfuls of clear soup, I put down the spoon and stood up.
"That's all you're going to eat?"
"I have something to think about."
"It's not because you don't like Western Kingdom food, is it?"
"Of course not."
I smiled deliberately, and asked her to tell me the exact time because I was going to see Heinley today.
***
After spending about two hours in my room, I left in time to meet Heinley.
I was still embarrassed to see Heinley's face, but I still couldn't help it.
I walked around, counting repeatedly in my mind from 1 to 100 and 100 to 1.
But once I arrived in front of Heinley's office, my embarrassment had disappeared when I met an unexpected person in front of the door.
"Navier, long time no see, how have you been?"
It was Christa, the former queen. She looked at me, then looked at Rose who was standing behind me with a smile.
But I didn't answer anything in particular.
Anyway, the door opened, so we both walked into the office without further conversation.
Heinley stood up from his desk and his eyes grew wide, seeing us walk in together.
Comments for chapter "Chapter 188"
NOVEL DISCUSSION