Remarried Empress – Chapter 191. Wedding Dress (2)
Translator: Aura / Editor: Maybe
---
While Navier was looking over the designer's dress designs.
Coincidentally, Rashta was also in the middle of a conversation with a designer Sovieshu had sent.
But the atmosphere was a bit different.
"Should I dress as plain as possible?"
Rashta was puzzled and repeatedly asked the designer.
"Isn't it Rashta's wedding?"
She had heard from Baron Lant that His Majesty declared that the wedding should be as grand as possible.
She kept imagining what kind of dress she would wear. She felt disgusted that this designer had the audacity to come in and tell her that she should dress as plain as possible.
"Why?"
"His Majesty asked me to make a dress that would flatter you."
"So, you're trying to say that a glamorous, beautiful dress doesn't flatter Rashta?"
When Rashta asked on the verge of tears, the designer got nervous and waved her hands frantically.
"I didn't mean that."
"That's what it sounded like to Rashta."
"It's not that… It-it's because Rashta is very popular among commoners."
"Even a commoner doesn't like everything plain."
"Yes. But if the wedding is extremely glamorous, and even the dress as well, it will be…different from the image people expect from Rashta. That's it."
"If the wedding is glamorous but the dress is plain, Rashta will be buried alive."
Rashta refuted the designer's words.
For Emperor Sovieshu, this will be a remarriage. Besides, he had just been divorced.
People would still compare her to Empress Navier.
'Wearing a plain dress on this occasion…'
Rashta grew even more annoyed at the designer's actions. This designer was definitely deliberately trying to make her look ridiculous.
"Not at all. Rashta is very beautiful. You don't need a lot of accessories to shine-"
"What dress did the deposed empress wear?"
In response to Rashta's question, the designer showed her Navier's wedding dress design.
It was very glamorous.
"…"
When Rashta pursed her lips tightly and expressed her dissatisfaction with tense silence, the designer became even more nervous.
Rashta grew suspicious of the designer and asked, "It was you who designed the deposed empress' dresses, am I right?"
"That's right. I designed her wedding dress, her wedding reception dress, and many other dresses."
Rashta spoke sadly, sensing that her suspicion was true.
"You like the deposed empress, so you want Rashta to wear a plain dress so that Rashta will be criticized while being compared to her, right?"
"Absolutely not. It all depends on the atmosphere-"
Rashta pointed her finger at Navier's wedding dress design.
"I want my dress to be more glamorous and beautiful than that one."
As soon as the designer scampered out, Rashta angrily leaned back on the couch and kicked a cushion.
For Rashta, the designer was determined to recommend a plain dress just so she wouldn't stand out any more than the deposed empress.
Would the commoners like an empress in a plain dress? She didn't think so.
At that moment, another person came.
It was Duke Elgy.
But he was not alone, there was a man beside him whom she had never seen before.
"Duke. Who is…?"
When Rashta asked, Duke Elgy sent the man into the corridor and said, "Miss, do you remember what I explained to you about journalists?"
Rashta's eyes widened and nodded, "You brought a journalist?"
"He is a commoners' journalist. Miss, did you receive a marriage proposal from His Majesty?"
"!"
"The rumor is circulating that you will marry His Majesty."
"That's…"
"Is that true?"
Rashta, who could not tell Duke Elgy the truth, felt sorry and lowered her gaze.
Duke Elgy let out a laugh.
"What are you sorry about? I only brought him here because he heard the rumor and wanted to interview you."
Rashta looked up at Duke Elgy with a puzzled look.
Although he had explained to her about the interview and the journalists, she had hardly paid any attention then.
She didn't remember anything except that it was complicated and that she should be careful with her words. As Rashta blinked, Duke Elgy explained with a chuckle,"Miss, you should just mention in the interview that your marriage is a victory for the commoners."
"Rashta is now of the nobility…"
"But say it like this. Say that even though you only recently found out you were nobility, you still think and act like 'all of you'."
"Agreed."
"And say, when you become the empress, you will be with the commoners."
Rashta was nervous but did as Duke Elgy instructed.
When the interview with the commoners' journalist was over, this time a nobles' journalist came, and Duke Elgy advised her again before the interview.
"Emphasize sweet romance and dramatic love with His Majesty Sovieshu."
"Shouldn't I say that I will be with the nobles?"
"That would be contradictory."
"Ah."
"Emphasize unconditional love. That would please them."
Rashta again did as Duke Elgy instructed.
Afterward, she was completely exhausted. She laid down on the bed as soon as the second interview was over.
Rashta, lying on the bed, felt inexplicably strange.
'I will become the Empress and ascend to the highest position in the country. But it's annoying to not be able to express myself freely. Will I have to be this careful every time I speak in the future?'
'I don't like that very much…'
Lying in that state, she felt a faint fetal movement in her womb. Rashta, who was limp, clutched her belly with both hands.
'Was it my imagination?'
Right now she felt nothing.
But the fetal movement she felt when she thought it was strenuous was comforting.
Rashta covered her belly with her hands and murmured in a daze.
"Mommy will try her best, my baby."
***
The hours flew by quickly as I looked through the five full albums of dress designs and picked out a few for my wedding dress.
But there was still so much to do.
McLinnan wanted to take my measurements, so I got up and stood up straight with my arms outstretched on either side.
Suddenly, there was a knock on the door.
"Come in."
Even though someone was taking my measurements, I answered the door without hesitation because I was wearing thin clothes anyway.
It was Heinley.
"I came to see if everything is going well…"
Heinley stopped talking and stood in the doorway, staring at me for a while.
Then he grinned from ear to ear as if he liked something.
I wasn't sure what he was so pleased about, since I hadn't tried on any dresses yet.
Eventually, he left the doorway and entered the room completely. The people who were originally talking immediately fell silent.
Heinley quickly approached us and asked the designer.
"Which designs did you choose?"
He sat down to examine a couple designs chosen by me and those recommended by the designer.
All of a sudden, my hip bumped against Heinley's head.
I was trying to not pay attention to him, but I ended up pushing him without realizing it.
Heinley froze with an album in his hand, and I was bewildered as well.
I pushed him so fast it looked like I was throwing him out of here.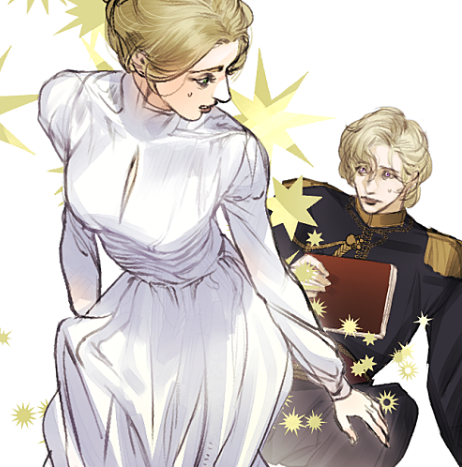 "Hmm, well, maybe you want to keep your wedding dress a secret."
Heinley mumbled awkwardly and put the album down. Then he looked anxiously at his pocket watch and left saying he had forgotten he was busy.
When he left, however, the atmosphere became more awkward.
Even Designer McLinnan, who had been talking the whole time, became quiet.
After she took my measurements, I sat down on a couch and clutched my head with both hands.
I didn't mean to make him feel bad.
'What should I do?'
***
"She must be angry with me."
Heinley muttered uneasily and growled. McKenna, who came into his office holding some papers, clicked his tongue at Heinley's distress.
"What did you do to make her angry?"
"… I don't know. I can't think of anything."
"But there must be something, right? Her Majesty the Queen doesn't seem like one to get angry for no reason."
Heinley pursed his lips tightly in distress, before speaking again, "Actually, yesterday my wife was about to ask me something, but suddenly changed her mind…"
"About what?"
"I don't know. She suddenly brought up the subject of Grand Duke Kapmen. But I'm sure she was going to say something else."
Heinley ruffled his hair, feeling uneasy.
"Maybe she found out that I'm Queen, and that's why she's angry."
Comments for chapter "Chapter 191"
NOVEL DISCUSSION