Remarried Empress – Chapter 192. Knowing The Truth (1)
Translator: Aura / Editor: Maybe
---
McKenna raised his eyebrows, "Did she find out?"
Heinley shook his head, "I don't know."
But it wasn't hard to guess. Especially when she asked him about Queen's identity after asking about McKenna's identity. Navier must've thought Queen was a subordinate of Heinley. But Heinley was so surprised at the time that he reacted strangely.
He thought she wouldn't notice because he hadn't said much, but she suddenly turned cold and refused to look him in the eyes. There was a high chance that she was angry after finding out the truth.
"If it troubled you so much, why didn't you tell her?"
"Are you always like this? If there's something that bothers you, do you just act on it?"
McKenna pondered the question for a moment, then replied, "I… I consult with His Majesty."
"What would I say?"
"If it bothers you, tell the truth."
"Well. I must practice my words," Heinley sighed and stood up.
It was only a matter of time before he had to confess anyway.
"I wanted us to pick out a dress together…"
"Oh. You went to pick out a dress and got kicked out?"
Heinley huffed and slowly grasped the couch cushion. McKenna hurriedly put down the papers he was holding and rushed out.
***
After Heinley left, I paced back and forth in my room anxiously, regretting my action.
Of course, I had done it unintentionally, but that was only from my perspective. From Heinley's perspective, I had inconsiderately pushed him.
He must have been shocked and embarrassed. Besides, there were other people around…
I pressed my cheeks with both hands and took a deep breath.
'I have to apologize.'
"Miss Rose," I called out.
"Yes, Your Majesty."
"… I'm going to see His Majesty the King, can you bring me something to wear?"
Rose seemed relieved to hear my request and immediately brought me a yellow cloak. She seemed concerned that Heinley and I were fighting.
However, as I was getting ready to leave, Heinley arrived at my door.
At the sight of him, my stomach plummeted, this must be bad news. I asked my two ladies-in-waiting to leave and put on a straight face.
Even though it was late at night, he was still dressed in the same clothes he wore during the day. He was probably so shocked that he hadn't even thought of changing his clothes.
We looked at each other for a moment.
Heinley was the first to break the silence, "I have something to confess."
"?"
'What did he mean?'
If he came to see me in the middle of the night, it must be about something serious, isn't it?
The nerves in my stomach grew.
I had no idea how he would respond to what I did to him earlier.
However, what came out of Heinley's mouth was completely different from what I had expected.
"I am Queen."
"…"
I thought he would have complained and expressed himself negatively. Not that he would end our marriage over this, but he would say he was regretful to some extent at least.
I couldn't believe he just revealed his identity to me.
Heinley smiled awkwardly and muttered, "Judging by your expression, it looks like you already knew, didn't you?"
'!'
"I am sorry, Queen. I didn't mean to deceive you."
Heinley apologized repeatedly, staring at me sincerely. It was like his eyes were trying to let me know how truly sorry he was.
"Queen, in our tribe we are not allowed to reveal our identity, except to our family. That's why I couldn't tell you, but I have no intention of deceiving you anymore. I'm serious."
I shook my head and tried to tell him it was alright. I also had to apologize for pushing him earlier.
"Heinley," I said as I extended my hand towards him.
All of a sudden, Heinley turned into a big bird, and I stopped moving.
I was confused. Why did he transform so suddenly?
Heinley, who had turned into a bird, blinked slowly as he looked into my eyes.
He looked so cute.
Was he trying to use his charming appearance as a tactic to soothe my 'anger'?
Heinley, no, Queen, who was looking at me with all kinds of lovely expressions, had his big eyes wide open.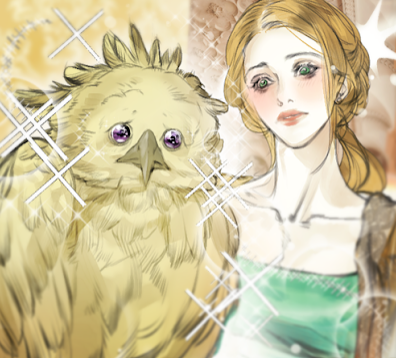 It was truly a lovely look.
When Queen approached me hesitantly and tilted his head, I almost reached out to hug him out of habit.
Before, I was more worried that he was a subordinate of Heinley because that would've meant I had hugged, kissed, and patted the rear of one of my husband's subordinates.
Perhaps because I was assuming the worst, I wasn't too angry when I found out Heinley was Queen. I understood that he couldn't tell me because it was confidential.
But…
I turned around, withdrew my hands and said,
"I'm not angry, Heinley. Really."
My face heated up again.
Although the Queen perched before me right now looked like a cute and lovely bird, I also knew that in the blink of an eye he could turn into Heinley.
I couldn't hug him knowing this. If I hugged the bird, it would be like hugging Heinley… naked.
— Gu…
"Really. I'm not angry…only a little."
Queen's eyes welled up with tears.
Reluctantly, I reached out my hand and stroked his head. Queen closed his eyes and rubbed against my hand.
It was so endearing.
Even if it was Heinley rubbing his head against my hand, it would still be lovely…
'Oh my gosh! What am I thinking?!'
I pulled my hand away from him and pleaded, "It's alright, I'm not angry. Honestly. But go back… go back to your normal form again where I can't see you."
— !
I sat there for almost half an hour after Heinley left, then opened the door and walked out.
Rose, who was teaching Miss Mastas something, saw me leave alone and asked in surprise, "Queen? Why did Your Majesty come out alone?"
Miss Mastas immediately looked over my back and grew puzzled as well.
"His Majesty Heinley went out the window," I replied matter-of-factly.
As soon as I responded, they both gaped at me in disbelief. But it quickly changed to an expression of astonishment after they entered my room.
"Oh, Queen! His Majesty Heinley's clothes are here…"
'!'
"His Majesty Heinley really went out the window!"
My dazed mind suddenly returned to normal as if a bucket of cold water had fallen on me.
'Was Heinley so shocked that he didn't take his clothes with him?'
I rushed back into my room and found all of Heinley's clothes strewn across the carpet. Even his underwear.
Comments for chapter "Chapter 192"
NOVEL DISCUSSION