Remarried Empress – Chapter 197 – Keep Pampering Me (2)
Translator: Aura / Editor: Maybe
---
It was a few days after my brother left for the knights' expedition.
"Aren't Lord Koshar and Your Majesty the Queen twins?" Mastas, who was diligently polishing the spear on her lap, asked unexpectedly.
She looked up at me as I pondered over what the question was about, "We are not twins."
When I responded with a smile, she said, "Oh…" and nodded.
Seeing this, Rose grinned wickedly and gently nudged Mastas in the ribs.
"He interests you?"
Mastas nodded casually, "Yes."
When Rose looked at her in surprise at her confident answer, Mastas continued speaking casually, "My brother says he's very strong. I'd like to test him."
"By test, you mean a fight, right?"
As soon as Rose asked suspiciously, Mastas nodded, "Yes," she replied as she looked at Rose as if she were a pervert.
"Queen! Don't you think Miss Rose's mind is very dirty?"
After being together for several days, the two seemed to get along much better. When Laura and Countess Jubel arrived, this place would be even more lively. I missed Countess Eliza and the other ladies-in-waiting, but fortunately, I was also happy with the new ones I met here.
'Ah!'
It's true. As I smiled at both of them, a good idea suddenly occurred to me.
"Miss Rose."
"Yes, Your Majesty."
"Who is the most popular person in the Western Kingdom's high society?"
Rose nodded and named two individuals, "Duke Liberty and Miss Mullaney."
"Two people?"
"Originally the most popular was Heinley. He was followed in popularity by Duke Liberty and Miss Mullaney, but now things have changed. No one can treat His Majesty as a popular socialite now that he has ascended the throne."
Rose added after a moment's reflection, "Ah, Duke Liberty and Miss Mullaney are close relatives. Duke Liberty is the brother of Miss Mullaney's mother."
"Would it be possible to meet them both?" As soon as I asked, Rose smiled as if she had realized my intentions.
"You want to persuade both of them, no?" But the following was not positive, "It's a good idea, but it won't be easy."
"Are they Christa's subordinates?"
"Duke Liberty."
"What about Miss Mullaney…?"
"She and Christa don't get along so well, they even once had a fight."
In that case, I guess it's alright, no? When I raised an eyebrow, Rose shook her head and continued, "Miss Mullaney was originally one of the candidates for Queen."
"That's alright."
"Not only that. She's also a very ambitious young lady with a domineering personality. I don't think she likes to serve others…"
"That's still alright. She doesn't have to be my subordinate."
Duchess Tuania was not my subordinate either. She was just my friend.
Rose seemed troubled by my words but replied, "I'll arrange an appointment."
I nodded and rose from my seat. At the thought of Duchess Tuania, I came up with an even better idea.
'Why didn't I think of it sooner?'
"Your Majesty?" Rose asked.
"I need to see Sir McKenna."
"Not King Heinley?"
Taking with me Rose and Mastas, who were surprised, I went to see McKenna.
McKenna seemed puzzled to see me but greeted me with a soft smile. After everyone left the office so I could talk to him privately, I carefully asked, "I know you can turn yourself into a bird… can I ask you a question about that?"
McKenna seemed more puzzled when I brought this up, but simply replied, "Yes."
I realized that McKenna was worried I would be angry for having deceived me. But I didn't come all this way for that reason.
"In bird form, how long would it take you to find someone?"
When McKenna heard my question, he responded with a bit of relief, "Is there someone you want to find?"
"Yes. Is that possible?"
"Do you know their location?"
"No. I'm sure she's not in the Eastern Empire, but I don't know anything else."
"In that case, it would be a bit difficult."
However, contrary to expectations, McKenna said it was a bit difficult to find someone like that. Even if he searched in bird form, he would have to check the faces one by one. It would be possible if he knew the approximate location, but it was hard to find someone guided only by 'she's not in the Eastern Empire'.
"It might work to put up wanted posters," McKenna said with a smile. His suggestion surprised me.
I returned to the detached palace. The person I was looking for was Duchess Tuania. I would rather not find her, than look for her with wanted posters.
I thought about it for a moment and this time I asked Rose, "Do you remember the journalist who interviewed me before?"
"Yes. That journalist's interview with the Queen appeared in a newspaper and became a topic of conversation."
"Is that journalist still at the royal palace?"
"Probably."
"Can you call the journalist? Navy blue hair…"
"Yes."
About two hours after asking Rose to call the journalist, I was able to meet the journalist I had seen before.
"My name is Janan, Your Majesty."
The journalist looked nervous because he didn't know why I had called him. However, when he looked at me there was a glint of intelligence in his eyes.
"I called you because I would like you to write an article in the newspaper as if it were another interview."
"What do you want the article to be about…"
"About how well I'm adjusting to the Western Kingdom."
"Yes?"
Janan seemed to not understand why I wanted him to write something like that. However, he nodded more calmly and answered confidently, "It's not difficult."
"I want you to write that I am adjusting well to the Western Kingdom, there are many good people here, but sometimes I miss my old friends… something like that."
"Is that all Your Majesty needs…?"
"I would also like the names of my friends to appear in the article."
Janan was confused, but nodded and pulled out his notebook. I mentioned among the names of my ladies-in-waiting, the name of Duchess Tuania.
After Janan left. I stood by the window feeling satisfied, while Rose and Mastas went to bring dinner.
I called the journalist to find Duchess Tuania, so I intentionally put her name among those of my ladies-in-waiting.
Duchess Tuania was smart and insightful, so after reading the interview article she would realize right away that I was looking for her.
She promised to help me someday. If that was true, Duchess Tuania would come to see me…
'If Duchess Tuania comes here, she would also sooner or later dominate the high society of the Western Kingdom.'
The only way to be loved by the people is to show it with actions. In the end, the people loved the queen for what she offered not for her speeches.
But in high society it was different. They were already people of enormous wealth and reputation. It was difficult to approach them simply by playing the role of queen well. I had to approach them personally, and for that, I needed a socialite. A socialite who was on my side.
'Duchess Tuania could play that role quite well.'
At that moment, there was a knock at the door, so I set my thoughts aside and quickly opened it. The person standing at the door was Heinley, not my two ladies-in-waiting.
"Heinley?"
Heinley's face looked somewhat downcast, so I asked in confusion, "What's wrong?"
He looked at me with a heavy expression, then took my hand gently, kissed the back of it, and replied to my question with another, "Queen, are you lonely?"
What was he talking about? Why was he asking that out of the blue? It was strange.
"No?"
I will definitely miss my parents in the future. But it hasn't been long enough to cry from loneliness.
Heinley looked at me with wet eyes. Although I wasn't lonely, he didn't seem to believe what I was saying.
"Heinley?"
'Did he hear something from someone?'
Concerned, he whispered, "I heard… about an article saying Queen is very lonely…"
"Did the journalist tell you? That fast?"
"On my way here I met the journalist. When I asked him what had happened, he told me Queen asked him to publish an article in the newspaper about her being lonely…"
I don't know if the journalist made that up on purpose or if he misunderstood me.
The situation was awkward but also quite funny, so I shook my head and replied, "It's not like that, Heinley."
"I don't want you to be lonely, Queen."
"I really am fine."
"If you wish… I can spend the night by your side as 'Queen'."
"!"
"Whatever you do, I will be still. Please, pamper me as much as you want. Like before. Would that make you feel better?"
"…"
I didn't know what expression I put on, but Heinley quickly changed his words to imply that it was a joke.
It was a good choice.
I calmly warned him, "Next time you come as 'Queen,' I'll put clothes on you."
I pretended to be considerate, but I was only teasing Heinley about what he had just said.
He smiled and asked if it was alright for me to dress him in bird form, "Will you dress me yourself? Should we dress the same as a couple?"
But just as I was about to respond, I saw my two ladies-in-waiting over Heinley's shoulder. They seemed to have brought dinner. Instead of responding to Heinley, I thought I'd call them first.
The two ladies-in-waiting looked like their jaws were about to drop.
But… why?
Their eyes were wide, stunned to say the least.
When I thought about why they had that expression, I realized Heinley's words were very strange.
Especially the part about "spending the night by my side as 'Queen'."
They didn't know Heinley was 'Queen', so they may have thought he was wearing my dresses…
Oh no!
I shook my head frantically at them and quickly dragged Heinley into my room.
"Come with me."
He was my husband now. I couldn't let another rumor like the ones about him being a playboy and naked king come up.
Rushing in, I slammed the door harder than expected.
Hearing the door slam in front of me, naturally, my face contorted.
I wondered if Heinley was alright. I turned to him and his eyes were wide open, his body caught between my arm and the door.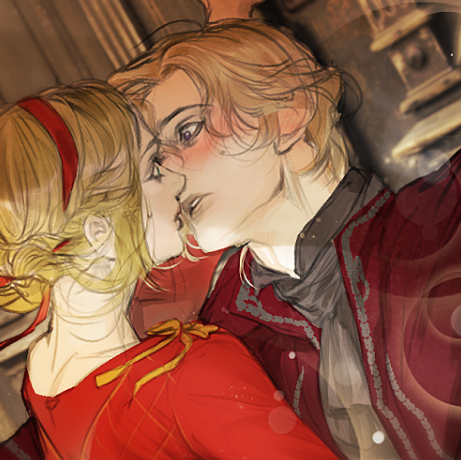 (Editor's Note: AHHHHHHH the author better not be playing with me ರ _ ರ)
Comments for chapter "Chapter 197"
NOVEL DISCUSSION