Remarried Empress – Chapter 199. Breaking Point (2)
Translator: Aura / Editor: Maybe
---
My heart was overflowing with so much joy that I grasped the sheets as soon as I woke up and stretched them repeatedly.
In fact, everyone wondered why the Western Kingdom did not proclaim itself as an Empire. I didn't know the answer either.
What everyone was sure of, however, was that the Western Kingdom had the power and wealth to become an Empire.
My heart was beating fast, our wedding day will be the moment when the Kingdom becomes an Empire. Undoubtedly, this event will be engraved in history. It was overwhelming to know that I would be part of that history. It was also amazing and admirable to see Heinley, who had been far from the throne, move forward in this way.
'I must be a good empress.'
Although it is true that even if it did not become an empire, I still have to be a good queen.
As the first Remarried Empress and the first Empress of the Western Empire, I had to be more careful with my actions and focus on the role of Empress.
'No, now is not the time to think about that.'
I hurriedly got out of bed and picked up the book I was reading every day since I arrived here. In this book, the clerk of the Western Kingdom recorded the king's meetings for about twenty years.
After a while, my ladies-in-waiting came to help me change clothes for breakfast, but except for those moments, I did not stop reading the book.
I was so absorbed in the book that I didn't even realize the passage of time.
Rose called out to me, "Your Majesty. Mondrae, a journalist from the Blue Newspaper, would like to meet with Your Majesty the Queen."
"Blue Newspaper?"
"It's one of the three newspapers that has permission to access the royal palace."
As soon as I heard that, I knew what was going on. The three newspapers that had permission to access the royal palace must be competing with each other, but I had granted two interviews to only one of them.
So this journalist must have come here in a fit of anxiety.
The problem was… that he came to interview me late, so he will want to write as sensational of an article as possible. That means he was likely to ask uncomfortable questions.
"What do you want to do?"
After thinking about it for a while, I answered, "Let him in."
I couldn't avoid him forever anyway. Rose left with a worried face, and soon the journalist named Mondrae entered.
Mondrae had the figure of a burly gentleman.
Seeing him enter with a determined look, he seemed to be well prepared.
Yet I greeted him with a smile as if I hadn't noticed. After the greeting, Mondrae made a couple of formal compliments.
I thought he would ask the difficult question, but it started quite normally.
"Your Majesty's reputation is widely known, much has been heard about your ability. So, Your Majesty must be a good queen for the Western Kingdom."
What is hidden behind those words?
He continued, "But I'm also a little worried."
Here goes.
"The reputation that Your Majesty earned as Empress was, essentially, because of your great love for the Eastern Empire."
"…"
It seemed that the difficult question he chose was a bit more difficult than expected.
I couldn't speak without thinking, so Mondrae continued with a very anxious face, "It won't be a problem as long as the Eastern Empire and the Western Kingdom do not come into conflict but… if the two countries were to one day compete for an advantage, what would Your Majesty do in this awkward position?"
***
Sovieshu was restless, he could not stop wondering if the letter he sent to Navier had reached her hands without any inconvenience.
'Did the knight carrying the letter suddenly lose his way? Could he have encountered a very strong bandit who stole the letter? What if the knight was unable to hand over the letter because of a sudden heart attack?'
Sovieshu was too worried that he might lose the letter. Even if a very strong bandit appeared, he wouldn't be able to steal the letter, but right now Sovieshu couldn't stop having wild thoughts. Just imagining that something bad could have happened to the letter made him shudder.
He was confident that when the letter reached Navier's hands, everything would go back to the way it was before.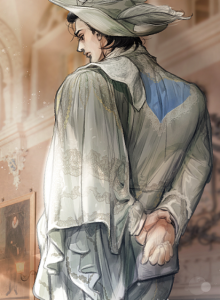 However, although he was restless, he still had to go into the audience chamber.
'I must be going mad'.
He already felt troubled, but there were many requests today to bless couples who would be getting married.
Sovieshu did not want to see any of them, so the atmosphere naturally became heavy.
However, the couples that made this request accepted the heavy atmosphere as the dignity of the emperor.
This was because Sovieshu managed his facial expression properly and smiled kindly at all times despite his insincere blessing.
Fortunately, the last people he would see in the audience chamber today were not a couple in love, who was getting married. They were a married couple with a girl of about fourteen.
"This girl will be our daughter from today on. We beg you to bless this girl, Your Majesty."
Just like bringing a newborn baby to be blessed, they brought their adopted daughter to be blessed.
This time, Sovieshu sincerely blessed the girl's future.
Then he suddenly remembered the orphan that Navier supported.
After finishing his duty in the audience chamber, Sovieshu went out into the corridor and ordered Marquis Karl.
"Bring Navier's aides to the office."
As he went to the office and checked some claims, two of Navier's aides came in.
"You are Navier's aides?" he asked.
The two aides became nervous at Sovieshu's sudden call, and they became even more anxious when Sovieshu mentioned the former empress.
They feared that the emperor would take his anger out on them.
"Yes, Your Majesty."
"There was an orphan that Navier took care of on her own. Who was responsible for that?"
When Sovieshu mentioned the orphan that Navier had taken care of, one of the aides stepped forward, puzzled, "It was my duty, Your Majesty."
'Why is the emperor asking such a question?' the aide thought. His expression froze, unable to comprehend the situation.
Sovieshu continued with what he wanted to say, "That girl, I heard her mana disappeared."
"That's right, Your Majesty."
"How is she now, what about the patronage?"
"She's still at the Magical Academy, and as far as I know, she's receiving patronage from Duke Troby…"
"You're no longer responsible for that?"
"I'm working in another department now," replied the aide, glaring at Sovieshu.
After Navier's divorce, he had naturally switched departments. Sovieshu nodded and ordered, "It is no longer necessary for Duke Troby to fund her."
The aide was surprised by Sovieshu's words and immediately asked, "Pardon?"
"That girl, do you know what she looks like?"
"Yes. I used to periodically meet with her to see how she was doing."
"I want to see her, so bring her here."
The aide was even more perplexed.
Sovieshu had ordered to bring the girl because Navier was very fond of her, so he wanted to support her directly.
However, Sovieshu was against leaving that girl, whose mana had disappeared, in the Magical Academy.
If she stayed in that place, the girl would continue to regret losing her mana and think that she was useless.
Sooner or later she would have to face reality, so he preferred to bring her in and help her find another future.
Sovieshu would even allow her to stay in the capital if the girl agreed.
Then, when Navier returned one day, she would be relieved and happy.
However, the aides were uneasy because they couldn't imagine that Sovieshu, who had candidly abandoned the empress, would take care of the girl whom Navier cherished very much.
***
The two aides weren't the only ones confused about Sovieshu's actions.
"Did he order to bring in a woman?" Rashta asked dumbfounded when she heard from Viscount Roteschu that Sovieshu had ordered to bring a woman.
"Speak clearly. A woman or a girl?"
"I don't know. But, being a student of the Magical Academy, she must be about the same age as Rivetti."
"Magical Academy…" Rashta groaned.
She felt hurt that Sovieshu had ordered to bring in a girl who was talented in magic.
Having gotten rid of the great noble Navier, her head was spinning at the thought of a mage coming this time.
She thought Sovieshu would never cheat on her. Was it a misconception?
Others might think Sovieshu was having an affair with Rashta, but Rashta didn't think Sovieshu's love towards her was a simple affair.
Sovieshu and Navier had a political marriage. Neither Sovieshu nor Navier loved each other.
Rashta frowned as she rubbed her hands together.
He's bringing a girl in before the wedding. What if Sovieshu changed his mind and made the other girl the empress? She was anxious. Even if she isn't an adult right now, she would become one in about a year if she was the same age as Rivetti.
Since the age difference between Sovieshu and the girl was not too big, she could be his partner without any problem.
Unlike Rashta, Viscount Roteschu said with relative optimism, "It is not yet known what he ordered to bring her for. Let's wait and see."
"…"
But his next words were contradictory, "Plus, haven't I already told you? It is necessary to be on guard beforehand."
Rashta wrapped her belly with both hands.
Viscount Roteschu continued to add fuel to the fire, "It might be a misunderstanding now. But it may become true someday."
"Stop trying to provoke Rashta, and think about how to prepare for that moment."
"Hmmm, but I can't think of another one…" Viscount Roteschu hummed mischievously at Rashta's rebuke.
The main reason he had come to see Rashta was to make her feel anxious, to make her realize how much she needed him. The more anxious Rashta felt, the better it was for him.
After Viscount Roteschu left, Rashta finally leaned back on the couch, resting her head on it, and closed her eyes.
She wanted to immediately run to Sovieshu and ask him about the girl he's bringing. If he brought her for work purposes, Rashta would be so relieved.
However, Rashta was worried that Sovieshu would consider her interrogation as annoying jealousy.
Moderate jealousy might bring you closer to your partner, but excessive jealousy could make your partner tired.
After seeing Viscount Roteschu off, Delise carefully addressed Rashta, "Um… Rashta."
She continued, "His Majesty the Emperor is not that kind of man. Don't worry too much."
She had overheard the entire conversation between Rashta and Viscount Roteschu while waiting to the side.
However, Rashta did not feel any better at Delise's reassurance.
She knew that Delise clearly liked Sovieshu, so it was very annoying to see her siding with him.
Rashta grumbled with a serious look, "I don't know how much you think you know His Majesty, but do you think you know His Majesty more than Rashta, his wife?"
Delise realized that Rashta had taken offense to Rashta and immediately shut her mouth.
Comments for chapter "Chapter 199"
NOVEL DISCUSSION