Remarried Empress – Chapter 203. Kapmen's Suffering (2)
Translator: Aura / Editor: Maybe
---
Once I accepted the letter and opened it, I saw Sovieshu's handwriting, which was so familiar to me.
"…"
After I finished reading the letter, I folded it, put it in the envelope and ordered him to leave.
"I'll be waiting outside, feel free to call me."
With that said, the visitor quietly left.
Apparently, he seemed to think that I would send a reply to Sovieshu.
I closed my eyes and put my hand to my forehead.
'A reply…'
The contents of Sovieshu's letter were completely unexpected.
It said that he really had no intention to divorce me like he had promised Rashta because it would only be for one year.
He didn't want his child to be illegitimate, so after she gave birth, he would elevate me back to the position of empress.
All kinds of strange, hard-to-understand emotions were welling up inside me.
It was as if… these emotions were wrapped in a thick cloth, impossible to accurately distinguish.
What I was sure of was that my relationship with Sovieshu was over.
It still hurt and was uncomfortable to think about him.
But whether he was repentant or if it was a love-hate kind of thing, Sovieshu and I would not remarry.
I was already married to Heinley.
Heinley reached out to me when I needed it most, does he want me to leave Heinley and come back to his side? That would never happen.
Besides, what if Rashta had the baby and I went back to being the empress?
Then I would become that baby's stepmother, but I wouldn't want to accept it as mine.
That child did not choose Rashta and Sovieshu as its parents. I didn't want the child to suffer.
I couldn't love a child I didn't even want to be near. The same would be true for Rashta's child.
Although I had been the empress first, the child would think that I had taken its mother's position.
Despite being a legitimate child, that child would hold a grudge against me for being the empress.
Even if, as Sovieshu had said, Rashta would only be empress for a year, there would inevitably be this awkward dispute awaiting me.
'I will not reply to the letter.'
Finally, I personally went outside and told Sovieshu's envoy to leave the Western Kingdom as I had no intention of sending a reply.
***
After Sovieshu's envoy left, I still had mixed feelings.
Even when I tried to read my book, my attention was completely elsewhere.
I sat on the couch and stared dazedly out the window.
I felt as if I was in the Western Kingdom and the Eastern Empire at the same time.
The butterflies flying outside the window resembled the ones I saw in the Western Palace of the Eastern Empire. How long had it been since then?
At that moment, Heinley's figure appeared at the window. I thought I was hallucinating, but it was certainly real.
After getting up and opening the window, I sighed and asked, "Are you trying to get in through the window again?"
Heinley looked like he was about to say something, but in the end, he only took half a step back and replied, "No. I just came here to talk, Queen."
"You were going to come in through the window."
"I really only came to talk."
"You are no longer a prince. You must pay attention to your behavior."
"Are you worried about me?"
"Don't be moved by something so strange."
"Are you scolding me? I like Queen scolding me, too."
Heinley was seeing the bright side of everything I was telling him. In this state, it was obvious that pointing out his mistakes would do no good.
Instead of continuing to nag at him, I asked, "What brings you here at this hour?"
As far as I know, he shouldn't be working right now…
He was indifferent when I complained about him, but as soon as I asked him this, he put on a grim expression. Then he turned his head and scanned the lawn for no apparent reason.
Thinking about what could cause this, I asked him, "Is it because you heard that an envoy from His Majesty the Emperor came to see me?"
Heinley replied, "Yes," and looked me in the eye, "I was afraid it would affect you…"
"I received a letter."
"A letter!"
He didn't seem to know that I had received a letter. Well, he had no way of knowing because I had asked everyone to leave at the time.
"But I didn't send a reply."
"Ah…"
Heinley's expression became brighter as if he was relieved.
I reached out my hands, grabbed him by the shoulders, and very clearly proclaimed, "I'm your wife now. You don't have to worry about unnecessary things, Heinley."
Heinley's eyes widened a little at my response, and he whispered with a smile so wide that the corners of his eyes curved, "Queen… my heart is beating fast."
I didn't know if those were empty words, but his face was a little flushed. It made me happy that he felt relieved.
Somehow, seeing him like that made me want to bite his cheeks. If I bit his cheeks, would strawberry jam flow out from inside?
This wild thought made me feel very embarrassed.
My feelings toward Sovieshu were completely chaotic. In contrast, when I looked at Heinley, I didn't know why but I found him so cute and lovely.
At that instant, I felt the need to respond… the pressing need to respond to his words.
But what? I don't know.
After considering for a moment, I repeatedly said, "Relax."
***
Meanwhile.
Instead of looking for a country to establish a trade alliance with, Kapmen was still looking for ways to counteract the effects of the love potion on his body.
After wandering from place to place, he decided to go see one of his professors at the magical academy.
At first, Kapmen's professor grabbed his head when he heard that his students had made some kind of love potion to sell on the black market.
"Fools, Fools! What were you doing behind my back, you troublemakers!
"…I am ashamed, professor."
"Even if other students behaved recklessly, you, Grand Duke Kapmen shouldn't have done the same!"
"…"
"I can't believe you got involved in the black market with such a dignified face that you looked like a straight arrow… Oh no my head, oh my head," Kapmen's professor grunted for a long time.
But still, when his student told him what happened to his body after drinking the potion, his professor examined him from head to toe.
"Has it been a long time since you drank the potion?"
"I drank it shortly after the New Year's celebrations were over."
"It hasn't been that long."
The professor pressed Kapmen's body in different areas and asked him, "How long does it normally take for the effects of the potion to wear off?"
"If one drinks the antidote, one should be better in an instant, and even if one does not drink the antidote, one should be better in a week," Grand Duke Kapmen replied, clutching a locket with Navier's portrait embedded that he had bought in a store.
"Even being a love potion, it doesn't produce true love. At first… I thought it was because the effects were exceptionally strong, but…"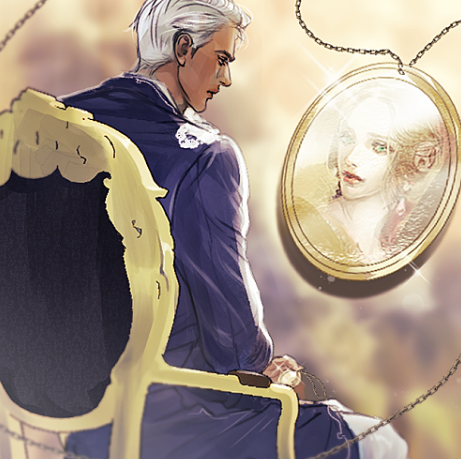 The professor glanced at Grand Duke Kapmen's locket but did not notice that the woman's portrait inside was the former empress.
"Have you tried the antidote made with a mixture of poppies and black lilies?"
"Many times."
"With the antidote made with a mixture of marigold and holly?"
"I have also tried that."
"Have you tried mixing red carnations with banyan berries?"
"Yes."
His professor complained and continued to ask him similar questions.
However, Kapmen, being one of the top graduates of the magical academy, had already tried every possible treatment.
As his professor's expression darkened, so did Kapmen's.
Squeezing the locket, Kapmen asked, "Can't anything be done about it, professor?"
Unrequited love was extremely painful.
Grand Duke Kapmen thought his symptoms would improve if he didn't have Navier around, so he left the palace as if he were running away as soon as he had the chance.
But two days later, Kapmen realized he had made a big mistake.
Every time he saw her, he felt better.
The very thought of never seeing her again caused deep pain to conspire in his heart.
He didn't know how many times he had wandered alone in the capital in the middle of the night before he realized the situation he was in.
Among his belongings, he already had dozens of portraits of Navier.
However, that didn't make his burning thirst diminish, and now even he was afraid of himself.
At this rate, he would end up visiting Navier and begging her to make him her lover.
"Hmmm…"
After thinking for a while, the professor finally opened his mouth, "I don't know how to solve it. But I can think of three possible causes."
"Three?"
"Maybe it's none of the three. They are only deductions. It's easier to find a solution when one knows the cause."
"Professor, what are they?"
"Because it is a potion made by yourself it is especially effective on the Grand Duke. That's why the love potion has worked so well on you."
"What about the second one?"
"Lately, not only is mage mana disappearing, but the number of people manifesting as mages is also decreasing drastically. That means the mana balance is extremely unstable, so perhaps this has influenced it."
"…"
"The ultimate cause…"
The professor looked suspiciously at Grand Duke Kapmen and said, "Before you drank the potion, couldn't you have already been in love with the person you claim to have fallen in love with after you drank it…? Well, that's just what I think."
"!"
"It could be about something more complex."
At that moment, his professor's assistant knocked on the door and shouted, "Professor! A man from the Western Kingdom has come to see Grand Duke Kapmen."
Comments for chapter "Chapter 203"
NOVEL DISCUSSION