Remarried Empress – Chapter 211. Sovieshu's Shock (2)
Translator: Aura / Editor: Maybe
---
Rather than stepping back, Heinley flatly refused.
"I'm sorry. You seem a bit angry… I cannot leave my wife next to another man who is angry even if it is His Majesty who asks."
Sovieshu's face became even more rigid.
"Another man?"
After looking quietly at Sovieshu for a moment, Heinley said with a smile, "Navier is my wife."
[The Empress is my wife, not the prince's tour guide.]
Heinley's words overlapped with Sovieshu's words from a few months ago.
Sovieshu's face twisted as if he had had the same thought. But regardless of his intentions, Heinley was right.
Back then, Sovieshu had drawn a very clear line between Heinley and me, because we were strangers. This time, Sovieshu and I were the strangers.
Sovieshu spoke to me without even looking at Heinley, "Navier, I have something to tell you."
"Go ahead, Your Majesty."
"Just the two of us."
Although we were strangers, I was curious about what he wanted to tell me, so I would've liked to hear it. Besides, Sovieshu was not only my ex-husband but also the emperor of a powerful country.
The relationship between us and Sovieshu was already bad. There was no need to reject him outright.
When I turned my head to hint this to Heinley, he was looking at me with the same expression he had then. The expression of… a sad golden retriever.
He looked like he would shake his tail and start whining if I walked away. Seeing that expression, I couldn't bear to leave Heinley alone to go with Sovieshu.
In the end, I changed my mind.
"My apologies, Your Majesty. If it's not an urgent matter, my duty right now is to be at my husband's side."
I was about to tell him that if he had something to talk to me about, it could be another time, but Sovieshu then shouted with a strange expression, "Navier!"
His reaction was even stranger as if he was hurt that I was the one cheating.
Sovieshu looked at me with a stunned face, then looked fiercely at Heinley, turned, and left.
I sighed and stared at Heinley, who was clinging to my hand with both of his, "Are you alright?"
When I asked worriedly, Heinley nodded with a flushed face. Then he bent his knees and rested his head on my shoulder.
***
When the wedding day arrived, the hustle and bustle could be felt from the morning.
Even though I was at the Southern Palace, the chaos was the same.
During the day there would be a wedding and a procession. In the evening there will be a wedding reception.
Due to the busy schedule and the influx of distinguished guests from all over the world, everyone at the Imperial Palace seemed hectic getting ready.
I also started getting ready early in the morning, Rose and Mastas were even busier getting ready while helping me too.
In particular, Rose, who was urging Mastas to behave 'like a lady.'
"Leave that spear here, please!"
"The spear is a lady's base!"
"No! It's neither a lady's nor a knight's base! Not even a knight attends a party with a spear on him!"
At that moment, someone sent by Countess Eliza came.
"Queen Navier, Countess Eliza asked me to inform you that Rashta's wedding dress is very glamorous."
Hearing this, I looked at the dress I had decided to wear.
It was moderately glamorous.
I had chosen this dress because I thought that if I attended in a plain one after remarrying the king of another country, people would think I was self-conscious. But as soon as I heard the words of Countess Eliza's messenger, I changed my mind.
"Please transmit my thanks to Countess Eliza."
I gave the messenger a gold coin and thanked Countess Eliza for her consideration.
Wedding dresses are usually glamorous.
However, Countess Eliza even sent someone to inform me about the dress, meaning that Rashta would be wearing an incredibly glamorous dress.
In this scenario, if we both wore a glamorous dress we would look like two peacocks.
"I'd better wear this dress."
I chose a plain dress that I had brought just in case.
***
After I finished getting ready, I met up with Heinley to go to the wedding hall.
The wedding hall was splendidly decorated, Sovieshu's effort was evident everywhere.
It was not all encrusted with jewels as it was in the Western Kingdom, but the workmanship was still impeccable.
Especially the pillars with magic engraved on them that glowed naturally were truly amazing.
Sovieshu… made such preparations for Rashta, just to make her the Empress for one year?
What an absurd lie.
When I thought of Sovieshu, who was hopelessly in love with Rashta, pressuring his subordinates for the wedding preparations, one corner of my mouth naturally curved up.
I'm glad I didn't reply to that letter.
In any case, because of the trouble Sovieshu had gone through, the eyes of those present were not so focused on me.
I could hear people murmuring, but no one approached me.
I sat next to Heinley in the seats reserved for distinguished guests, hoping the wedding would go quickly.
After half an hour, the great silver bell hung at the front of the wedding hall rang.
Then, the High Priest came out through a small door next to the platform.
He looked more tired than on the day of the divorce as if disgusted by repeated visits to the Eastern Empire.
His expression became even more peculiar when he saw me.
I greeted him, bowing slightly with a smile, but the High Priest shook his head, smiling forcibly.
The hall fell completely silent in the presence of the High Priest.
He unfolded the scroll he held and recited, "Let the bride and groom enter."
Then, the small bell next to the silver bell rang, following which the 'Bride's Door' and the 'Groom's Door' opened simultaneously.
The two doors were in opposite directions, the bride and groom would enter on separate paths, which would meet in the middle to form a single path.
This was a formality symbolizing that the bride and groom, who had traveled different paths, would now travel the same path through marriage.
Sovieshu, who came out of the groom's door, looked as good as ever. A handsome, imposing, and dignified man.
Even in this absurd situation, he looked very dashing. He was staring at Rashta, not turning to look at me for a second.
They must be very happy.
Rashta also looked beautiful and elegant.
Her appearance, which in itself was amazing when we first met, now looked like a perfectly white moon, perhaps because of Sovieshu's love or because of the delicious food at the Imperial Palace.
However, the moment Rashta crossed her path, and stood next to Sovieshu. Her dress, which had been covered by the chairs and guests, was fully revealed, and I was so surprised that my eyes twitched.
What is she wearing?
Rashta's dress wasn't just glamorous.
No, even if I were to ignore the dress, What were those accessories on her arms and hair? With all that, she looked more like a Christmas tree.
Looking at Sovieshu again, his expression was different from a moment ago.
He didn't have a happy expression when he saw the bride. He had a slightly angry expression with his jaw tense.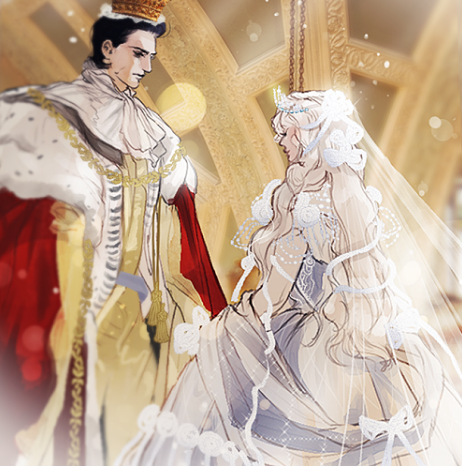 Sovieshu did not look at Rashta with excitement but instead, was puzzled. If the designer was in front of him right now, he would probably be complaining to her for dressing Rashta like this.
Faint laughter could be heard all around. The arrogant nobles seemed to be mocking Rashta's dress.
Rose also muttered under her breath.
"I can't believe she's wearing something so funny with that face. Did she originally have that kind of taste, Your Majesty?"
This made me think of the clothes Rashta wore when I was still the Empress. She wore mostly white clothes, avoiding glamorous designs.
Because of that, Rashta looked like a lovely wildflower, among all the extravagant flowers.
Her appearance was refreshing to the nobility, and also served as a strong attraction for Rashta to establish herself in high society.
But on her most important day, she appeared out of nowhere in such a ridiculous dress… anyway, Rashta herself had a satisfied face.
As she passed by me, she flashed a confident smile that spoke for itself as if she had won.
In the midst of this absurd situation, Rashta and Sovieshu walked together and stopped in front of the High Priest.
At that moment, the High Priest asked as he opened the holy book.
"Does Sovieshu Vict, Emperor of the Eastern Empire, accept to marry Rashta Isqua?"
"I accept."
"Does Rashta Isqua accept to marry the Emperor of the Eastern Empire, Sovieshu Vict?"
"I accept."
"Sign here."
After Rashta and Sovieshu signed the marriage certificate, the High Priest kept the paper inside the holy book, proclaiming the birth of a new emperor couple in the Eastern Empire.
Those present applauded, and Sovieshu turned around, showing a gentle smile. Although her dress was ridiculous, Rashta's smile was brighter than ever.
They both looked very happy. It looked like a fairy tale scene.
Looking at this beautiful couple, I thought, 'I hope they are not happy'.
Comments for chapter "Chapter 211"
NOVEL DISCUSSION