Remarried Empress – Chapter 215. Come Back, Navier (2)
Translator: Aura / Editor: Maybe
---
'And she's still acting as if she's superior… insolent!'
Rashta, whose pride had been wounded, regretted not having done anything and covered her belly again due to the growing pain.
"Ugh…"
She wasn't pretending. Unknowingly, facing Navier put enormous pressure on her.
'Now she's not only after me, but also after my baby.'
Rashta regarded all this as Navier's scheme. She was a smart woman, so it had to be a psychological attack.
However, as the pain subsided, Navier's words began to unsettle her.
'Hmm…What was she talking about?'
For Rashta, the question of asking for help from Marquis Karl and about it not being good to have around those who only came for power were nonsense.
'Does she think I'm so stupid that I haven't learned anything?'
But she was troubled by the question of promissory notes.
'Is something wrong with the promissory notes?'
Rashta had examined them carefully, so she could not remember any names on the promissory notes. She anxiously racked her brain, but she was sure they were nameless promissory notes.
Besides, she had already given the promissory notes to Baron Lant.
'The last couple of days have been celebratory, so Baron Lant should still have the promissory notes. Would it be alright to ask him?'
Rashta changed her mind after a moment's consideration.
If she told him that she would recheck the promissory notes, Baron Lant would be puzzled. However, that didn't mean she could take back the promissory notes and give the cash accordingly.
'She was just talking nonsense.'
Rashta suppressed her nervousness and tried to calm down.
'Smile! You must show a dignified image to His Majesty from now on!'
***
I didn't want Sovieshu to misunderstand, so I left the promissory notes with Rashta instead.
'Look at me. Am I not a good empress? Do you still want to divorce me?'
It would have looked like I was saying that to Sovieshu.
"…"
'Forget it. It's already out of my hands.'
I shook my head and put that aside, then left the Southern Palace.
In a few days, I will leave the Eastern Empire. After that, I will rarely come here. This might even be the last time, so I wanted to say goodbye to this place completely.
… How long have I walked?
Not far away, I saw a bright light.
What was that?
I followed the light and to my surprise Duke Elgy was sitting on a huge rock.
The small light came from the necklace he was holding.
Should I pretend I didn't see him?
But hearing my footsteps, he turned his head. Now I had no choice, I walked over and asked him, "What is that?"
Duke Elgy did not expect to meet me in this place, he seemed as surprised as I was. Then he smiled and opened his palm,
"It's a necklace. A necklace with a bit of magic."
He rolled the necklace in his palm as if to show it to me. Then the necklace glowed even brighter as if a little firefly was wandering inside it.
As I looked at it curiously, Duke Elgy asked, "Don't you feel sad?"
It was an unexpected question.
What did he mean? I took my eyes off the necklace and stared at him.
Duke Elgy gazed silently into my face, his expression… the same as yesterday.
The same somber expression he had when we danced.
He was Heinley's friend, but he was also Rashta's friend.
It was a very happy time for Rashta.
So why did he have that expression? It's strange.
'Can it be?' At that instant, a thought popped into my head,
Maybe…
"Do you like Miss Rashta?"
So he had that expression because Rashta got married?
Oh, come to think of it, she's not 'Miss Rashta' anymore.
"Do you like Empress Rashta?"
When I asked, correcting my words, Duke Elgy raised his eyebrows and laughed.
But the next thing he said was the same question as before.
"Don't you feel sad?"
"Sad…?"
"Because of what happened at the parade."
Is he saying that because people ignored me during the parade?
Is that why his expression was so somber? What happened at that moment had nothing to do with him.
It seemed strange to me, but I answered honestly, "It was inevitable."
Duke Elgy repeated my words "It was inevitable…" then muttered coldly, "People are like that. They only remember the last thing. Regardless of what one has done, if they don't like the last, they turn their backs on you right away and forget everything else."
Instead of answering, I just stared him in the eye.
Unless he was a fool, it seemed that what happened brought back bad memories.
Was it someone around him, or had he experienced something similar himself?
At that moment, Duke Elgy smiled as he put the necklace in his pocket.
"Queen, you are truly understanding. If I were in your position, I would be a little angry."
His words of sympathy mixed with a mocking tone were just as usual. However, he seemed more distressed than usual.
Was it because of the sudden change in his expression?
If we were close, this is where I would ask him, 'What happened to you?'
However, since we didn't have that kind of relationship it was awkward for me to ask such a personal question.
So I nodded, pointing my finger in the direction I was headed.
"I'm sorry to have interrupted your alone time. I will leave."
Duke Elgy smiled sweetly and rose from the rock.
"I will escort you on your way."
***
Today was the last wedding reception and I was supposed to spend much more time with Heinley.
Yesterday, before we parted to our rooms, Heinley took me firmly by the hand and grumbled, "Since we came here only hang out with your friends. Please hang out with me too."
He wore a sad expression, his broad shoulders drooped.
I felt sorry for him, so I promised him that I would spend more time with him today.
On second thought, it was true.
Before the celebrations, I hung out with my friends.
I only danced with him once on the first day.
On the day of the masquerade ball, after Sovieshu took Rashta away, I stayed a little longer and then also returned to my room.
It was no wonder Heinley was lonely.
What I wanted most was to skip the last wedding reception, but I put on a purple dress that matched Heinley's eye color and went looking for him.
I was going to take him out of his room myself to try to cheer him up.
After we had some fun, I would take him for a walk…
However, as I was about to knock on Heinley's door.
"Navier."
I heard Sovieshu shout my name.
As I turned around, I saw him approaching unescorted.
As soon as I saw him, I remembered Rashta covering her belly at the masquerade ball.
Is he here to discuss yesterday's incident?
I said firmly, "Those present should have seen it all. I did nothing."
Sovieshu approached and asked in surprise, "What are you talking about?"
What am I talking about?
"Aren't you here to blame me for Empress Rashta's collapse?"
When I asked him coldly, Sovieshu exclaimed as if I had slapped him.
"Hell! What nonsense are you talking about? I'd never believe that!"
He would never believe that?
Doesn't he remember the times he blamed me for what happened to Rashta?
Staring at him silently, Sovieshu stiffened as if he had been thinking about that too.
However, as he had said, he didn't seem to be here to discuss what happened to Rashta at the masquerade ball.
But I didn't let my guard down, Sovieshu muttered, "Oh my goodness," and put his hand to his forehead.
"So, what brings you here?"
When I asked, removing all possible emotion, Sovieshu pointed to my room with his gaze. As if he wanted us to go inside to talk.
I shook my head.
"If you have something to say, do it here."
Although as a foreign queen, it was not the proper attitude toward the emperor of a powerful country, as an ex-wife, it was natural to act this way toward her ex-husband.
I did not want to be alone with him in the same room.
Sovieshu's eyes twitched.
Was what he wanted to tell me that important?
I thought he would leave in anger. But after looking at me intently for a moment, Sovieshu actually opened his mouth, "Come back."
"!"
"I don't want you to be another man's wife."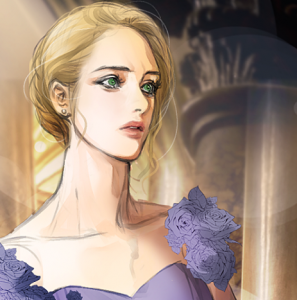 ***
"I don't want you to be another man's wife."
Hearing the voice coming from the other side of the door, Heinley froze.
He put his ear to the door and pressed his hand against his heart. His heart was pounding.
'What does this mean…?'
Comments for chapter "Chapter 215"
NOVEL DISCUSSION