Remarried Empress – Chapter 216. Handsome (1)
Translator: Aura / Editor: Maybe
---
Heinley had been a little strange after we attended the wedding. He seemed discouraged…
On the way to the wedding, he had enjoyed our time together in the carriage. However, on the way back, he looked depressed. Even though we were in the same carriage, he tried not to look me in the eye.
I was worried, so I asked him what was wrong, but there was no answer.
He would only hold my hand occasionally, and at one point he asked, "You'll always be by my side, right?"
"Why are you saying something so obvious?"
When I replied with a smile, he quietly put his cheek on my hand, closing his eyes.
He even kissed my hand softly at times.
"Heinley?" I asked.
It was cute, but it tickled. Then, he asked me a question similar to the previous one.
"You're my wife, right?"
Why does my prince bird say such obvious things?
I thought it was because he was tired on the way back. However, after returning to the Western Kingdom, Heinley's mood remained similar.
Even when he came to visit me, he paced back and forth anxiously and sighed as if he had something to say but couldn't.
He still did not respond when I asked him what was wrong.
Nothing changed for several days until I decided to take the initiative and encourage Heinley.
He had been hurt in many ways in the Eastern Empire.
He went to the Eastern Empire for me, so I wanted to make him feel better.
But what should I do… how could I encourage the depressed Heinley again?
I was struggling with this problem for a while.
As I kept thinking, I unconsciously noticed Rose knitting.
A ball of soft yellow yarn and needles.
When I saw those two things, a good idea popped into my head.
Clothes! I can make clothes for him.
***
Heinley was sitting in a dangerous position on his windowsill, staring up at the sky.
There was a stack of papers piled on his desk that he was supposed to be working on, but now even that was out of his sight.
The day of the last wedding reception replayed agonizingly in his head to the point where he felt on the verge of insanity.
— Come back.
— I don't want you to be another man's wife.
— We are a married couple, Navier.
What did Queen respond to such nonsense? Heinley wished he could have eavesdropped on it all.
Queen's voice was so calm and low that he could not hear her response from the other side of the door. However, he believed that she rejected him because he heard Emperor Sovieshu shout in annoyance, 'Navier!'…
Still, his anxiety did not disappear. It was his understanding that Queen and Emperor Sovieshu had grown up together.
They had once been as close as siblings.
What if Queen's feelings for Sovieshu were love-hate?
What if she wanted to give him another chance?
Heinley cocked his head slightly to one side as he thought of all the bad things that could happen.
He even thought that Queen would come to see him at any moment and bring up the subject, saying, 'Sorry, but—'
It was then…
"Your Majesty."
A knight entered and informed him that Rose, Navier's lady-in-waiting, had been here. Heinley then asked, "What for?"
"Her Majesty the Queen has something special to give you, she said to come visit her when you have time."
Heinley's eyes widened.
"What does Navier want to give me?"
"I just know it's something self-made. Your Majesty, come down from the windowsill. It is dangerous."
Is it a dish…? It's not a divorce notice, right?
Uneasiness and anticipation surged throughout him simultaneously.
Heinley hurried down from the windowsill.
***
Heinley appeared less than five minutes after Rose returned.
"I said to come when you have time," I chided him with a chuckle.
Heinley excused himself and smiled as if embarrassed, "I had casually taken a break."
Once my ladies-in-waiting had quietly hurried out, Heinley asked me with a twinkle in his eye, "I heard you wanted to give me something. What is it?"
Did he really come during his break? Watching his expression, he seemed to have come running because he was curious about the gift.
His expectation-filled attitude made me laugh.
His previous depressed appearance had certainly lessened a bit.
I quickly opened a desk drawer, pulled out a wrapped gift box, and handed it to him.
"It's small."
Heinley murmured about the gift I handed him, examining the box from all sides. I guess he was curious about what was inside.
"Open it," I said with a smile.
Heinley looked at me and pulled the end of the ribbon.
The box was fully revealed as the ribbon that carefully tied the wrapping fell off.
Heinley quickly opened the box lid as if he was impatient to see what it was.
"…What do you think?"
I asked him as he looked at the gift in amazement. He slightly gaped at it.
Then he reached into the box, pulled out the gift I gave him, and lifted it up a bit.
"What do you think?" I asked him again.
Inside the box, were the clothes I had knitted for 'Queen'.
I had told him in the past that I would dress him if he appeared in front of me again in 'Queen' form.
Suddenly, when I saw Rose knitting, I remembered those words and it occurred to me to make him clothes.
Although at the time I said it as a punishment Heinley seemed to really like it…
"It's cute. Did you make it for me to wear when I turn into a bird?"
Heinley burst out laughing as he looked at the clothes as if they were baby clothes.
Just as I expected, he looked very happy. The gloom of the last few days faded, and his face became bright once again.
It was a relief, that his mood was much better.
I looked at Heinley and proposed, "If you become Queen right now, I will dress you."
Heinley startled and looked at me, his eyes asking, 'Seriously?'
To show that I was serious, I sat down on the couch and gently patted my lap.
As soon as I did, Heinley disappeared, and I saw something shaking inside his clothes on the floor.
Queen came out through his clothes and hurried over to me.
He came to the front of the couch and looked up, I picked him up and put him in my lap. Like the old days.
His eyes widened and twitched.
Pretending not to notice, I grabbed the knitted clothes and put them on Queen.
"Cute."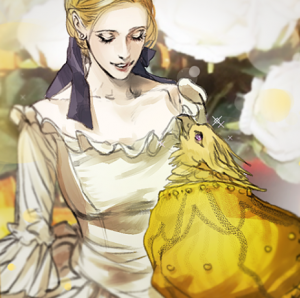 After I finished dressing him, I sang to him while stroking his head.
I sang softly, humming.
He seemed to feel so at ease that his eyes gradually narrowed as I sang until they finally closed completely.
Looking down after finishing the song, I saw Queen completely asleep.
His chest rose and fell steadily, his eyelids twitching occasionally as if he were dreaming.
"How cute."
I stared at him and kissed him gently on the forehead.
* * *
Comments for chapter "Chapter 216"
NOVEL DISCUSSION