Remarried Empress – Chapter 218. Kapmen And Heinley (1)
Translator: Aura / Editor: Maybe
---
I walked toward him with a smile. However, the moment I noticed his twisted face, I took a step back.
The effects of the potion still hadn't worn off?!
His expression twisted even more as I stepped back. Now, I was absolutely sure. The effects of the potion had definitely not worn off.
But why? It had been a long time already, no?
While I was thinking about that, Grand Duke Kapmen seemed to want to come this way.
No way.
I stepped back again.
Grand Duke Kapmen's expression darkened noticeably, but I couldn't do anything about it.
The way the Grand Duke spoke under the effects of the potion was so strange that anyone would misunderstand him.
"Your Majesty?"
After calling me, Mastas, who was following me, asked, "What's wrong?"
"Let's go the other way. There seem to be a lot of people around here."
I quickly turned to the other side, pretending to be calm.
***
'Ah…'
Kapmen unconsciously stretched out his hands, as if reaching for someone. Then, he closed his hands and lowered them, standing there in a daze, looking at the skirt of her dress as she walked away.
It was like a butterfly flying away, fluttering in the wind.
"Grand Duke?"
The squire who had accompanied him from Rwibt, was giving instructions for the luggage to be taken out of the carriage when he called Kapmen.
"What's going on?"
"Navi…" TL/N: Navi is the romanization of '나비', meaning 'Butterfly'.
"Butterfly?"
The squire looked around in bewilderment.
There were no flowers nearby, much less butterflies.
[Is the Grand Duke seeing strange things again?]
The squire's perplexed voice echoed in Kapmen's head.
"…No."
Kapmen turned around reluctantly.
"Hmm, where should I go?" He then asked, and the official who had come to welcome him quickly replied, "To the Hall of Stars. I will show you the way."
Kapmen nodded and followed him.
The 'Hall of Stars' was a place that lived up to its name. Arriving at the hall under the guidance of the official, Kapmen looked up at the black ceiling.
Countless different types of jewels shone like stars in the sky.
Was it to show the wealth of the country that the place where distinguished guests were received was like this?
In the middle, a long red carpet stretched across the floor, with officials standing on either side.
King Heinley was also standing by the throne at the other end of the carpet.
"My apologies, Grand Duke. You must put down your sword," whispered the official who had led him here.
Kapmen pulled the sword from his waist and handed it to him, then walked toward King Heinley.
Stopping about six paces from him, he bowed his head slightly in greeting.
"Congratulations on your coronation, Your Majesty."
Heinley smiled and replied, "Thank you."
For a moment, the two stared at each other without saying a word.
Kapmen remembered the last occasion when they met. That day he had struck Emperor Sovieshu, but the confrontation had started with Heinley, a prince at the time.
The corners of Kapmen's lips turned up.
He could hear what other people were thinking, so he noticed that King Heinley was thinking back to the exact same event he was.
However, at the moment King Heinley grinned and said, "I would also like to hear your congratulations on the wedding."
Kapmen frowned, the slight smile on his face completely disappeared.
An ordinary person in this situation would feel awkward and get carried away by those words.
[What can I do if he gets too close to Queen?]
But Kapmen had clearly heard Heinley's thoughts.
Moreover, as soon as he heard 'Queen', there was a storm of calm inside him. Once he was swept away by the storm, his mouth opened on its own.
"Congratulations on the wedding."
"Thank you."
"It will be like a dream to see her wear the wedding dress."
"?"
Frowning, Heinley shouted, "What are you trying to say?!" His voice carried across the hall.
"Don't worry. Forget my words," Kapmen added awkwardly.
He didn't want to cause trouble again and leave as if he was being kicked out of the Western Kingdom.
How much did he regret hitting Emperor Sovieshu back then? It was comforting at the time, but that feeling didn't last long.
In the end, it became a big problem. The trade did not materialize and he could not stay at Empress Navier's side any longer.
He could not repeat the same thing this time.
Heinley, however, already seemed offended.
[I must restrain myself. I must restrain myself. I must restrain myself.]
These words were repeated by the grinning Heinley inwardly, revealing his true thoughts.
[I am different from Emperor Sovieshu. I will not be driven by jealousy. Queen told me I was cute.]
But Kapmen's regret disappeared again at the mention of 'Queen' in Heinley's thoughts.
"Those were empty words."
The effects of the potion, which seemed to have stabilized for a moment, suddenly spiked.
"…What did you say?"
"Thank you for the invitation."
"It wasn't that."
"Congratulations on the we—"
Kapmen bit his lips.
He'd said it before with no problem, but this time he wasn't able to congratulate him on his wedding.
Seeing him react like that, Heinley's expression darkened.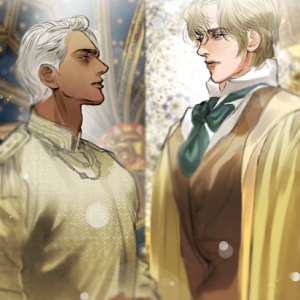 ***
Meanwhile, Sovieshu's expression was also dark.
He was reading the invitation sent by Heinley to attend their wedding in the West Kingdom.
"Is he in his right mind?"
Sovieshu muttered as he looked at the lavishly decorated letter, with ivory-colored details.
There was even a phrase in the letter that read— 'For our friendship.'
Sovieshu crushed the letter and threw it away when he realized that it was not written by Navier.
Comments for chapter "Chapter 218"
NOVEL DISCUSSION