Remarried Empress – Chapter 221. Grand Duke Kapmen Hates The Queen (2)
Translator: Aura / Editor: Maybe
---
There was one person who observed all of this from hidden behind a pillar. That person was one of Christa's ladies-in-waiting. She watched the situation carefully, and when she saw the strange atmosphere between Grand Duke Kapmen and Queen Navier, she excitedly returned to inform Christa.
"My Queen, I have discovered something really good."
"Something really good?"
"Do you know Grand Duke Kapmen?"
"Grand Duke Kapmen of Rwibt…"
"Yes, he must have come for the wedding."
Christa nodded.
What good was it that he had come? The visit of a foreign guest was always welcome, but in this case, the purpose of it had nothing to do with her.
The lady-in-waiting smiled and whispered, "But when I saw Grand Duke Kapmen with Queen Navier, I had the impression that he harbored a strong hatred for her."
"Grand Duke Kapmen?"
Christa thought about it for a moment and asked quizzically, "Hadn't he stayed in the Eastern Empire for a while?"
"Something must have happened then."
"Do you think so…?"
"It was obvious he hated her. When Queen Navier greeted him, the Grand Duke ignored her. Rose and Mastas were grumbling angrily."
The lady-in-waiting burst out in gleeful laughter and suggested with a bright face, "My Queen, take advantage of this opportunity. Get Grand Duke Kapmen on our side!"
"Grand Duke Kapmen…"
"Yes. Doesn't Queen Navier want to use Sir Koshar to gain popularity among the young ladies? That said, Grand Duke Kapmen is also a handsome man who would not lose to Sir Koshar. If you use the Grand Duke, you could keep the young ladies on your side."
***
'How can I change their minds?'
After much thought, Rashta first sent invitations to all the nobles living in the capital.
"Unless it is for a special circumstance, no one can refuse the Empress's invitation."
And just as Viscountess Verdi said, all the nobles gathered in the garden, but they seemed puzzled by the sudden invitation.
A large table was set in the garden and covered with extravagant dishes. The food was extremely eye-catching, and the taste was up to par.
The emperor's chef complied exactly with Rashta's order. Even the nobles, who were puzzled by the invitation, were surprised to see the sweet castle on the table.
A river of ice cream flowed around the sweet castle, and jams made from all kinds of fruits were in cookie carriages.
"How wonderful!"
As the nobles admired the prepared food, Rashta smiled elegantly and said, "I prepared it especially for all of you."
The nobles were even more surprised to see Rashta than the sweet village of treats presented on the table. Her manner of speaking was similar to that of Empress Navier. Rashta normally spoke in a high and lovely tone, but now, even her tone of voice was lower than usual.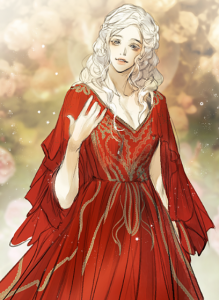 Some with a keen eye also noticed that Rashta's elegant red dress was similar to the clothes worn daily by Empress Navier. It was not exactly the same design, but it was definitely close.
The nobles exchanged glances silently.
"Everyone, please take your seats."
Rashta smiled elegantly and invited them to sit, as she herself sat at the head of the table. Then she continued in a calm voice.
"A lot has happened, but now everything has stabilized."
"…"
"This is a new era. I want to establish friendships and maintain good relations with everyone. Infighting among the nobles is also a nuisance to His Majesty the Emperor."
Smiling, Rashta raised her champagne glass to make a toast. The nobles followed suit and raised their glasses. After taking half a sip of champagne, Rashta lowered the glass and placed her hands on her belly.
"I am sorry I can't drink with you any more than that. For the baby's sake, I'll stop here."
At the mention of the baby, the bewildered nobles immediately smiled and began to give their blessings to Rashta.
It was funny to see her imitate Empress Navier so openly, but she was right. Now a new era had begun, and Empress Navier would never return. If she had stayed being just the former empress, there was a possibility that she would return. But didn't she remarry the king of another country?
In this scenario, it would be best to be on good terms with the current empress. Even if the empress changed back, the difference was in the baby in Empress Rashta's belly.
"You will have a healthy baby, Your Majesty."
"It will be a wonderful baby, whether it looks like the Empress or the Emperor."
"Truly angel-like."
"Have you thought about your baby's name, Your Majesty?"
She was just thinking about it.
Rashta stroked her belly, smiling at the nobles' praise. She wanted to show them who owned the western palace, who would be above them from now on, and who carried the next emperor in her womb, whether they recognized it or not.
"Its name— I don't know. His Majesty the Emperor will decide."
Rashta smiled and stroked her belly once more, but she was disturbed.
The image of a newborn baby's body came to her mind at that moment. The small body that Viscount Roteschu had shown her, claiming that the baby had died just after birth.
It was certainly not Rashta's baby, but the body was not fake. Rashta had held the dead baby in her arms, sobbing from the bottom of her heart.
At that moment, she was not frightened, even though she knew it was a corpse. She just felt grief-stricken, torn and heartbroken.
Whose baby was that? Where did Viscount Roteschu get that poor baby from?
Then, her thoughts turned to her real baby… her first child, Ahn.
"Your Majesty?"
Viscountess Verdi called out to her carefully.
Only then did Rashta realize that she had been faxing off and quickly smiled.
None of that matters now. It was all part of the past, a painful past.
Now, both she and the baby in her belly would be happy.
At that moment, a loud laugh was heard from the side of the table. It was a malicious laugh.
The environment immediately became quiet.
Rashta looked at the seat where the laughter came from. There was a tall man with platinum blond hair sitting there. His eyes were yellow, and he exuded an intellectual air as if he were a scholar. He also had an attractive face…
Rashta realized who he was.
On the day of Empress Navier's divorce, this man had run to her before being stopped by the emperor's guards, shouting without understanding why she had to get divorced.
Rashta blamed herself for inviting him. She knew that some of the nobles living in the capital had been on Empress Navier's side.
However, she sent invitations to everyone except the Duke and Duchess Troby.
She wanted them to see with their own eyes who was the master of the empress's palace now.
'So I invited him, too…'
She regretted her decision belatedly.
"I just find it a bit ironic that the person who proudly declared that she would be the 'Empress of the Commoners' is now trying to get close to the nobles…"
At the obvious venom in his words, Rashta ordered him with a frown, "If you don't want to have a friendly relationship with me, leave right now."
Marquis Farang muttered, "Oh, how scary," and immediately stood up.
"Since it's an order, I have no choice but to leave."
Then, he waved his hand and left.
Some nobles looked at each other and followed Marquis Farang, saying they had a stomachache, were going to the toilet, or remembered an urgent matter.
The number grew larger and larger until it reached more than a third of those present.
Rashta clenched her fists, biting her lips hard.
***
Comments for chapter "Chapter 221"
NOVEL DISCUSSION