Remarried Empress – Chapter 222. Don't Leave Me (1)
Translator: Aura / Editor: Maybe
After the short tea party. Rashta called Duke Elgy, told him what happened, and angrily asked, "I did exactly what you said, why did he talk like that?"
It was Duke Elgy who advised her on what to say in interviews.
Back then, Rashta had followed his advice thinking it would be for the best. However, she was enraged when Marquis Farang openly made a sarcastic remark about the interviews, and many of the nobles seemed to agree with his words.
"Did you purposely tell Rashta the wrong answers?"
At Rashta's question, Duke Elgy smiled as if he hadn't heard correctly, "What?"
"If not then why is everyone being so… rude to Rashta?"
Rashta's eyes filled with tears as she spoke sadly. It was the first tea party she had ever held and she felt so happy. It was one she had worked hard on.
The first tea party to get close to all the nobles had been ruined.
More nobles remained than those who followed Marquis Farang. But after the Marquis and just over a third of the nobles left, the atmosphere among the remaining nobles was very strange.
Although many were trying to cheer her up by speaking ill of Marquis Farang, many others exchanged glances with each other and laughed. Rashta's attention was mainly focused on the latter.
"Ah, it's just that."
Duke Elgy smiled slightly.
Even though Rashta was deeply angered, the Duke had a nonchalant attitude as if her anger was irrelevant.
When Rashta glared at him, Duke Elgy said with a smile, "You're still naive."
"!"
"Did you expect everyone to show a favorable reaction towards Your Majesty the Empress?"
"What do you mean…?"
"Your Majesty the Empress had to choose between nobles and commoners."
Duke Elgy looked at Rashta with an expression of, 'Do you get it?'
"You weren't in a position to choose everyone, so the best choice was the commoners."
Rashta shouted in exasperation, "You told me I would have the support of the commoners, but you never told me I would become the enemy of the nobles!"
Duke Elgy remained unperturbed.
"The reaction of the commoners towards Empress Navier at the parade and the reaction of the commoners towards Your Majesty Empress Rashta. Have you compared the two?"
"That's…"
"That reaction was obtained by choosing the majority of the citizens, the commoners. What happened today was also because of that."
"…"
"You don't have to worry."
Duke Elgy smiled and gently reassured her, "The nobility will change their minds for Emperor Sovieshu and the soon-to-be-born baby."
"… Really?"
"Of course."
Rashta was much more relieved at Duke Elgy's confident answer.
Once she calmed down, she felt ashamed and regretful. She was so surprised that Marquis Farang had left with just over a third of the nobles, that she vented her anger at the Duke.
"I'm sorry," Rashta apologized in a barely audible voice, "Rashta was sensitive earlier, what happened was really surprising."
"I know. You got angry as soon as I came here."
"I… I'm so sorry."
Duke Elgy replied with a smile, "Alright."
However, she felt a certain detachment in his attitude. As if there was a wall between them, nothing like the closeness from before.
"Hmm… Duke Elgy."
"What's wrong?"
"Why don't you call Rashta 'Miss' now?"
Rashta asked, thinking that the estrangement she felt from Duke Elgy might be because of this.
His way of speaking was really strange. Until a few days ago, Duke Elgy affectionately called her 'Miss'. He was more approachable than now. But after the wedding, his attitude was no different from when he treated other people.
"You used to affectionately call Rashta, Miss, Miss…"
When Rashta asked directly, Duke Elgy smiled, lifting one end of his mouth.
"You're the Empress now, I can't address Your Majesty like that anymore."
"Ah."
"It's time to keep a distance between us."
Rashta looked at him stunned and exclaimed in surprise, "No!"
"There is no such thing in our friendship!"
"It has been decided since Lady Rashta became Your Majesty the Empress."
On the contrary, Duke Elgy spoke so decisively that not a hint of regret could be felt.
Rashta's eyes widened in shock.
Duke Elgy was the only one who sent her a gift when none of the nobles did.
So, she had decided yesterday to establish a sincere friendship with Duke Elgy.
But now they had to keep a distance between them?
He was the only person Rashta really trusted.
"No way!"
Rashta was startled and approached Duke Elgy.
"What's the matter? Are you angry? Is it because Rashta was angry?"
"Angry? How could I get angry when Your Majesty the Empress has every right to ask?"
"Then why do you suddenly want to distance yourself…"
Rashta begged him on the verge of tears,
"Don't do this. Rashta has no one else to trust."
"Don't you have His Majesty the Emperor?"
"Rashta loves him, but Rashta doesn't trust him."
"…"
Rashta's eyes widened, surprised by her own words.
It was something she had always thought about. However, she was scared because it was the first time that had ever come out of her mouth.
Rashta got nervous and hurriedly averted her gaze.
"Hmm, it's not that Rashta doesn't trust His Majesty, it's just…"
Duke Elgy chuckled and asked, "Do you trust me more than His Majesty?"
Fortunately, he didn't seem to find it wrong.
Rashta nodded in relief.
Then she held out her hands and said, holding Duke Elgy's hands, "Please address me comfortably when we are alone, alright?"
"Then, should I keep calling you 'Miss'?"
"Just… just call me by my name please."
Duke Elgy chuckled again, "I have never called you only by your name. Now that you are the Empress, do you want me to call you only by your name?"
Rashta nodded, holding his hands tighter.
'He has done so much for me, but I got angry for a moment and it almost destroyed our relationship. No, more importantly, I never imagined that Duke Elgy would say 'it's time to keep a distance between us.' Of course, I had thought he would always be there for me.'
"When we're alone, you can do that, right?"
Once Rashta asked anxiously, the corners of Duke Elgy's eyes curved strangely.
"Is that okay with you?"
Over Rashta's shoulder, his expression resembled that of a sated beast.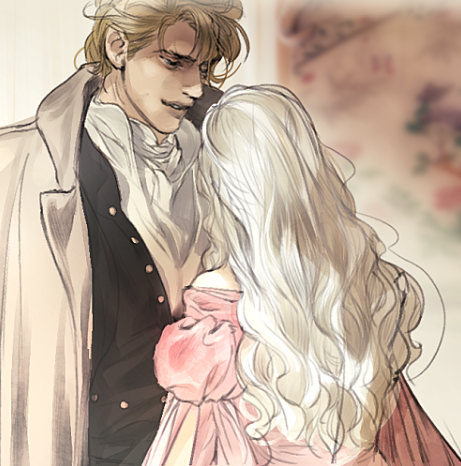 But Rashta didn't notice his expression and continued to insist.
"When we're alone, you may as well talk at your leisure."
Once she finished, Rashta made a, "Huh?" sound to press him to give an answer.
Only then did Duke Elgy's expression relax per usual.
"Lady Rashta knows how to get what she wants from people."
Unlike before, she felt no wall even though he used respectful language.
Rashta was relieved, but pressed him again, "Didn't I say you could speak at ease, huh?"
"I appreciate it, but the closer we get, the more we have to follow etiquette."
Hearing Elgy's words, Rashta regretted having suspected him before even more, even if it was only briefly.
'Duke Elgy is a man who does not mix up public and private affairs… How could I doubt such a man…?'
As she regretted it, Duke Elgy subtly asked, "By the way, Lady Rashta, how do you manage your money?"
"How do I manage my money?"
Rashta looked at him in surprise at the sudden mention of money.
'Does he want me to pay back the money I borrowed from him?'
She could pay it back now that she became the Empress. However, she didn't even know how much money she had nor how much she could use now.
Noticing Rashta's surprised expression, Duke Elgy casually asked, "Now that you're the empress, you'll handle your own money, right?"
***
Comments for chapter "Chapter 222"
NOVEL DISCUSSION