Remarried Empress – Chapter 224. Kapmen's Black Heart (1)
Translator: Aura / Editor: Maybe
---
Grand Duke Kapmen replied with an impassive expression, "I see. I figured as much."
'Figured as much?'
"King Heinley had no reason to invite me."
Oh… Grand Duke Kapmen is smart.
As I admired him in my head, Grand Duke Kapmen turned around and muttered, "Damn."
"Grand Duke Kapmen?"
What's wrong with him all of a sudden? Did the potion's effects intensify again?
Embarrassed, I stopped myself before touching him. If it were anyone else, I would lightly touch them and ask if they were all right. However, I didn't know how Grand Duke Kapmen would react due to the potion's effects…
"Don't touch me." Grand Duke Kapmen said firmly. He seemed to be thinking the same. "Your touch will destroy me."
"…"
"Please ignore my last words."
I looked back and saw that my ladies-in-waiting had not yet returned. Well, that's normal because all the food had been ruined when the basket fell on the ground. It would take a while to prepare it again.
Feeling relieved, I asked him between my teeth, "Is there no way to counteract the potion?"
"I tried many ways, but nothing worked."
"Nothing at all?"
"Nothing at all."
"So, now…"
What do you plan to do?
I swallowed the question that was about to come out of my mouth.
Come to think of it, it's a really big problem.
What if the potion's effects don't wear off for years? Even worse. What if the potion's effects don't wear off for the rest of his life?
When I looked up with this scary thought, Grand Duke Kapmen's complexion looked unusually pale.
I hesitated before asking him,
"How was it when you were away from me? What was it like when you were away from me? Did the potion's effects decrease?"
"No."
"Hmm."
"If I hadn't received the invitation, I probably would have come to see you anyway."
"…"
This was not good.
The gentle wind suddenly became strong. As a result, the hair behind my ear flapped wildly.
As I was doing my hair after the wind died down, Grand Duke Kapmen carefully reached out his hand.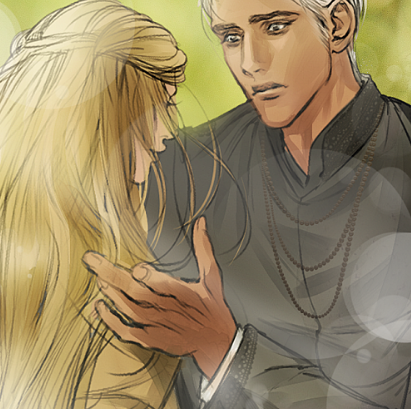 He tried to gently brush the hair covering my face to the side but quickly withdrew his hand as if his fingers had touched fire.
The awkward atmosphere made me take a step back. I knew he was doing it because of the potion's effects. But that didn't mean it wasn't uncomfortable.
"So, should I assign one person to handle the trade-related stuff to avoid working face-to-face?"
"It's not necessary. It would only make conversations difficult."
… Will you be alright?
"If you ask how much it hurts me to see you, it's very painful. Damn it. Stop it."
It was pitiful to see Grand Duke Kapmen giving orders to himself.
How much would that attitude hurt his pride?
That's when I had a good idea.
"Maybe, if you do this?"
"Do what?"
"Can you make another bottle of that potion?"
Grand Duke Kapmen frowned as if he thought I would say something crazy.
"Drink the potion, and look at someone else this time."
"!"
"Even if you fall in love… this time it will be with someone you are not related to at all."
Isn't that a good idea?
At my suggestion, Grand Duke Kapmen gave a little chuckle.
"And if I happen to end up in love with two people at the same time, won't that make the situation worse?"
"Ah…"
"It's painful enough to love one person like that. I don't think I can bear to be in love with two people."
***
[How much would that attitude hurt his pride? How pitiful.]
Kapmen couldn't help but sigh at the tickling voice in his head. Strange as it might seem, every person had an inner voice. Just as people's voices were different, the voices inside were different. Queen Navier's inner voice made him feel a pleasant tickle when he listened to it. It was a low voice, like a whisper.
Because of that voice, every time Queen Navier thought of his name, 'Grand Duke Kapmen', he got goosebumps.
It was like that from the first meeting.
It had been the same since then. Even now he was beside himself over the potion.
'Would you pity me?'
Kapmen had stifled the question that threatened to come out of his mouth at any moment.
Once Queen Navier had gone elsewhere with her ladies-in-waiting, he leaned against a white picket fence and closed his eyes.
After staying there for a long time, Kapmen decided to return to his room. However, an unknown woman was standing in front of the door.
The woman, who looked like nobility, said with a smile when Kapmen approached,
"Are you Grand Duke Kapmen?"
[It's definitely him.]
"That's right."
"Lady Christa would like to greet a special guest such as yourself personally, so please follow me."
"Who is Lady Christa?"
[Who does he think he is?! He doesn't know Lady Christa?]
"His Majesty Heinley's sister-in-law. The former queen."
[Should I tell him that Lady Christa is on bad terms with Queen Navier? When would it be timely?]
As usual, he heard both voices mixed together.
Kapmen was silent for a moment, trying to distinguish the voices.
It was better when he heard them separately. But when he heard both voices at the same time, he had to distinguish which was the authentic one.
Sometimes the people he was talking to would look at him strangely because he got confused on this part.
Once he finally did, Kapmen quietly declined, "I'm sorry, I'm tired."
The noblewoman's face became rigid. He just said he was getting tired, without making any excuses.
[How rude!]
Kapmen said it, knowing it was rude. Not intending to drag out the conversation, he asked coolly, "May I go in now?"
In other words, he wanted her to step away from the door.
When the noblewoman, whose pride had been wounded, stepped aside, Kapmen opened the door without a word and entered his room.
***
Comments for chapter "Chapter 224"
NOVEL DISCUSSION