Remarried Empress – Chapter 229. Don't Even Think About It… (2)
Translator: Aura / Editor: SaWarren
---
Christa was a little surprised by Rashta's unexpected behavior.
Here was a woman with devilish charm who rose to the position of Empress after having been the concubine of Emperor Sovieshu.
Even in the Western Kingdom Rashta was much talked about for this reason. Everyone thought she was a femme fatale with a deadly charm.
But to Christa she seemed like a naive country girl.
Moreover, it was shocking to see the Empress of the Eastern Empire make such confessions about her poor integration into high society and her inexperience with etiquette.
"During my stay here, I would like to be friends with Christa."
At Rashta's request with an angelic look, Christa nodded reflexively.
In fact, when she was informed of Rashta's invitation, Christa assumed that she planned to use her to confront Navier. Christa naturally found it strange that she talked so much about herself. She thought Rashta would get to the point now.
However, not only did Rashta not mention anything else about Navier, she acted like a lady making her debut into high society.
Christa found it pleasant to listen to her talk about various topics because it seemed that she was really unfamiliar with high society.
Once Christa let her guard down Rashta switched to the topic she wanted.
"Um, I hope you don't take offence to what Rashta is about to say. Rashta doesn't know much about nobility hence the question."
"?"
"Even though Navier was an empress, she remarried His Majesty Heinley of the Western Kingdom."
"…"
"Can't Christa remarry?"
Christa looked at Rashta with a stiff face.
While the ladies-in-waiting asked her because they were concerned, she was disconcerted that Rashta, whom she had just met, brought up the topic of remarriage.
"The only case of a marriage of convenience that Rashta knows about is Navier's… Perhaps because it was a marriage of convenience, Navier had no feelings for His Majesty. That's why she immediately remarried His Majesty Heinley."
Despite realizing that Christa was not happy to talk about this, Rashta continued,
"If this is a common pattern in nobility marriages, then Lady Christa also had a marriage of convenience…"
Eventually, Christa interrupted her firmly.
"I don't want to talk about it."
"Oh, I'm sorry."
Rashta hastily apologized with a surprised look. However, she laughed inwardly at Christa's firm response.
'She must be in love.'
Otherwise, she wouldn't have gotten so serious.
"Let's drink some more."
Pretending not to notice, Rashta offered Christa more drink mixed with alcohol.
The drink was taking effect and as time went on Christa became more and more relaxed.
When Christa looked drunk, Rashta asked,
"It's not like you're remarrying for an affair like Navier did. You lost your husband, but Lady Christa can't remarry. It's unfair, right?"
If Christa refused again to speak on the topic, she would make her drink more.
But Christa smiled bitterly, and Rashta exulted. 'Almost there!'
After a few murmurs, finally Christa slightly opened her heart.
"Although I could marry any man in the world, I can't marry the only man I want."
"Why?"
"… He doesn't feel the same about me."
Smiling helplessly, tears gathered in Christa's eyes.
Rashta smiled brightly and held out a handkerchief.
Rashta originally intended to make her feel that she had been kicked out of power in order to take advantage of her in some way. However, she uncovered more interesting information than expected.
'So she likes Heinley.'
***
One day before the wedding….
Heinley and I went to the ceremonial hall to rehearse the wedding ceremony first.
Heinley planned to proclaim himself emperor, so his closest aides were also gathered here. It was being discussed what would be the ideal time for him to proclaim himself Emperor of the West.
He should do so at the time when he would receive the most attention. However, because of the various opinions it was difficult to reach an agreement and the discussion went on longer than expected.
Eventually, Heinley and I headed to a corner of the ceremonial hall to take a short break.
I took the opportunity to ask him something that has bothered me since yesterday.
"What did you talk to His Majesty Sovieshu about last night?"
Heinley stopped short as he was trying to intertwine his hand with mine. Because our fingers touched I immediately felt Heinley flinch.
I looked at Heinley gently, taking his hand first.
Sovieshu tormented him? What did they talk about?
Then Heinley sighed and grumbled.
"It's unfair."
"?"
"You're cruel."
What?
"Holding my hand and asking me with that look, you leave me no choice but to answer."
As I burst into laughter, Heinley reluctantly replied.
"I just chose the right words to make His Majesty Sovieshu lose his temper. "
At his words I stopped laughing.
Heinley? Are you serious?
I was surprised. Is Heinley acting like that too?
But soon, the events of the special New Year's banquet flashed through my mind.
Heinley… had openly imitated Rashta's way of speaking in front of Sovieshu to anger him.
Come to think of it, it was true. He was like that.
I had forgotten because since we had become close he had been very gentle, but before we got close, I thought Heinley had a similar personality to Rashta.
He was good at pissing people off while laughing…
I frowned at the thought.
Heinley asked, staring at me.
"Are you mad at Heinley?"
I couldn't help but laugh at the way he spoke.
Heinley once again imitated Rashta's way of speaking, looking at me with a big smile.
"Don't get mad at Heinley."
"Don't imitate that way of speaking."
Although being Heinley, it sounded cute. It was the way of speaking that I hated the most.
Heinley grinned and whispered, leaning his head lightly on my shoulder.
"Wife, I really like you."
He looked cute, so I rubbed my head against his. However, I noticed that his close aides were gaping at us, and I hastily put on a serious face.
Of course, I also raised my head again. However, McKenna was already chuckling.
I quickly stared at Heinley with a stern expression and said what I thought was necessary,
"Heinley. You don't have to get along with His Majesty Sovieshu, but you also don't have to fight the Emperor of a country with similar national power."
"!"
"It's better not to cause unnecessary trouble."
The atmosphere was good, but it suddenly changed. Heinley's expression became rigid.
I was sorry to see that expression, but I had to say it.
"You are my husband, but at the same time you must take care of the Western Kingdom."
Heinley did not answer.
Does he intend to continue making trouble?
"Heinley."
Only once I called his name did Heinley look up.
But what he said softly was not a response to my words.
"I have something to confess to you."
He was trying to divert the topic of conversation.
I frowned and tried to tell him again, but—
"I have no experience."
What Heinley said left me speechless.
What… did he just say?
While I was shocked, Heinley whispered in my ear.
"So you must lead me on the wedding night."
My mind went blank even though I knew he had deliberately changed the topic.
I hadn't mentioned it, but that had been hovering in my mind all along.
But what did he mean?
He wanted me to lead him. Is he asking me to take the initiative?
Heat rose in my face, so I lowered my gaze.
If only he would pretend not to notice. However, Heinley tilted his head until our foreheads touched, looked me in the eye, and made fun of me.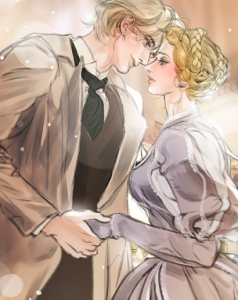 "Wife, you're completely blushing."
"… You too."
"My teachers used to tell me…"
"?"
"I only need to learn something once to master it."
"!"
Although I tried to keep an indifferent expression, it didn't work out as expected.
Eventually, I made up the excuse that we had rehearsed enough, and left the ceremonial hall as if I were running away… but outside the hall stood Grand Duke Kapmen.
I should greet him… No.
I could not hold a calm conversation with Grand Duke Kapmen while imagining the wedding night.
"!"
Fortunately, on careful examination, Kapmen's expression was really dark.
He didn't seem to have much desire to talk either.
Comments for chapter "Chapter 229"
NOVEL DISCUSSION