Remarried Empress — Chapter 239. Confessions (2)
Translator: Aura / Editor: SaWarren
---
Heinley appeared at lunchtime, his face pale.
"I'm sorry, My Queen. I received an emergency report from the border."
"It's alright. It's normal to be busy with work."
I spoke as calmly as possible with a smile.
However, it was strange.
Heinley usually said 'My Queen this, and My Queen that' with a smiling face. Today he just clenched his fists repeatedly and wouldn't even look me in the eye.
"Heinley? Are you all right?"
When I asked worriedly, Heinley closed his eyes tightly.
Did he really have an adverse effect due to the mana stone bed?
He then hesitated for a moment before finally speaking,
"You may believe it's an excuse… but I think Grand Duke Kapmen poured something strange in my drink yesterday."
"Grand Duke Kapmen? You mean when you went to talk to him alone?"
"Yes."
What did the Grand Duke pour into his drink?
"Is it by any chance related to you locking yourself in your room?"
His attitude was particularly odd yesterday.
Heinley went upstairs alone and locked himself in his room.
Heinley didn't respond instantly this time either. Eventually, he managed to open his mouth.
"Yes, it had to be a strange potion. I didn't feel any enchantment, or anything poisonous. After I drank that, I felt like I had sleep paralysis."
Unable to speak further, Heinley looked down.
From his words I could guess what the potion was that Grand Duke Kapmen had poured into his drink.
The love potion.
I remembered the suffering expression he had as he looked at me from the veranda on the day of the wedding night.
He may not have been able to control himself… a fit of madness.
The first time, he punched Sovieshu, and now he took advantage of the potion.
In any case, seeing how nervous Heinley was, he must have reacted to someone.
And now…
"The potion's effects, do you still have them?"
I asked, trying to sound as calm as possible even though my heart was pounding.
Grand Duke Kapmen had said that the potion's effects did not last long, no more than a week.
However, Grand Duke Kapmen himself was suffering from side effects, so I was worried.
Heinley and I just had a marriage of convenience, so I knew that someday he might bring someone he really loved as a concubine.
But I didn't want it to be that way. Grand Duke Kapmen had suffered so much since he fell in love with me because of the potion, I didn't want Heinley to go through the same thing.
No, more than that, if Heinley out of nowhere left me for someone else…?
Out of nowhere… Out of nowhere?
Huh?
"No. The potion's effects wore off at dawn. On its own."
"So then why are you so nervous?"
"My eyes started to wander as soon as I got married."
Heinley spoke with difficulty, looking down at the table with clenched fists.
His pupils seemed to quiver rapidly, not long before the corners of his eyes reddened.
"Heinley?"
I was surprised, why would he cry now?
Puzzled, I approached him and stared at him.
I knew better than anyone how strong the potion's effects were. They were enough to make Kapmen fall madly in love with me.
Heinley was affected by it too, but I didn't want to see him suffer for this.
"Heinley, look at me… Heinley?"
After calling him a few times, Heinley mumbled in a sad voice,
"My Queen, I didn't mean to hurt you."
"Heinley."
"I didn't want to be like your ex-husband."
"Heinley…"
"My Queen, I'm too ashamed to look you in the eyes."
"Heinley, it's not your fault."
"I love you, My Queen."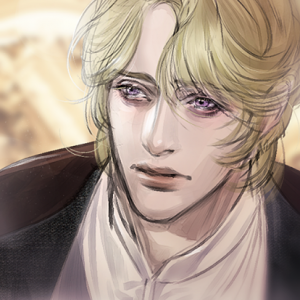 "!"
"I love you. I love you, but right now I can't bear that I got carried away by a potion like that."
"Huh … huh?"
As I had tried to comfort Heinley, I withdrew my hand in confusion.
I didn't understand what he had just said.
Loves Me? Heinley? Me?
"Am I not the kind of man you like?"
Tears seemed to gather in his eyes about to spill down his cheeks.
"No, it's not that at all…"
I half muttered.
It was still hard to understand what he was saying.
Did Heinley like me?
Was I the first person Heinley saw after drinking the potion?
That's the reason Heinley likes me… No, actually on other occasions I also perceived signs of this.
But still, this is…?
"It seems that the potion is still having an effect, Heinley."
"No, the potion's effects really did wear off at dawn."
"But it is not possible that you love me."
I stood up hastily.
"My Queen!"
Heinley reached out and lightly grasped my dress, looking up like a puppy just before it was being abandoned.
I stroked his hair and gently removed his hand.
"You seem a little emotional right now, first calm down."
"I'm not doing this out of excitement. No, of course I'm emotional. But it's not because of the potion."
Heinley looked at me sadly.
If I left in this situation, Heinley would probably misunderstand and think I was mad at him.
I repeated, cupping his cheeks with my hands.
"For now, just calm down."
"My Queen…"
"I'm not mad."
Still not calming down, Heinley buried his head in my dress.
***
It took him almost two hours just to calm down.
However, he wasn't approaching me as boldly as usual, but instead was looking shyly into my eyes.
It was heartbreaking to see him like that. At the same time, I was angry at Grand Duke Kapmen.
After all he had suffered from his own potion, how could he give it to Heinley?
"I thought you were suffering from the side effects of the mana stone bed."
"No, there's no problem with that."
"Are you sure?"
"Of course."
It was only after we had lunch together that I learned why Heinley had received emergency reports from the border two days in a row.
"We've received reports that the Eternal Thousand bandits are expanding their presence."
"They're coming this way?"
"Rather than targeting us directly, they seem to be increasing their overall scale."
The Eternal Thousand bandits was a name I had heard many times since I was in the Eastern Empire.
When my brother was on the border he often fought with those bandits.
Were they lurking around here too?
"It doesn't hurt to be prepared to deal with them, so we're double checking defensive lines."
"My brother can help against the Eternal Thousand bandits."
Although it was not his responsibility, he was an expert in the martial arts, who even fought as a hobby.
I omitted the latter because there was no need to mention it…
At my recommendation, Heinley smiled awkwardly.
"In fact, Sir April made the same recommendation."
***
After Heinley settled down to some extent. I went to visit Grand Duke Kapmen.
The strange way Rashta acted when she saw him this morning surely had something to do with the potion.
Otherwise, Rashta would not have looked so puzzled at Grand Duke Kapmen. If she was there because she wanted to get close to him, she would have tried to stay smiling as beautifully as possible.
I went to the place where Grand Duke Kapmen was staying and knocked on the door. After a short wait, the door opened and Grand Duke Kapmen appeared.
He was dressed as elegantly as usual.
His complexion was pale, but he still looked relatively well.
When our eyes met Grand Duke Kapmen called out to me in a low voice.
"Your Majesty."
There was no strength in his eyes. So did he feel bad?
In other circumstances, I would have left and talked to him when he felt better. But…
This had been too much. I remembered how Heinley had felt about the brief appearance of the potion's effects.
The Grand Duke would only stay for a while, for the sake of the trade. I was sorry if he wasn't feeling well now, but I had to take this moment to make that clear to him.
However, before I could speak, Grand Duke Kapmen apologized first while lowering his gaze.
"I'm sorry, forgive me."
"… Do you know why I'm angry?"
When I asked him coldly, he nodded helplessly.
I put a hand on my waist and looked at him with the sternest expression I could.
"I'm very, very disappointed."
I said coldly, and his head bowed even more.
Before I continued, I thought for a moment about what to say,
Do I emphasize again that I am disappointed? Or do I say I didn't know he was this kind of person? Or blame him for trying to hurt me in the same way as when I suffered because of Sovieshu…?
As the words appeared and disappeared from my mind, Grand Duke Kapmen's face darkened.
It was as if he could hear the insults that I uttered inside my head.
Was he afraid of what I was going to say?
After some thought, I found the right words.
"Pretend you don't know me from now on, unless it's for work."
"Your Majesty!"
I know that he had not yet managed to counteract the potion's effects and that he was suffering a lot from it. However, due to the trade with Rwibt, Kapmen still had to stay here.
So I had to make it clear to him, lest the same thing happen again.
As expected, Grand Duke Kapmen, surprised by my words, gripped the door frame so hard that it broke.
His eyelids trembled, and his eyes looked darker than usual. However, I did not take back my words.
He bit his lip hard and closed his eyes.
After a brief pause, he said something unexpected,
"Why aren't you thinking about anything now?"
At that moment, I was so shocked that my eyes widened.
His next words were exactly the same as… my thoughts.
How? Is it a coincidence?
"How? Is it a coincidence?"
As soon as I took a bewildered step back, he said hurriedly.
"I'm not a monster!"
"!"
At this point, I realized that his expression was tinged with fear and my expression reflecting in his dark pupils was similar.
Grand Duke Kapmen looked at me stunned for a moment.
Why is he acting like this?
As I thought about it, I shook my head quickly.
I can't believe he's able to read other people's minds.
How could he have that ability!?
I got goosebumps.
Instead of being wonderful, it would cause people to feel uncomfortable, or awkward, and not want to be around him.
No one in this world would want their true thoughts to be known.
Did he intentionally let me know?
When our gazes met again, Grand Duke Kapmen acknowledged in a subdued voice,
"It is my ability, but it is also my weakness."
"…"
"Now you know. So if something like this happens again, even if you let everyone know, I will accept it."
That said, the Grand Duke took a step back and finished,
"Even if you make it public now… I will accept it."
Comments for chapter "Chapter 239"
NOVEL DISCUSSION