Remarried Empress — Chapter 247. A Very Important Question (2)
Translator: Aura / Editor: SaWarren
---
Shortly after remarrying, Emperor Sovieshu brought a beauty, who had been a mage, to live in the imperial palace. Although he posed her as a mage's assistant, she was soon to become his second concubine.
Just as Sovieshu had warned Evely these kinds of rumors began to spread within hours.
Of course, these rumors also reached Rashta's ears.
"Where is she going to stay?"
Rashta asked, puzzled.
Her expression was so fierce that Viscountess Verdi hesitated, while Rashta ground her teeth and clenched her fists.
She remembered this girl's haughty and rude behavior a few hours ago. Some time ago she had heard from Viscount Roteschu that Sovieshu would bring a girl from the magical academy. It was evidently her.
Besides, Sovieshu really intended to make her his concubine!
'I haven't even… I haven't even given birth, how was he able to do this?'
Rashta sighed, sitting stunned on the couch.
Noticing Rashta's expression, Viscountess Verdi silently picked up the tea, and tried to sneak out of the room.
But before she could leave…
Rashta called her first.
"Viscountess Verdi."
Viscountess Verdi was forced to turn back.
"Yes, Your Majesty the Empress?"
"Although Rashta is limited in what an Empress can do, can Rashta at least place maids elsewhere?"
"Of course."
"Find daughters of prisoners who can serve as maids. Girls who have a good relationship with their parents. Better yet, if their families are in a difficult situation."
"Pardon?"
Viscountess Verdi's eyes widened at Rashta's unexpected order. Daughters of prisoners?
"Your Majesty, what do you intend to use those girls for?"
"Rashta has only one maid left. More are needed."
"I understand."
Rashta added with a gleam of cleverness in her eyes,
"And one must be sent to the mage girl."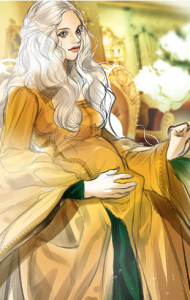 "As you command…"
"One more thing."
"Yes, Your Majesty?"
"I'll organize a tea party, send invitations to the noblemen in the capital."
"The noblemen?"
"Yes. Only to the noblemen."
After Viscountess Verdi left Rashta wrapped her arms around her belly.
Blindly imitating Empress Navier was not turning out as she expected.
'On second thought, wasn't it Empress Navier who came out defeated after giving her all? Yes, that's right. I don't need to imitate her, except in her role as Empress.'
She had forgotten it while trying to please the nobles.
Now that Sovieshu had brought this girl, Rashta came to her senses.
'If I can't get the affection of the nobility as Empress, I'll get all the men to love me. If I can't get a group of ladies-in-waiting, I'll get a group of maids. I'll also crush that mage at once to prevent her from becoming a real problem.'
***
A large carriage rattled along the carefully made gravel road.
The carriage stopped in the garden in front of the imperial palace.
McKenna, who was waiting there, quickly approached and opened the carriage door.
"Welcome to the Western Empire."
The couple in the carriage were startled when someone who was neither a knight nor a coachman opened the door.
"Who are you?"
"I beg your pardon. I am McKenna, Chief Secretary to the Emperor of the Western Empire."
When McKenna revealed his identity, the couple were surprised and hurried out of the carriage to greet him.
"Thank you for welcoming us in person."
McKenna responded to the greeting once more and quickly examined the Duke and Duchess Troby.
The couple looked very much like Navier, so he considered them close despite the initial cold treatment.
The Duke and Duchess Troby also examined McKenna in their bewilderment.
McKenna was the closest aide to their second son-in-law, Emperor Heinley. Moreover, they had grown up together.
'You can tell a lot about people by their friends.'
Of course, there are cases where this saying didn't fit, but with a relationship like Heinley and McKenna's, who have been together since childhood, it fit perfectly. It was a way to find out more about their son-in-law.
"His Majesty the Emperor is waiting for you. Please come this way."
McKenna addressed the couple in the most affectionate and cordial voice possible as Heinley had ordered.
McKenna led the Duke and Duchess Troby to the Hall of Stars, where distinguished guests were received.
There, Heinley stood in front of the throne with several officials and knights on either side of the path to it.
Like most of the distinguished guests entering this hall, the Duke and Duchess Troby were awed by the majesty of the place.
However, more surprising was that even in this incredibly majestic place, Heinley shone dignifiedly without being buried or suppressed.
Rather, his light blond hair and purple eyes seemed to sparkle with the light reflecting all around.
Heinley waited for the Duke and Duchess to approach. Once they were a few steps away, he stepped down from the platform where the throne was situated and grasped their hands.
"Your Majesty!"
Shocked, Duke Troby stepped back half a step, but quickly approached again to avoid embarrassing the emperor.
"Welcome, Mother. Father."
Heinley smiled broadly, speaking to the Duke and Duchess affectionately.
Although they had already experienced this treatment from Heinley at Troby Mansion, they did not expect him to do it in front of other people, even his own subordinates, so Duke and Duchess Troby smiled in embarrassment.
"My Queen, ah. That's the nickname we use between us. My wife missed you both very much. Of course, so did I."
The Duke and Duchess's eyes twitched at hearing the nickname they used between them.
The expansion of his family's power had raised the alarm of the Emperor of the Eastern Empire at the time, so Duke Troby deliberately decided to step down from holding office in the Empire since his daughter, Navier, had been chosen as crown princess.
He was both grateful and uncomfortable with Heinley's remarks. However, he had not forgotten the proper etiquette for addressing an Emperor.
"Thank you for your hospitality, Your Majesty. Also, my congratulations on your title of Emperor of the Western Empire.."
"My congratulations too, Your Majesty!"
Finally, as the couple formally greeted him, Heinley thought as he looked at them,
'My Queen looks a lot like her parents.'
***
The days passed quickly as I checked the number of people employed at the palace, their positions, functions, experiences and performance.
I couldn't even bother to eat lunch, so I asked Countess Jubel to leave the food on my desk, and kept checking the documents.
I wanted to finish it as soon as possible since this work served as the basis for everything else.
"Are my mother and father here?"
Even though my parents came from far away, I didn't want to go see them right now, however.
"Yes, they are with the Emperor now. His Majesty sent a man to report—"
"Do I have to go now?"
That's all I needed to know. When I asked with some regret, Rose raised her eyebrows and continued after the brief interruption.
"— He would like to converse at this time alone with them, so Your Majesty the Empress must wait until dinner."
What?
"Really?"
At those completely unexpected words the feeling of regret disappeared.
Did Heinley have something to discuss alone with my parents?
"What does he want to talk to my parents about?"
"That I don't know."
As Rose cocked her head, Mastas quickly intervened.
"I think I know. It is definitely that."
"That?"
"Now the confrontation is not between the Eastern Empire and the Western Empire? I think he's asking them about the Eastern Empire's weaknesses. I'm positive."
Laura's eyes grew wide as this was about her own country.
Rose nodded in agreement after a moment's thought.
"It is a possibility. Although His Majesty may seem unconcerned, when he speaks it is definitely not to talk nonsense. That's what my brother has told me."
"!"
***
Duchess Troby frowned, uncomfortable.
"You want to know what Navier likes?"
Comments for chapter "Chapter 247"
NOVEL DISCUSSION