Remarried Empress — Chapter 250. Coldness (1)
Translator: Aura / Editor: SaWarren
---
As the murmurs grew louder, Rashta was forced to reach out her hands.
Alan carefully stepped forward and handed the baby to Rashta. Awkwardly, Rashta held the baby. A face very much like hers was just below her nose.
Rashta was terrified as soon as she saw the baby's dark eyes. The baby was obviously her son.
Although his hair was covered with a bonnet, Alan once gave her a lock of the baby's hair. So she knew even his hair looked like Rashta's.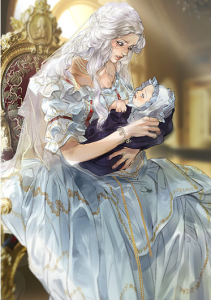 Sovieshu, sitting next to her, admired the baby's face.
"He's so cute."
Rashta was even more terrified hearing his voice and hugged the baby to hide his face.
The baby, who was whimpering, surprisingly, calmed down as soon as Rashta hugged him.
But as Rashta hugged the baby, she remembered the small lifeless body she had held in her arms.
She felt nauseous and shivery as she recalled the events of that time. A deep fear came over her.
Her hands and legs trembled for fear that at any moment the baby in her arms would spit up blood and die instantly.
Moreover, Sovieshu saw the baby's face.
'Didn't he find it strange to see a baby that looks a lot like me?'
Eventually, Rashta couldn't take it anymore and hastily handed the baby back to Alan.
"He's a beautiful baby."
Alan quickly reached over and held his son lovingly.
Rashta glanced at him and immediately averted her gaze.
Cold sweat ran down her forehead.
She couldn't look Sovieshu in the face. But it was an unnecessary worry. Sovieshu already knew that this baby was Rashta's child.
To Sovieshu, Rashta missed and loved her baby. So he thought he understood her stiff expression, even idealized it.
Sovieshu felt sorry for Rashta, thinking that this expression was due to how sad she was to see her child she missed so much.
Although he recognized that Rashta was not as innocent as he imagined, at least this love seemed pure and sincere.
While Alan, Rashta, and Sovieshu were deep in their own thoughts, the Emperor's secretary signaled Alan that his turn was over and to retire.
***
"Ahn. Your mother was sad to see you."
Alan whispered to the baby as he walked down a long corridor after exiting the audience chamber.
"She was probably sad she couldn't be with you."
The baby didn't cry, his black eyes shone, and he struggled to wrap his little arms around Alan's neck.
Alan suddenly became sad. 'I'm the one who should be sitting next to Rashta. Why was Rashta sitting next to another man?'
***
Meanwhile, the emperor's secretary instructed Joanson to move forward.
Joanson, a commoner's journalist, quickly moved forward to the designated place and courteously greeted the Emperor and Empress.
'Do I know him?'
When Rashta saw Joanson, she was sure she had seen his face somewhere.
She soon remembered the journalists she had met before the wedding. 'Yes. No doubt this man is a commoner's journalist.'
When Rashta had said she would live for the commoners, he was so moved he had showered her with praise and that moment stuck in her memory.
In fact, he even praised Rashta in an article the next day, saying that she was the future of the Eastern Empire, the light and hope of the commoners.
Rashta chuckled in relief.
'He's someone who supports me, so he won't say anything bad.'
As she felt at ease again, a soft and beautiful smile appeared on her face.
Although she still fretted at the thought of what had just happened, she was gradually able to judge it rationally.
'Alan brought the baby here as a threat. Probably because I had been harsh with Viscount Roteschu a few days ago. The Viscount was trying to remind me that he had the baby in his hands. Everything would be fine as long as I calmed him down properly.'
While Rashta was deep in thought, Sovieshu asked,
"What brings you here?"
"My sister worked at the palace, but I haven't heard from her for a month. I was worried because we always exchanged letters, so I went to see the palace's internal affairs official and he gave me the puzzling answer that she had quit the job."
Rashta, who thought he would praise her, frowned. 'Why is he talking about his sister all of a sudden?'
Besides, it sounded like a pretty serious matter.
Sovieshu listened to Joanson with a firm expression.
"Go on."
"My sister was born and raised at home, so even if she had quit her job she wouldn't go anywhere else. We have never fought, nor is there any reason to. The palace's internal affairs official said she must have run away with some knight who fell in love with her, but my sister is single, so there is no reason for her to run away."
Nobles were free to have concubines, so even if the knight was married, there was no reason to run away.
"That makes sense."
Sovieshu nodded and asked.
"Who did your sister work for?"
"It's Delise, a maid close to the Empress."
Rashta's face turned white at Joanson's words, as if all of her blood had been drained.
Sovieshu glanced at Rashta.
When he said she was a maid close to Rashta, Sovieshu immediately knew who Joanson's sister was.
He meant the tall maid who worked for Rashta.
Sovieshu clicked his tongue inwardly. He remembered Rashta's order to cut out the maid's tongue and imprison her.
"It's a pity."
Rashta muttered helplessly.
"Empress, do you know what happened to my sister?"
Joanson asked Rashta hastily. He still believed in Rashta, so he was confident he could find his sister as long as he clung to her.
Rashta shook her head and replied sadly.
"I only had two close maids, so they had a lot of work to do. Delise quit because she felt it was too hard. Since then I haven't heard from her."
"If my sister quit, she should have come home!"
"I know. It's very strange."
Hearing Rashta's words, Joanson showed a desperate face.
Sovieshu intervened as he watched Rashta lie with ease.
"Rest assured that this matter will be thoroughly investigated, do not worry."
"Thank you, Emperor! Thank you, Empress!"
After Joanson hurriedly took his leave and left, the audience proceeded as usual.
Rashta's expression returned to normal again.
But as soon as the audience ended, Rashta asked Sovieshu with a frightened face.
"Are you really going to tell the journalist the truth?"
Having made use of the Empress' power, Rashta assumed that Sovieshu knew of Delise's punishment.
Sovieshu asked her coldly.
"Didn't you think this would happen?"
"Delise committed a serious offense first!"
"Then you should have told her family."
"Rashta… Rashta is the Empress, so I thought I could do that."
"You can do it. But you won't be able to avoid criticism."
"Rashta did nothing wrong, Your Majesty!"
However, Rashta has repeatedly refused to go to Sovieshu's room…
The blue bird, whose feathers she had plucked, was still in Sovieshu's room… She feared that the bird would react strangely to seeing her.
If the bird were frightened, Sovieshu would immediately realize that it was not Delise who plucked its feathers.
Sovieshu sighed deeply. Then he deliberately left without telling her how to handle the situation.
Rashta stomped on the floor repeatedly before going to Duke Elgy in panic.
***
Comments for chapter "Chapter 250"
NOVEL DISCUSSION