Remarried Empress — Chapter 253. Rivetti's Grand Plan (2)
Translator: Aura / Editor: SaWarren
---
"I'm back, Father."
Alan looked tired, but his face overflowed with happiness as he entered the mansion.
"Did you meet Rashta?"
At Viscount Roteschu's question, Alan replied blankly, "Yes."
"What did Rashta do?"
"Just…."
"Did she like it?"
"She seemed to like it."
Alan remembered Rashta holding the baby with red eyes. He thought her sad, weak look came from joy.
When Rashta was pregnant, she loved the baby so much that she talked about it all day long. Also, when she thought the baby was dead, she appeared to go half crazy. Alan believed that Rashta's great love for the baby was still intact.
Viscount Roteschu chuckled with satisfaction. Then he murmured, stroking his beard.
"Now that a second concubine has also appeared, that insolent girl will become obedient."
Alan and Rivetti looked up in surprise.
"A second concubine?"
"Father, what are you talking about?"
Viscount Roteschu clicked his tongue.
"How is it possible that young people like you are less informed than your old father? One must keep one's eyes and ears wide open to survive in high society!"
Rivetti pursed her lips.
After Empress Navier, whom she most admired, left for the Western Empire she felt really empty.
She had no interest in anything, so lately she had not been hanging out with her new friends.
Naturally, she was not informed of what was going on.
Similarly, Alan preferred to take care of Ahn rather than socialize with other socialites.
He did not leave the mansion, so he was less informed than Rivetti.
"I heard that Emperor Sovieshu brought a girl, who supposedly had been a mage, and lodged her in the Southern Palace. Everyone says that she will be his second concubine."
"He has Rashta and still thinks of a concubine?"
Alan asked in bewilderment. He couldn't understand how the Emperor could fixate on another woman while having Rashta by his side.
"Wasn't Rashta also a concubine?!"
Rivetti lashed out annoyed at her brother, but suddenly a good idea occurred to her and she shut up.
When he saw his daughter's eyes glowing, though she had been moody all along, Viscount Roteschu reluctantly asked.
"What does that glow in your eyes mean? What are you thinking about?"
"It is not far-fetched."
"?"
"Father, I will be His Majesty Sovieshu's third concubine!"
Alan, who drank tea in silence, spat out all the tea he had in his mouth.
The tea that shot out of his mouth splashed onto Viscount Roteschu's face.
At his father's fierce gaze, Alan became frightened and hurriedly lowered his head.
Viscount Roteschu chided Rivetti as he wiped his face with a handkerchief.
"What nonsense are you saying?! What concubine, or what anything! You're marrying a young nobleman from an important family. A man who has eyes only for you, who never cheats on you, or deceives you. Who has no concubine, who is sincere and good-hearted."
However, Rivetti's eyes continued to glow.
"I will seduce the Emperor, and make tears of blood flow from Rashta's eyes! Then I will mercilessly leave His Majesty the Emperor!"
"…"
"At that time I will have taken my revenge on both of them! I will make them pay for what they did to Navier!"
Viscount Roteschu clicked his tongue at his daughter's childish and fanciful plan.
It didn't seem possible anyway, so he didn't even try to stop her.
Instead, Alan realistically pointed out the futility of Rivetti's plan.
"Do you think His Majesty the Emperor will notice you when he has already had Navier and Rashta as his wife?"
"What? What's the problem with me?!"
Then, a soft cushion went flying.
Alan, who was hit on the head by the cushion, hastily hugged Ahn, got up and fled to his room.
***
It had now become Heinley's habit to prepare breakfast.
As I slept, I caught a whiff of an appetizing smell.
As soon as I opened my eyes, I saw Heinley sitting on the bed looking at me with the trolley to the side.
When our eyes met, he lightly kissed my forehead, and when I covered my face with the sheets, he kissed my exposed fingers with which I held those sheets.
Finally, when I reluctantly pulled the sheets down, he pushed the trolley away with his feet and whispered that he wanted to stay by my side a little longer.
Heinley liked to stay snuggled up next to me, so I had to be very attentive to get through the morning duties.
***
"How are you…so healthy?"
Right after, while eating the soup he had prepared himself, I regretted my words.
What I said sounded a little strange, so I quickly added, "I mean your physical condition…"
It got even weirder after saying that, so I just kept my mouth shut.
"My Queen doesn't have enough stamina."
Heinley sighed.
"You have great stamina."
"It's all thanks to a good teacher, My Queen."
"!"
When I stared at him with narrowed eyes, he smiled cleverly and turned into a bird, got on my lap, opened his cute eyes and pretended to be an innocent bird.
It was a new trick he had recently learned, and he did it every time he thought I was going to get mad.
He knew that way I wouldn't get angry.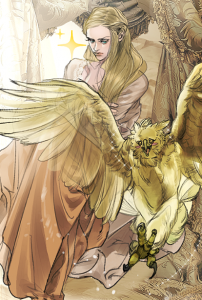 "Bad bird!"
He was so cheeky that I slapped his butt while he was still in bird form, but then he turned into a naked man and took advantage of this to tease me even more.
"Naughty hands. Don't you watch where you touch?"
"When you're in bird form, it's fine because you have a lot of feathers."
"You don't actually only touch it when I'm in bird form."
"!"
When I stared at him again with narrowed eyes, Heinley turned into a bird and tried to fly away.
But he had no way to get out of the bedroom, so I caught him.
— Gu!
"Why don't you pretend to play innocent?"
— Gu…
"I will not fall for it again."
***
After the chaotic breakfast. There was a little problem when it was time to get dressed after taking a bath.
Now that the weather was getting hotter, I had to wear thin clothes.
Heinley… Because of Heinley I had marks all over my body.
Being the empress, no, even if I wasn't the empress, I couldn't calmly walk around with these marks on my body.
In the end, Countess Jubel who had chosen long, thin dresses, got a little angry,
"Your Majesty. The short sleeves on this dress are pretty, and the revealing neckline on this other dress is also beautiful. There are so many dresses I would like you to wear, but because of the emperor… the options are very, very limited."
"I'm sorry."
"It is not Your Majesty's fault. But please tell the Emperor."
After nodding with an awkward smile, Countess Jubel sighed and pulled out again the dress I had worn a few days ago.
"This is the only one there is to cover all those parts with marks."
When I put on this dress and went to the office, unexpectedly Heinley was inside.
He was leaning on my desk, looking over a document I was working on.
"Heinley?"
Once I called his name, Heinley put the document down and smiled.
"My Queen's handwriting looks a lot like My Queen."
I don't know what it meant that my handwriting looked like me, but I've been told that I have beautiful handwriting.
I knew I would have to sign many papers, so I had practiced a lot together with Sovieshu.
Instead of answering, I approached him and pulled down the collar of his jacket coat a little.
"My Queen?"
"… I can see it."
"What?"
"Red marks."
I can see why Countess Jubel didn't want Heinley to leave these kinds of marks on my body.
"Ah," Heinley rubbed his neck, smiled slightly and looked at my well-covered neck.
"Should we be careful until the fall?"
"That's right, the clothes are now thinner and shorter."
"Is it alright to do it where no one can see it?"
Instead of answering, I asked, while pretending to look over the document he had left on the desk.
"What brings you here?"
"Ah, I came for the State Council."
"The State Council?"
"Now that we can attend together, I thought you might like to go…"
"Can we go together?"
"If you are asking about the former Queens, some attended and some did not. As far as I know, my sister-in-law did not attend. I heard that My Queen often participated in Eastern Empire meetings."
"I only attended meetings where my presence was required."
I didn't attend meetings where I didn't have to.
It was a waste of time.
Heinley raised his eyebrows and said, "Ahh." He probably didn't know this.
After a moment's thought, I told him I would go with him.
He came to my office just to tell me this. Also, I would also like to see what a meeting is like here.
***
As I expected, the officials were puzzled when I appeared in the conference room next to Heinley.
They were used to the queen not participating in the meetings.
I tried to ignore that atmosphere, and focused on the meeting in silence.
Fortunately, they only stared at me at first. After a while they were all absorbed in their own business.
That was normal.
In the conference room language was a sword, and information and wit, a shield.
Even if they were pursuing the same goal, there were often conflicts of interest among the officials.
They were so busy looking after their own interests that they didn't have time to notice me.
But even in the midst of this, there was someone who took aim at me.
It was Marquis Ketron, Christa's cousin.
He glanced at me sideways the whole time, and when the subject of the Eternal Thousand bandits finally came up, he pointed at me openly and asked a difficult question.
"There is one territory that is most likely to be attacked by the Eternal Thousand bandits, but there are a total of five nearby territories around it. All six territories want us to send troops to them in case of an emergency situation, but if we provide support to all six territories, our troops would be widely dispersed. The Eastern Empire has been fighting the Eternal Thousand bandits for a long time, so the Empress must have a lot of experience in this. Please, I would like to hear your wise opinion, where does Your Majesty think we should provide support?"
Comments for chapter "Chapter 253"
NOVEL DISCUSSION