Remarried Empress — Chapter 255. Rashta's Wrath (2)
Translator: Aura / Editor: SaWarren
---
Meanwhile…
Rashta examined the common women who had been gathered in the western palace, whose parents were prisoners.
The women gathered were of different ages, since it only mattered that they wanted to work as a maid.
However, all women with children were excluded, she was going to use their parents as bait to control them, so even if she blackmailed these women with their parents, they might abandon them for the sake of their children. Similarly, women who had a bad relationship with their fathers were excluded.
Rashta looked at them closely, one by one, as she casually asked them several questions.
"What is your name?"
"Have you ever worked as a maid?"
"The Imperial Palace has completely different rules than outside that must be followed, so etiquette is very important. Do you agree?"
Most of the women gathered here were also marked by society because their fathers were prisoners, so they could not even get proper jobs.
They knew that Rashta had called them to be more than just maids, but they still did not want to miss this opportunity.
Working as maids in the imperial palace they would receive a much higher salary than an ordinary maid.
In addition, the empress could pardon prisoners several times a year.
They desperately needed Rashta's help.
"Nice eyes."
Rashta smirked at the women's determined expressions.
"But I can't hire them all."
After asking about their strengths, Rashta ordered Viscountess Verdi to first take them all to another room.
And once Viscountess Verdi returned, she ordered her to bring them all back in.
"All of them?"
Viscountess Verdi asked in surprise at the thought that Rashta would hire them all.
At first, Rashta said she would only hire about ten. But the number of women gathered here was too many.
"Isn't that too many? Since they have to be trained, it is preferable to hire gradually, Your Majesty."
Rashta smiled broadly. Of course, she had no intention of hiring them all.
"I'm going to do a test."
"If it's a test…."
"Bring them in first."
Viscountess Verdi did not understand Rashta's intentions, but brought the women back in.
The women returned to the waiting room without knowing the reason.
However, they were greeted by Rashta's shouts.
"Rashta's precious pearl earrings that were here disappeared! One of you must have taken them! one of you must have taken them! Who was it?"
The women looked at each other puzzled.
They had never even seen said pearl earrings, much less taken them.
No, it was strange to leave pearl earrings in the waiting room in the first place.
But they couldn't object to that, to the Empress.
Besides, Rashta seemed really angry.
Seeing no one step forward, Rashta acted as if she was angrier and raised her voice.
"Don't any of you know who took them or are you pretending not to know? If you ladies cover for each other, Rashta will have no choice but to punish you all!"
After that, Rashta stormed to her bedroom.
As the women trembled Viscountess Verdi cleverly followed Rashta into her bedroom.
"How are they?"
"They are very frightened."
"Bring them here one by one. Before you let them in, advise them secretly that if they tell the truth they will not be punished."
Hearing Rashta's words, Viscountess Verdi understood the situation.
Rashta wanted to see how her prospective maids would get out of this difficult scenario.
Viscountess Verdi did as Rashta instructed.
The Viscountess led the first woman into Rashta's bedroom, and whispered to her,
"If you saw anything, be honest. Her Majesty is kind-hearted, if you tell the truth I am sure she will forgive you. Otherwise, you could all receive the same punishment."
Some were so frightened that they lied. Others named the person who seemed most suspicious, or the easiest to accuse in their opinion, claiming that person was the culprit.
Others even blatantly lied that they had seen the scene of the theft.
However, some kept saying they didn't know anything.
In the end, Rashta decided to hire those who lied.
"Is it alright?"
"Yes. Flexibility is required to work at the Imperial Palace. You know this, right?"
"But they could lie depending on the situation. Although on some occasions it may benefit Your Majesty, on others it may not."
"I know. But Viscountess Verdi, if they want to save their parents they have no choice but to be loyal to Rashta. The cleverness of those women will end up being used for Rashta's benefit."
"But…"
Viscountess Verdi preferred not to be around anyone who might make false accusations at their convenience.
She didn't care if it was just one or two, but she couldn't believe that such people would be all over the western palace.
Just imagining it was horrible.
Rashta smiled wider.
"The test doesn't end here."
"Huh?"
Instead of explaining further, Rashta went to the women who had been discarded.
She then apologized,
"I'm sorry to have suspected you. But if this gets out, it will damage Rashta's reputation, so I hope you will keep it a secret."
All the women nodded in agreement.
The next day, Rashta ordered her guards to visit the homes of the women who had been deliberately discarded and ask about what happened yesterday at the palace.
There were some who kept their mouths shut, and others who were so frightened that they confessed the facts.
Rashta additionally hired those who kept silent.
Later, she sent to Evely a maid chosen for being a good liar.
***
By then Evely already had a maid sent by the Emperor.
Evely, who had never had a maid before, was already very uncomfortable with this maid.
But when the Empress also sent her a maid, she was really reluctant.
It didn't look good, the current empress was the one who took the position of her benefactress after causing her divorce.
'And suddenly she sent me a maid? Wasn't the relationship broken from the day I arrived here? It is suspicious.'
But Evely, who lost her mana and had no support, could not refuse the 'kindness' of the empress and send the maid away.
In the end, Evely had no choice but to accept the maid the Empress sent.
However, she never let her guard down with the maid sent by the empress to prevent her from making false accusations.
Fortunately, Evely was the court mage's assistant, and spent a lot of time with him, so she didn't interact much with the empress's maid.
Then one day.
The maid, who was helping her get ready for work, noticed Evely's neck and exclaimed in admiration,
"Miss always wears this necklace, right? It looks very expensive!"
The maid sent by Rashta received several orders before coming here.
One of those orders was to find out if Evely had any gifts from the emperor.
The maid knew that Evely was a mage's assistant, with a low salary and an orphaned commoner.
The maid was convinced that this necklace had been a gift from the emperor, as she could not have bought such an expensive necklace on her own.
"It is a gift from the magical academy. Nothing important."
Evely spoke firmly, and put the necklace inside her clothes.
In fact, the necklace was an item that came from McKenna on Heinley's order, made especially to return her mana, and sent to the dean to be given to her. However, Evely was unaware of this.
"Does the academy give that kind of gift?"
The maid murmured, smiling at Evely's words. Inwardly, she was still convinced that it was Emperor Sovieshu who gave her that necklace.
The maid had a better eye than Evely, so she knew the necklace wasn't just a little expensive.
'Why would the magical academy give her such a necklace?'
Rashta, who heard her maid's story, had the same thought.
"Rashta knew."
Rashta ground her teeth and rewarded the maid for her good work with a ruby and diamond bracelet.
"Find the opportunity to steal or destroy that necklace."
"Yes, Your Majesty."
"Haven't you seen her meet personally with the Emperor?"
"She always goes out to work. I can't follow her."
Rashta suppressed her anger and let the maid out.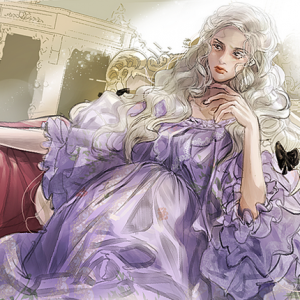 After the encounter with Delise's brother, Sovieshu became even more distant.
Of course, Sovieshu would still visit her and sing lullabies, check if there was anything she wanted to eat, and then order the chef to send her lots of food. Once a day he would send the palace doctor to examine her, and he would also give her gifts.
However, Rashta believed that Sovieshu was not as warm as before.
Sovieshu said that he did not like Navier for being a typical noblewoman, and turned his attention to her innocent and fresh self.
Therefore, it was very likely that he would turn his attention to another woman who was sensible and smart, saying that he did not like her for being ignorant.
"Baby, you must be born soon."
Rashta murmured, covering her belly.
But the answer came from outside.
There was a knock at the door, and Viscountess Verdi reported that it was the Viscount and Viscountess Isqua.
Rashta let them in.
Although they were fake parents, they sometimes cared for Rashta as if she were their real daughter. She wished at this moment to be comforted even a little.
But their words were not at all comforting.
"Rashta, did you find your sister?"
Comments for chapter "Chapter 255"
NOVEL DISCUSSION