Remarried Empress — Chapter 257. Sly (2)
Translator: Aura / Editor: SaWarren
---
Marquis Amares was not currently an official of the Eastern Empire, but at the time he made great profits on various state-run projects.
That was in the records.
His family also handled many important businesses.
With this in mind, I ordered Mullaney and William to be called.
Later, they both came to my office without knowing the reason.
William didn't seem to understand anything, and Mullaney seemed surprised that I had called her openly when I asked her to ally with us in secret.
Besides, I had called her along with her foster brother.
After examining them, I handed them both an identical document that I had prepared beforehand and said,
"I called you both to help me with a trade matter."
"Trade?"
"What do you mean…?"
"You know that right now there is a member of the Rwibt Royal Family in the Western Empire, right?"
"Yes, Your Majesty."
"Yes, I understand it is Grand Duke Kapmen."
The two still seemed not to understand my intentions.
I spoke with a smile, deliberately not looking at Mullaney.
"Grand Duke Kapmen and I have decided to conduct the first trade between countries on different continents."
Both were startled.
But William soon raised a real concern.
"But isn't the distance too far? I don't know if the gains will be enough to compensate for the long distance and the risks."
He seemed to know a lot about trading.
Mullaney said at once, as if not to be outdone,
"Your Majesty, I understand that private traders who tried this were unsuccessful. It must be approached with care."
I looked at the two alternately with a smile.
"That's why I called you both. To approach it with care."
"?"
"I need advance information on Rwibt. Gather relevant information and find out what items could be traded to cover the disadvantages."
Mullaney's jaw dropped and William frowned uneasily.
"I have heard that Marquis Amares has exceptional business ability. As far as I know, he was successful in many state-run projects. Since you are the 'successors' of the Marquis, your ability must be on a par with him. Prove it."
***
That night, I told Heinley what I did while we ate dinner.
After listening carefully to what I had to say, Heinley asked with concern,
"They are both inexperienced, is it alright to leave this task to them? Although Miss Mullaney is smart, she has never worked formally, and William has learned a lot from Marquis Amares, but he has never been in charge."
I laughed,
"Of course I won't leave it in their hands."
"Huh?"
Heinley's eyes grew wide at my words.
I was going to tell Heinley, 'Even for me, who learned under the former empress for over a decade, it wasn't easy when I became the person in charge, of course I wouldn't leave anything important in the hands of two inexperienced people,' but I desisted.
I didn't want to remind Heinley of my days in the Eastern Empire.
"I will do a proper investigation separately. But once I have their results, anyone will be able to appreciate who is useful."
Heinley raised an eyebrow.
"What if they're both useless?"
"Then no matter who the successor is, the Amares Family will have no future. So I will support Miss Mullaney who is on my side."
"What if they're both useful?"
"It would be very helpful to me."
"Even if both are useful, what would you do if Miss Mullaney's foster brother was better than her?"
I stopped cutting the meat and stared at Heinley.
Earlier he had listened to me intently.
I don't know since when, but Heinley had a playful expression.
Does he find it fun to ask 'difficult' questions and listen to my answers?
"Huh, My Queen? What do you plan to do in that case? Will you still continue to support Miss Mullaney out of friendship?"
He seemed to be joking with me, so I tapped the knife intentionally against the table and pretended to say coolly.
"I'll support the one who is useful to me. I'll find a way to use the other."
But I became worried after I spoke.
People didn't usually get my jokes very well.
What if Heinley thought I was really heartless and cold?
I didn't want him to see me that way.
But Heinley…
"My Queen, I get excited every time you act this way."
It was a strange reaction.
He didn't seem to get my joke, but he didn't seem to think I was heartless and cold either.
Rather, he was quite flushed and was looking at me with one hand on his chin…
I don't know why his gaze was so deep at this moment.
"Sometimes I think about it. You have slightly strange tastes."
If he had a simple playful expression before, Heinley now seemed extremely thirsty.
Combined with his dark, sensual eyes, I couldn't imagine what exactly was going through his head.
Why now?
At what point did he get so excited?
The corners of Heinley's lips curved slightly.
Then, he asked in a still playful voice.
"What do you think my tastes are?"
"It is…"
"It is?"
"…"
"It's okay to say it. We're a married couple."
"It's like sometimes you like me to treat you rudely."
Come to think of it, it was always like that.
Heinley would blush when I had a cold attitude or responded sharply. He was especially excited when I pressed his hands against the bed on our wedding night.
Maybe… he really did have those tastes?
But it was so awkward that I didn't say anything else. I simply grabbed my fork, poked a piece of the steak, and put it in my mouth.
Before I knew it, the atmosphere became so strange that I couldn't even tell that I was eating.
My mouth was dry, I was thirsty.
It was Heinley's gaze. He was looking at me with eyes full of heat.
Finally, I put my fork down on the table and drank some water.
But before I could swallow the water he said
"Yes. I really like it when you're rough."
"!"
His overly sincere words made me choke.
As I coughed, Heinley reached out his hand with a broad smile.
Then he whispered, wiping my eyes as I continued to cough.
"You're beautiful."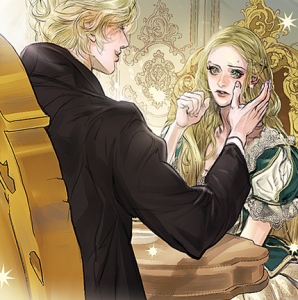 When I glared at him, Heinley reached out his other hand and pushed the dishes aside.
Then he leaned across the table toward me and whispered in my ear.
"Don't you like it when I do this?"
Suddenly, Heinley pushed my hair away from my face.
When his hand touched my ear, I involuntarily trembled.
It really seemed to be true when he said that, 'I only need to learn something once to master it'.
Where did the eagle go that trembled with shame on the wedding night?
But since I didn't respond, Heinley soon asked with a downcast expression.
"My Queen, do you really not like me doing this?"
The eagle that had approached me with such pride and confidence looked like a huge, repentant puppy right now.
I was confused, but…
"I don't dislike it."
I cleared my throat for a few moments before responding.
It was a risky answer, but if I didn't, he would once again take advantage of my lovely Queen to try to convince me.
As soon as he heard my answer, he became confident again and started kissing me. I felt a little cheated.
No way… he just pretended to be down discouraged?!
* * *
Comments for chapter "Chapter 257"
NOVEL DISCUSSION