Chapter 261. Can You Handle It? (2)
Translator: Aura / Editor: SaWarren
---
The ride on horseback was pleasant. The sunlight fell through the leaves of the tall trees, and reflected finely on Heinley's hair. Every time Heinley smiled, he gave off a nature-like scent.
I loved the way his hair fluttered in the wind. Every time our gazes met, he would smile to the point where his eyes curved. In those moments, I felt a tingle in my heart as if I was being stroked caressed with a feather.
After a while, Heinley suddenly rode forward quickly on his own and said,
"Huh? There's something over there, My Queen."
I followed him despite being confused, but Heinley stopped his horse and smiled awkwardly.
"My Queen, I can go alone."
"Didn't you say there was something?"
I asked as I pulled out the bow I had on my back that I hadn't been able to use until now. Heinley's eyes widened and he waved his hands.
"It's not that."
"?"
"It's just… that I'd like to go alone right now. It's a gift I want to give My Queen."
After he finished talking, Heinley rode quickly again, and asked me to follow him from a distance.
What had he seen?
Although it seemed strange to me, I did exactly as he asked. Just in case, I held the bow in my hands unstrained.
As I looked around unable to see Heinley, I suddenly heard a scream not far away. It wasn't a loud scream, but it was definitely Heinley's voice.
I turned my horse and headed in that direction in a hurry. Unexpectedly, Heinley was in a duel with a small, fluffy, little fox.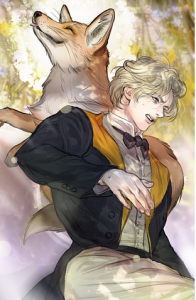 A duel? Should it be called a duel?
His horse was nowhere to be seen, and Heinley bared his teeth at the fox. Instead, the fox wagged his tail back and forth as if he were playing.
When I got off the horse, the fox came running towards me like a deer, and acted cute again. He was a very affectionate fox. When I scratched his chin, he made a peculiar sound and wagged his tail while smiling like Heinley.
It was cute… Heinley didn't like foxes? Why would he act that way with such a small, tame animal?
When I looked at him puzzled, Heinley shouted hurriedly.
"My Queen, that fox is pretending to be tame right now!"
"…"
"I'm serious, It's cute on the outside, but in reality it's evil and wicked! It's dangerous!"
As I stroked the fox's head, Heinley's voice gradually faded. When the fox approached Heinley docilely, he pretended to have suffered and said,
"My Queen, you saved me. You are my savior."
"I did nothing."
"Your very presence helped me."
It was suspicious. When I squinted slightly, Heinley suddenly grabbed one leg and said pretending to be in pain,
"Ow, ow! I think I fractured my leg falling off the horse, My Queen."
He fractured his leg falling off the horse? But he didn't have a scratch on the rest of his body? It was even more suspicious.
However, since Heinley put his hand to his forehead and muttered feebly, "I have a fever," I first held him and helped him onto my horse.
"It reminds me of the past. Although it's not old enough a memory to call it that."
Heinley whispered as he hugged me tightly from behind. His voice was pleasant to listen to, but I frowned because the body temperature I felt as our bodies came into contact kept bothering me.
He didn't seem to have a fever either.
***
"But why did you fight that fox?"
McKenna clicked his tongue at Heinley, lying on a bed with a fake bandage and an unnecessary wet towel on his forehead.
Even in the eyes of the palace doctor, Heinley had no injury, despite the well-placed bandage.
Heinley responded in disgust.
"As much as I waited, the only animals that showed up were foxes and squirrels. There was no point in fighting a squirrel, right?"
"Ugh. Still, how could you fight that fox?"
"Why ignore a fox?"
"It all depends on the type of fox. We're talking about that cheerful little fox, right? That fox that's so cute that no one would let go? That fox who has a mind as big as Your Majesty's?"
Heinley shut his mouth angrily. He was upset because the dramatic scene he had created didn't work at all. Besides, McKenna was speaking so inconsiderately that he wanted to press his lips together and shake them hard from side to side.
Noticing his expression, McKenna clicked his tongue and reluctantly encouraged him.
"Still, Her Majesty took care of you, right? She even praised your cute acting."
"Don't point it out. That's the problem, the praise!"
He acted desperate, but was immediately caught by the person he wanted to love him. Inevitably he felt embarrassed.
Unable to bear the embarrassment, Heinley crawled under the covers. He looked like a turtle with his head hidden, so McKenna shook his head.
Just then, the door opened softly and McKenna turned his head. The one who opened the door and poked her head in slightly was Navier.
Navier raised an eyebrow at the lumpy blankets and silently mouthed, "Heinley?"
When McKenna smiled awkwardly and nodded, Navier cautiously entered the room. Then she looked coldly at Heinley, who was under the blankets.
Navier's expression was so terrifying that McKenna discreetly stepped aside. He didn't want to be swept away by the storm.
***
Why is he so embarrassed after doing something so cute?
I looked at Heinley, who also looked cute wrapped in the blankets, and McKenna wisely hurried out.
Hearing the sound of the door closing, I sat up in the bed and leaned over the lumpy blankets.
"Stop bothering, McKenna."
At that moment, I heard a faint murmur under the blankets. Holding back a laugh, I leaned even closer, the body under the blankets twisted and I heard a sullen voice again.
"What nerve you've got, McKenna. Stop it at once."
At the moment I was about to say, 'it's me' because of how cute he looked.
"You're heavy, so get off me."
"!"
Heinley 'repeated' those words. Even though I got off him, Heinley still wouldn't get out from under the blankets, as if he really thought McKenna was the one who pushed on him.
Insolent eagle, he'd told me twice that I was heavy, did he really think I was heavy?
I once asked Heinley worriedly if I was heavy when I was on top of his body at night. At first, he replied, 'You are as light as a feather.'
But after repeatedly asking him to be honest because he was evidently lying, Heinley replied, 'It's just a pleasant feeling of presence,' pulled my body to his and hugged me.
Then I laid all over him, and he mumbled that he was fine incessantly.
I thought it was true. But… What? You're heavy, so get off me?!!
***
Comments for chapter "Chapter 261"
NOVEL DISCUSSION