Chapter 263. Christa's Gamble (2)
Translator: Aura / Editor: SaWarren
---
McKenna was happy because his main workload had decreased since Navier joined the workforce.
Navier was now taking over many of the tasks, which McKenna had been temporarily in charge of.
However, Navier's addition to the work team also brought about something bad, which ironically was a 'delay in work' because of Heinley.
After the wedding to Navier, Heinley often fell into 'personal worries', at which time his productivity drastically decreased.
Whenever that happened, McKenna was also forced to slow down his work pace.
Just like now,
"McKenna, I have a question."
"Again. What is it, Your Majesty?"
"Again? Again?"
When Heinley narrowed his eyes, McKenna covered his mouth slightly with a fist and squeaked, "cheep," pretending to be cute.
In a way, he did it to evoke his bird-like appearance, but it was terrible to do it in front of his cousin at his age.
Although McKenna was handsome, in Heinley's eyes he was just a distinguished friend.
The human by nature was a forgetful, self-indulgent animal.
Heinley completely forgot that he was also deliberately acting like a cute bird in front of Queen and became annoyed,
"You're a real pain sometimes, you know that?"
"… What do you want? I'm busy. His Majesty hasn't approved anything for 45 minutes, so I'm really busy right now."
"If I haven't approved anything, shouldn't you be freer?"
"It's my mind! My mind is overloaded! Please approve something!"
"I'll do that after I ask you a very important question."
"Needless to say, this is a question about the Empress. What is it about?"
When McKenna asked resignedly, Heinley shook his head.
"It's about you."
"Are you going to let me go so I can get married?"
"Remember when I curled up in bed?"
"When?"
"After My Queen found out I was acting. When I crawled under the covers in shame."
"Ah… Yes. That time."
"You got on top of me?"
"Why would I do something so distasteful?"
When McKenna responded with disgust, Heinley paled and asked.
"McKenna. By any chance, did My Queen come to see me that day?"
McKenna raised his eyebrows. That day, seeing Navier's cold expression, which seemed poised for a couple's fight, he discreetly left the room.
He didn't ask about what happened afterwards. He didn't want to get involved in a couple's fight.
Until now, McKenna had naturally assumed that Heinley had spoken to Navier.
However, Heinley didn't even know she had been there…
"Yes. Why do you ask? What really happened?"
At McKenna's response, Heinley screamed covering his face with both hands.
"Your Majesty?"
McKenna startled and craned his neck to look at Heinley's expression hidden under his hands.
He looked very distressed.
"Why? What happened? You thought it was me and you got angry?"
"Being squished, I naturally assumed it was you and…"
"And?"
"I said you were heavy."
McKenna cocked his head.
"What's wrong with that?"
Heinley looked at McKenna in disbelief. McKenna didn't really seem to know what the problem was.
"My Queen hates that word. I think she's mad at me for it."
"What? Why?"
McKenna's eyes grew wide and he asked again not understanding the reason.
"You only told her that she was heavy because she really seemed heavy to you, why would she get angry?"
But as soon as he finished speaking, he heard a low voice behind him and felt chills.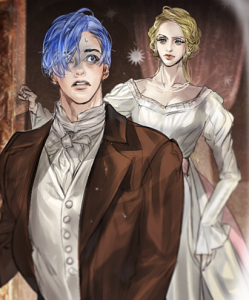 "I see. If it's the truth, a woman can't get angry because she's told she's heavy. So you think I'm really heavy, are you also curious why I got angry, Heinley?"
McKenna slowly looked back.
Navier was standing in the doorway with a bright smile.
In an instant, her expression turned fiercely cold. It seemed that at first contact, icicles would shoot out.
***
Ignoring the two men's stiff expressions, I walked in and said coolly,
"I have something to deliver."
Then, I extended the papers I had to McKenna.
McKenna took the papers nervously, walked over to Heinley and laid them on his desk.
"My Queen!"
It was then that Heinley stood up hastily and smiled. He wanted to use his handsome face and lovely smile to cover up his mistakes.
I smiled indifferently at him and pointed at the papers. I was going to quickly say what I had in mind.
Truth be told, I wasn't so angry that I didn't want to look at him.
Compared to the times Rashta called me sister, and Sovieshu blamed me for everything related to Rashta, this was nothing.
But before I could speak,
"Your Majesty."
Yunim suddenly appeared at the office door and called Heinley. As I turned around, I noticed he had a worried expression,
"What's wrong?"
Heinley also stopped looking embarrassed in front of me and asked with an emperor-like expression.
Is something really going on? Yunim answered with great difficulty,
"Christa is here."
Heinley frowned and ordered.
"Ask first what brings her here."
Then he examined my gaze.
I set aside my half-joking cool attitude and lightly put my hand on his shoulder.
Even though she came on her own, Heinley hadn't stopped looking at me since Christa was mentioned.
I wanted to tell him it was okay.
"Your Majesty…"
However, Yunim spoke with an even more concerned expression than before.
"I think you should receive her, Your Majesty."
What's wrong?
Yunim's expression was unusual.
I nodded to Heinley as a sign of, 'It's alright, let her in.'
Heinley frowned, but eventually allowed Christa to enter.
After a while, Christa came in with Marquis Ketron. But there was definitely something strange going on.
She seemed to have overlooked her outfit. Her dress was darker than usual, and she had no accessories. Her hair wasn't really done either, it was tied in a simple way.
What was even stranger was that Yunim was staring at me with a very sorry expression.
What was happening?
Yunim's expression, Christa's appearance, and Marquis Ketron's angry look.
I had a bad feeling.
Christa looked at me, but just spoke to Heinley without even a greeting,
"Your Majesty, could I speak to you alone for a moment?"
"Sorry, sister-in-law."
Heinley flatly refused, and secretly signaled me not to leave.
I had no intention of leaving anyway, so I stepped closer to Heinley and looked at Marquis Ketron.
Marquis Ketron's angry look was too annoying.
It was an angry look, but … why did it seem so fake?
He was like a good but inexperienced actor trying to show off his acting skills to the fullest on stage.
As if she knew this would happen, Christa said with a bitter smile.
"I see. Then I'll tell you here. I've come with a proposal."
Proposal?
"A proposal?"
For a moment, Christa stopped talking and held her breath.
Instantly, the entire office was thrown into a strange tension.
I had a hunch that something terrible would come out of Christa's mouth.
In that dry atmosphere, Christa spoke slowly,
"Take me as your concubine."
Her words splashed like cold water in the dry office.
Everything became silent. A total silence. No one spoke.
I was also very surprised. This… was an unexpected proposal.
Concubine? She wanted to be his concubine?
From Heinley's face, he seemed not to believe what he had heard.
Christa, who surprised everyone, had a complicated expression.
I couldn't even imagine what she was thinking. Her words were beyond my common sense.
"Sister-in-law, I think I misheard."
After the silence, Heinley spoke coldly with an impassive face. A face that showed not a trace of emotion.
But even in the face of his cold attitude, Christa didn't back down,
"It's not a bad proposal. My family and I will help you stabilize the Western Empire."
"Sister-in-law."
Heinley's expression darkened.
"Your family has a duty to help stabilize the Western Empire as nobles of this country."
Christa asked with a grim smile.
"Your Majesty, surely you must have heard of the rumor circulating between you and I recently, right?"
After bringing up her own scandal, she tightly grasped Marquis Ketron's arm and stared at Heinley in a pitiful manner.
"I keep thinking of Your Majesty, as people murmur."
"Sister-in-law!"
As if he didn't want to hear any more, Heinley covered his ears and ordered Yunim.
"Yunim! Get my sister-in-law out of here."
Yunim hurriedly approached, but Marquis Ketron stopped Yunim.
Christa smiled as she looked at Heinley. As if all this fuss had nothing to do with her.
"I know, Your Majesty doesn't think of me. But even if it was just once, Your Majesty accepted me, right?"
"Sister-in-law!"
"We certainly had a secret meeting, and many ladies witnessed it. Because of that fact, my dignified image and reputation was ruined. If no one had witnessed it, I would keep it as a one-night dream, but in this situation, there is no way around it. We are adults. Your Majesty and I must take responsibility for what happened that night."
Comments for chapter "Chapter 263"
NOVEL DISCUSSION