Chapter 264. The Possessive Attitude Begins To Appear In Silence (1)
Translator: Aura / Editor: SaWarren
---
According to Rose, high society literally turned upside down.
The nobles, who had been whispering about the secret meeting between Heinley and Christa, were stunned to learn that Christa openly asked him to make her his concubine.
It was hard for them to understand this unusual move by Christa. I too found it difficult to fully understand her intent.
But if I had to guess…
"She must have felt that she couldn't escape the scandal even if she went to Compshire."
If she went to Compshire now, it would give the impression that she was on the run, which might be frowned upon by the nobles.
She had no way to escape the scandal no matter what she did, so she chose to break through head-on.
Perhaps, Christa was trying to gamble everything on this move.
"Still, I can't believe she's clinging to the Emperor's ankles! She's wicked!"
Mastas believed that Heinley was definitely not that kind of person, and was furious to learn of the rumor.
In contrast, Laura and Countess Jubel spoke ill of Christa, but reserved their opinion on Heinley.
They pretended to believe Heinley because I stood up for him, but after everything Sovieshu had done to me, they actually thought Christa's words might be true.
They seemed concerned that Christa would become the second Rashta and Heinley the second Sovieshu.
"What's even funnier, Your Majesty, is that Christa's entire family decided to support that farce."
"They had no choice."
If Christa was found to be lying her family would be humiliated along with her, so no wonder they took this position.
After my ladies-in-waiting left, Heinley came to my room and swore in a calm voice with trembling eyes.
"My Queen. I swear. Nothing happened."
"Of course, I believe you."
I never doubted him. After calming Heinley down, I asked him to find a way to solve this problem.
But I had no intention of sitting idly by.
I didn't expect to use this so soon….
I went to my desk and pressed a small button inside. When I pressed this button, a secret space the size of a drawer appeared, here….
Here it is.
It was a list I had received from Grand Duke Kapmen.
Although some ladies-in-waiting had remained by her side out of affection, I was sure there were those who wanted to stop working for her.
With this in mind, I once asked Grand Duke Kapmen to investigate Christa's ladies-in-waiting.
This list was the result.
A list of Christa's ladies-in-waiting, their families, their usual dissatisfactions, their degree of loyalty to Christa, and so on.
I put the list on the desk.
And from the list, I chose those who had little loyalty and were dissatisfied with the current situation.
After choosing them, I ordered my ladies-in-waiting to bring them in secretly.
"No matter what Christa does, she won't be able to regain the lost power she has already lost."
They had been called without knowing the reason, so I repeated to them what they used to think, what they feared most;
"Christa has no children, so it makes no sense for her to target His Majesty and me. Surely she will not receive too severe a punishment for what she did being the former queen. But will you be able to enjoy the same glory as you do now? Besides, what will your families and children think?"
The ladies-in-waiting shuddered.
Originally, I had only intended to arouse their fears, but the results appeared all at once.
Still, there were Christa's ladies-in-waiting for whom loyalty was more important than anything else, but of course those I didn't call.
"Think carefully, if you change your mind, come to the next State Council and reveal the truth."
I deliberately spoke calmly, then stood up and added,
"You don't need to lie, nor is that what I want. You just need to tell the truth about where Christa really was at the time she claims to have had a secret meeting with His Majesty."
***
While Navier investigated and called her ladies-in-waiting to disprove Christa's claim, Heinley called on Old Duke Zemensia, Christa's father.
Old Duke already had a severe headache from his daughter's shocking statement.
When Heinley called him in the middle of this, the old Duke assumed he would be up to no good and came with a stiff face.
Even if she had caused this trouble, she was still his daughter. Old Duke intended to defend Christa no matter what Heinley said.
For the sake of Christa, his family, and himself.
It would not be easy to confront the emperor, who was known to be a cunning man, but the Old Duke was confident in his vast experience.
He was sure he would not hesitate, whatever cards the young emperor used.
But as he entered the room, and saw Heinley sitting casually on a comfortable couch, the old duke sensed that this confrontation would not be easy.
'He must be bluffing.'
The old duke hated Heinley's free spirit, so he tried to turn his thoughts around.
But as he sat down, Heinley stared at him with a smile, making him feel uncomfortable.
"You called me, Your Majesty."
Still, the old duke greeted him as politely as possible.
But Heinley got straight to the point, ignoring the old duke's greeting.
"Is there really any need to pretend with me?"
"What do you mean…"
The old duke knew at once what Heinley meant, but avoided it and raised his heavy eyelids to look at Heinley.
Heinley was still sitting on the couch nonchalantly. As was the smile on his lips.
Rather, the smile deepened at the old duke's evasiveness.
Heinley asked politely again.
"She may manage to save her honor right now, but what about what happens next? Will she be able to handle the consequences?"
His tone was kind, but the content was threatening.
The old duke stopped evading him, smiled, and replied by also pretending to be kind.
"On the contrary, you will lose the position of emperor if you can't handle the consequences."
"You think so?"
"Your reputation will be affected by this, but Christa openly said that she would take her responsibility. So she declared that she would become your concubine even though she had been the queen. This is a brave act. However, Your Majesty refuses to take responsibility along with Christa. How do you think people will see this?"
"It's not good for either side, but the side that takes responsibility is better off… that's what you mean."
"Do you think I'm exaggerating? If you throw Christa out, or use this as an excuse to harm those around her, Your Majesty's reputation will inevitably suffer. You've already taken a married woman from another country as your wife, right?"
Monarchs cared about their reputation.
Heinley chuckled, then straightened his crossed legs.
However, in his eyes there was no hint of fear or anger.
Instead, he stared at the Old Duke with a raised chin.
"You don't seem to understand, Old Duke. My reputation is already garbage in that sense. It can't fall much further."
"!"
"No matter what I do, all I hear is garbage this or garbage that. So the question here is. What do you think people will say when I start taking down the Zemensia Family, the Ketron Family, and other related families? Aren't you curious?"
Heinley's eyes curved slightly.
"I am very curious."
The old duke ground his teeth.
"Are you threatening me?"
Heinley replied, a smile reflected even in his eyes.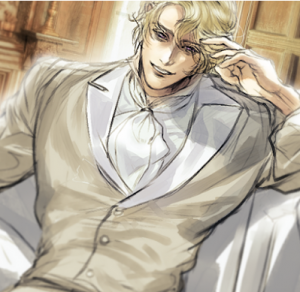 "Think what you like."
***
Comments for chapter "Chapter 264"
NOVEL DISCUSSION