Chapter 268. Between His Role As Emperor and His Role As Husband (1)
Translator: Aura / Editor: SaWarren
---
Viscount Roteschu was also at the banquet, so it was not difficult to call him.
Rashta ordered Viscount Roteschu to visit her after the banquet was over.
Roteschu went to see her around nine at night. Rashta let him into the drawing room and ordered all her maids out.
Left alone, the Viscount's eyes sparkled with intrigue at the thought that she would speak of a secret.
Rashta started to speak while hiding her darkest intentions.
"Can you get a skilled and secretive mercenary?"
Viscount Roteschu smiled proudly,
"It's not hard for me to get a mercenary."
"A mercenary capable of killing for money."
Viscount Roteschu was a little surprised, but this time he replied with a sinister smile.
"Of course."
Once Roteschu left, Rashta was overjoyed. I can't believe I can use Viscount Roteschu's own hands to kill the despicable Rivetti!
If all went well, Rivetti would die, and Viscount Roteschu would be happy not knowing what he had done. What if I confess the truth to him later? Wouldn't he go crazy?
But as she woke up after a good night's sleep, uneasiness came over her. What if Viscount Roteschu tried to use this against her in the future? She already had a relationship with him she couldn't stand, would it be alright to add another weakness to the list?
After much thought, Rashta decided to visit Duke Elgy. Anyway, she wanted to tell him about the offense to their friendship by Sovieshu and Baron Lant.
When Rashta told him about Sovieshu and Baron Lant's concerns, Duke Elgy smiled nonchalantly.
"It is up to Rashta to decide whether or not to believe the rumors. It is not the rumors that are important, but the truth."
"Duke Elgy is a great man, I don't understand why bad rumors circulate."
"Envy."
"Yes. You are one of the most handsome men I have ever seen. You have a strong charm that stands above the rest."
Rashta confessed, staring at Duke Elgy, who was relaxed despite the bad rumors.
However, Duke Elgy's expression became extremely serious when Rashta told him that he asked Viscount Rostechu to get a mercenary.
Seeing that expression, Rashta grew more uneasy and asked.
"Don't you think that's a suitable request for Viscount Roteschu?"
"It depends on what you want the mercenary to do. What are you going to order?
Rashta hesitated, unable to say, 'I'll have him kill Viscount Rostechu's daughter.'
At Rashta's hesitation, the Duke continued as if it didn't bother him,
"Whatever you order, you must make sure that the mercenary brought by Viscount Roteschu is not his subordinate."
Rashta worried. Viscount Roteschu had an evil mind, and he was impatient to find another weakness to use against her.
The mercenary brought in by Viscount Roteschu would probably be his subordinate.
"It would be hard to believe in a mercenary brought by Viscount Roteschu. What should I do?"
"I don't know."
"And if you get someone…"
"That's not a problem."
"Great!"
Rashta was delighted, but Duke Elgy shook his head.
"I can get someone, but the problem is the same. You'll first have to make sure that person is not my subordinate."
"But the Duke is different from that evil Viscount, right?"
"That's right."
Duke Elgy smiled subtly.
"But Rashta, aren't you looking for someone to do something you can't even tell me?"
That was true.
Rashta returned to her room and pondered as she drank tea.
No matter through whom she got a mercenary, she had to exercise extreme caution.
Of course, it could not be through Viscount Roteschu. And if she did it through someone else, she might end up with a second Roteschu.
'Rashta must get the mercenary.'
After much thought, Rashta made up her mind.
'Otherwise, I won't be able to stay calm.'
Although it might be a bit dangerous, Rashta decided to personally go to the place where she had lived as a slave.
* * *
Meanwhile.
Koshar, who had led the cavalry and stormed the temporary barracks of the Eternal Thousand bandits, was in the midst of a confrontation with the Celestial Lord of the Eternal Thousand bandits, Kelderek.
The Celestial Lord of the Eternal Thousand bandits had already retreated to the rear with his wounded comrades in a hurry, and all the cavalry Koshar had brought was lined up in three rows.
Kelderek wiped his hand across his forehead to wipe off the sweat, but cursed furiously when he realized it was blood.
"What are you doing here?! Can't you live without seeing our faces? Huh?!"
"Aren't you being too rude to a friend you haven't seen in a while?"
"Friend? You're a bastard!"
"I even came all this way because I missed you."
"Get out! Please get out of my life!"
The Western Empire knights who followed Koshar exchanged glances with each other. It was amazing to see the leader of the dreaded Eternal Thousand bandits throw a tantrum in front of Koshar like a seven-year-old child.
At the same time, it was pleasant to see Koshar sarcastically mocking him.
"Your affection is no longer the same? I'll stay here so I can see your face."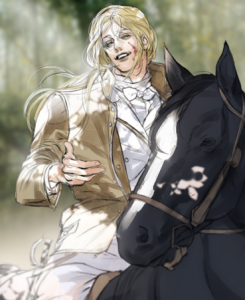 "You filthy bastard!"
Kelderek snorted as he wiped off the blood. But Koshar was still smiling and showed no signs of backing down.
He looked like a kindly knight by his handsome appearance, but Kelderek knew better than anyone how crazy Koshar was.
During his stay on the border of the Eastern Empire. He thought at first that Koshar was a hapless young nobleman with a burning sense of justice.
But after seeing Koshar appear from time to time on the battlefield waving his sword, and asking him to play with him because he was bored, Kelderek realized that he was a true lunatic!
Kelderek also realized this on one occasion when he infiltrated the city and saw Koshar in his nobleman's attire. He was not a nobleman with a burning sense of justice, but a lunatic who had learned manners and controlled his madness!
In front of other nobles, he pretended to be a 'young knight who couldn't adapt well to the nobility'.
"Abominable bastard!"
Kelderek cursed again, and motioned for his subordinates to stand down.
"Leaving?"
Koshar asked, raising his eyebrows in disappointment.
Then Kelderek pulled the horse's reins and the horse whinnied. The bandit leader, mounted on the horse, shouted angrily.
"I'll go somewhere else. I'll go somewhere else where you're not!"
* * *
Comments for chapter "Chapter 268"
NOVEL DISCUSSION