Chapter 275. The Ghost's Commotion (2)
Translator: Aura / Editor: SaWarren
---
After commissioning the assassin to turn Rivetti into a slave, Rashta immediately returned to Moire's villa.
The first few days were painful as the image of the dead man's head constantly came to her mind, but as time passed, the shock faded, and the thought of Rivetti becoming a slave made her feel very happy.
Thanks to this, she was able to spend the rest of the time happily enjoying the countryside, and only when it all became boring did she return to the imperial palace.
Viscount Roteschu visited her the day after her arrival.
'Ah, right. I also asked Viscount Roteschu to find a mercenary.'
Rashta remembered this fact she had forgotten.
As Viscount Roteschu waited in the drawing room, Rashta pondered for a moment.
She had found an assassin to kidnap Rivetti. Did I really need a mercenary from the Viscount?
She thought it would be a waste of money.
However, she quickly changed her mind, 'I need it'.
She needed many people to use as her arms and legs.
As long as I make a request in which there is no problem in having Viscount Roteschu as an accomplice, it would be fine to use this mercenary.
Her mind made up, Rashta finally left the bedroom.
As she entered the drawing room, Viscount Roteschu sat where he usually did, and beside him was a man in a hooded cloak concealing his face.
"What took you so long to come out?"
Viscount Roteschu was annoyed and pointed at the man next to him,
"This is the mercenary I found. He's very skillful. He can do whatever you want, as long as he receives the appropriate amount of money."
Rashta asked, looking him up and down,
"Can't you take off your hood?"
The same happened with the assassin. Why do they cover their faces?
However, the mercenary refused.
Because of the work they did, they never revealed their faces publicly. Many people held grudges against them.
"Then how can I recognize you?"
Rashta asked with a frown.
As for the assassin she personally hired, she knew his nickname and the location of the assassin's guild, so it was fine. Besides, he was quite slim and tall, a figure that could be recognized at a glance, even from a distance.
However, the person in front of her did not have an unusual figure, so it was impossible to recognize him with a cloak.
The mercenary showed him his index, middle, and ring finger on which he had the same ring. He seemed to want her to recognize him through them.
"Alright, but I can't hire you right away. I'd like to see how skillful you are first."
The mercenary nodded as if asking what he had to do.
Rashta held back the urge to shout, 'Kill the person next to you!'
Instead, she thought it over and said,
"Go tonight to Duke Elgy's and bring me the bracelet he wears on his wrist. However, you must not, for any reason, harm him."
After Viscount Roteschu left with the mercenary. Rashta hurried to visit Duke Elgy.
She wanted to inform him in advance and ask him to understand her.
Rashta believed that Duke Elgy would tell her, with a smile, not to worry because it wasn't really dangerous.
But when Duke Elgy heard it, he responded coolly.
"Rashta, you really take advantage of me."
His voice was full of displeasure.
"Duke Elgy?"
Rashta called him, puzzled.
"Never, absolutely never. You are the person Rashta trusts the most, that's why Rashta left this in your hands. Really."
"You leave something in the hands of the person you trust the most that puts his life at risk?"
However, Duke Elgy still looked cold. With a peculiarly bitter smile, he folded his arms and looked at the wall.
Rashta was saddened as he didn't even want to look her in the eye.
The mercenary's test was for tonight. There wasn't much time left, but it wasn't like she could cancel it now.
In the end, she took a step back and dejectedly returned to the West Palace. She thought about talking to Duke Elgy again once his anger had passed.
Duke Elgy stood by the window and stared at her back.
Before long, there was no trace of anger in his expression, but a broad smile.
When Duke Elgy had completely lost sight of Rashta, he called his squire and ordered him,
"Take care of the preparations."
***
Anxious, Rashta could not sleep all night. She couldn't stop thinking about whether the mercenary would bring the bracelet correctly and whether Duke Elgy would still be angry.
'It's okay. After I go tomorrow to apologize, his anger will disappear completely.'
Rashta knew it was best to wait for him to calm down a bit, so she forced herself to relax.
But at 4:00 in the morning, when the mercenary appeared with Duke Elgy's bracelet, Rashta was furious.
There was blood on the bracelet.
As he held out the bracelet the three rings on his fingers glowed red in the candlelight.
"What does this mean?!"
When Rashta shouted angrily, the mercenary casually excused himself,
"Duke Elgy was too strong and had guards, so I had no chance to take the bracelet without bloodshed."
Although Rashta was seething with anger, she at least recognized his skill. Duke Elgy looked strong even at first glance. Being able to defeat not only the Duke, but also overcome the guards, certainly the mercenary must have been very strong.
After breakfast, Rashta immediately went to the Southern Palace.
As expected, Duke Elgy was angrier than yesterday.
He had a cold expression and didn't even smile when he saw Rashta.
What was more serious was that he said he would leave the Eastern Empire.
"What do you mean you'll leave?"
"As I said. I have no reason to stay anymore, so I'll leave."
"Where will you go?"
"Home."
"Don't go!"
Rashta hastily clung to the Duke Elgy.
"If the Duke leaves, Rashta will be left alone in this cruel and merciless place. His Majesty no longer treats Rashta as he used to, and the others only notice Rashta's crown. Only the Duke treats Rashta like Rashta, if you leave…"
"I'm sorry, but I'm really disappointed about yesterday. Rashta, I felt like you were taking advantage of my friendship."
As Duke Elgy began to pack his luggage, she noticed that the area where he used to place his bracelet was bandaged.
"Please leave me alone."
Rashta was forced to return to the Western Palace. But all she could think about was that Duke Elgy would leave.
Rashta burst into tears as she looked at the bloody bracelet the mercenary had taken from Duke Elgy.
Whenever the nobles here turned their backs on her, Duke Elgy was the only one who sided with her.
Even after she became a concubine, even after she became an empress.
He was the only friend who was not prejudiced despite knowing she was not of noble origin.
That person had become angry and was about to leave. This fact was frightening and hard to take in.
Would I be able to carry on without Duke Elgy?
Rashta pressed her chest, she had to admit it.
'I think I like Duke Elgy.'
Sovieshu was the prince who rescued her when she was in the most difficult time, but he was so fickle that he easily abandoned anyone.
However, Duke Elgy had always been by her side.
Although she still loved Sovieshu, she was sure that this love would gradually disappear because of his attitude.
On the contrary, her feelings for Duke Elgy only grew.
Rashta turned and ran back to Duke Elgy.
Duke Elgy was outside carrying his luggage in a carriage.
"I have to tell you, I have to tell you something!"
"There is nothing more to talk about."
"You have to listen to me! It's an order!"
Rashta exclaimed firmly and led Duke Elgy into the room. But Duke Elgy turned to leave as soon as he entered.
Rashta stood behind him and cried out desperately with tears in her eyes…
"I like you. I love you. Please don't leave."
Rashta, who stood behind Duke Elgy, couldn't see that he was smiling.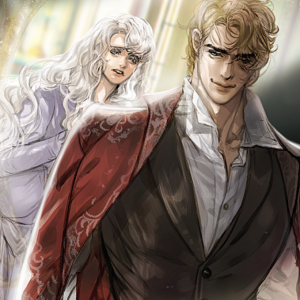 Comments for chapter "Chapter 275"
NOVEL DISCUSSION