Chapter 277. Thinking One Step Ahead (2)
Translator: Aura / Editor: SaWarren
---
At that time, Mastas had just arrived where Koshar was.
She had first gone to Compshire to carry out Heinley's order, and once her work was done she stopped by to keep her promise to Navier.
It was not difficult to find the troops sent from the imperial palace.
"Do you see that little hill over there?"
"Yes. The hill with three big trees side by side, right?"
"That's right, you'll see a vast flatland behind that hill. That's where the troops should be stationed."
"Thank you."
Mastas asked people in order to find the place where Koshar was. Indeed, after reaching the top of the hill that the old man indicated, a series of large tents could be seen, along with a temporary stable and several campfires.
Mastas quickly descended towards that place.
"I am looking for Sir Koshar."
However, Koshar wasn't there. On the contrary, a knight informed her that he was in the village.
"Sir Koshar went to village to buy some things?"
'I just came here from the village!'
Mastas thought about waiting to meet him, but in the end changed her mind and headed back to the roadside village.
So, she decided to ask each person, "Have you seen a very handsome man?", looking directly for Koshar.
'How long have I been like this? The knight told me he was around here somewhere…'
As she walked around, she heard the sound of weapons colliding with each other.
'Is it a fight?'
The sound of weapons clashing was heard in rapid succession. Then loud curses were heard, followed by sobs.
Mastas ran toward the sobs.
If gangsters were bullying people, she was going to teach them a lesson!
However, the scene she saw upon arrival was completely unexpected.
There were people being bullied. The problem was that there appeared to be only one bully and about fourteen victims.
Most of the people being bullied were burly men with rough and dangerous appearances. Each was stuck with his back to the other and with their hands tied together, so they could only move sideways.
The bully was a handsome man with impressive blond hair, who shot arrows at them as if he was having fun.
The shots did little damage because the arrows had no points, but all those who were hit sobbed, as if in pain.
Mastas' jaw dropped in bewilderment.
There were exactly fourteen different weapons lined up on the ground.
At first glance, it appeared that this blond man had snatched away the weapons of these fourteen individuals before humiliating them like this….
'Huh? That man?'
Mastas belatedly realized that that man was Koshar, who was normally smiling broadly beside Empress Navier.
Mastas unconsciously pointed a finger at him and exclaimed, "Ah!"
Hearing the voice, Koshar stopped playing and turned his head toward her.
The moment their eyes met, Koshar said nothing, but Mastas was convinced that he must have been cursing inside.
In fact, Koshar thought he was in trouble.
He came to buy a gift for Navier, but robbers suddenly appeared and he had to fight.
When he defeated two, five came; when he defeated five, nine came; when he defeated nine, a crowd came.
He couldn't stand the fact that the robbers intended to steal the jewelry and dresses he wanted to give as gifts to Navier. In the end, he was just venting his anger.
That was the scene that Navier's lady-in-waiting now saw.
She had a surprised expression… he was sure she would tell Navier about this.
Navier would shake her head immediately in disappointment.
It was easier for Koshar to handle a gangster than a lady-in-waiting.
Koshar felt he was in trouble because he did not know how to handle his sister's lady-in-waiting.
He thought first to stop her. Koshar, who belatedly cleared his thoughts, lowered his bow and smiled to make conversation.
"Hi? What are you doing in a place like this."
But as soon as he greeted her, Mastas snapped out of her amazement and suddenly shouted, "That's great!"
Then she reached a hand behind her back and pulled out a large spear.
Firmly wielding the spear, Mastas shouted as she ran.
"I would like us to have a duel, Sir Koshar!"
Koshar frowned. A duel so suddenly?
Although it could be a joke, Mastas acted as if she was serious.
Koshar looked at her puzzled and refused.
"I'm sorry, but I can't fight my sister's lady-in-waiting."
"There's no problem, it's fine!"
"No, it's not fine."
Seeing the twinkle in her eyes, she also seemed to be crazy about martial arts, so Koshar quickly changed his mind.
'If I handled her properly I could get her to keep her mouth shut, right?'
"Well, I accept, but can you promise me one thing?"
"What?"
"You won't tell Navier about anything you just saw."
"Agreed!"
When Mastas shouted excitedly, Koshar smiled and drew his sword.
Fortunately, she was a lady-in-waiting who spoke his language. Of course, he had no intention of fighting in earnest.
If he made a mistake and hurt the lady-in-waiting even a little, Navier would be angry.
"Let's get started!"
But after exchanging a few attacks, Koshar regretted his decision.
He realized that his opponent was not a person he could casually handle wielding his sword.
He had to get serious. But if he fought seriously, he could really hurt her.
What should I do? Should I render her unconscious? Or try to strip her at the right time of her weapon?
As he hesitated to do this or that, something hit his head.
Koshar blinked in a daze. Before his eyes, the face of the astonished lady-in-waiting blurred.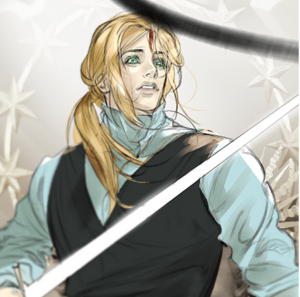 Three seconds later, he immediately collapsed.
"Oh no, Sir Koshar!"
***
Comments for chapter "Chapter 277"
NOVEL DISCUSSION