Chapter 279. Eyes and Ears (2)
Translator: Aura / Editor: SaWarren
---
Evely nervously went to Sovieshu.
After Sovieshu put her as an assistant to a court mage, he assigned her a maid.
If she needed anything, she could tell the maid. Besides, he sent her additional money every two weeks.
The maid sent by Rashta was a nuisance, but that aside she felt at ease.
Although Sovieshu had been very considerate in many ways, he did not call her to talk alone, and Evely spent her days oblivious to Sovieshu's existence.
That's why Evely couldn't understand why he had suddenly called her.
Did Sovieshu find out that I lied in front of Rashta, pretending to be favored by him?
If so, it would be a little embarrassing. Evely was nervous, hoping that wasn't the case.
Fortunately, he did not call her on the matter that concerned her.
"Navier cared a lot about you, right? If you agree, can you give Navier a gift from me?"
Evely's eyes widened and she asked,
"A gift?"
"Yes. But don't say it's a gift from me. Make it as a gift from you."
"Alright, but…"
"I'll have you join the next delegation I send to the Western Empire, is that alright with you?"
"Yes. It's fine as long as I can see Navier."
'But why on my behalf? Can't he just send it? Is it really necessary to go to all that trouble to give a gift?'
Evely realized the reason as she stared at Sovieshu. Their relationship had become awkward after the divorce.
"It would be too obvious to go suddenly, so it's best to go to Emperor Heinley's birthday party."
"Yes."
"I'll call you back by then."
"I understand, Your Majesty."
As soon as she got answers to her previous questions, new ones arose.
Evely became very curious.
'Didn't Emperor Sovieshu divorce Navier because he loved Rashta? Then why did he care about Navier? Did he feel guilt?'
Evely initially thought that Emperor Sovieshu was in love with Rashta to the point of not leaving her side. However, upon hearing the various rumors since arriving at the imperial palace, Emperor Sovieshu did not seem to care much for this second empress. It was even rumored that the second empress was having an affair with a member of the Royal Family of Blue Bohean….
'Then why did he divorce?'
Evely, immersed in complicated thoughts, went out into the corridor in a daze.
Navier had already remarried, knowing the answer would not make her return nor would it make Sovieshu leave Rashta, who was pregnant…
Suddenly, she heard a whisper as she took a few more steps,
"What is such a despicable person doing here?"
Evely frowned and looked in the direction of the voice.
Viscount and Viscountess Isqua looked at her with disdain from the stairs.
Perhaps because Sovieshu's room was nearby, they didn't insult her as strongly as before, but they completely showed their displeasure with their expression.
Evely also put on a disgusted expression. She could still remember the harsh words they said to her. She hated meeting them face to face.
'A child is just like parents.'
Evely ignored them, turned around and walked in the opposite direction.
* * *
Meanwhile, commoner journalist Joanson's patience was wearing out with each passing day.
He had requested an audience, meeting with the emperors and informing them about his younger sister. He even got the answer that his sister's case would be investigated.
'But why have I still not received news from the imperial palace?'
It had been a long time since his sister disappeared.
Joanson felt anxious just imagining that something bad could have happened to his sister.
Finally, he changed strategy and decided to question the maid who worked with his sister, Arian.
She was an experienced maid and skilled in her work, often spoken of by his sister because she was always helping her in one way or another.
He was going to wait for her to leave the imperial palace.
It was difficult to know the schedule of the palace employees, so Joanson settled into an inn near the palace and waited there for the maid.
Eventually, the effort paid off.
That day, Joanson ate a simple egg dish, sitting by the window of his room on the second floor.
He used his fork to take his food, but did not take his eyes off the main door of the palace.
Suddenly, a small door opened next to the large main door, and he saw a woman come out of it.
Joanson stopped eating and ran over there.
It may not have been the maid named Arian. In fact, that was the case on six other occasions.
But as always, Joanson approached the maid and asked,
"Are you, by any chance, Arian?"
"Yes, that's right."
This time he was right. It was her.
At that moment, Joanson saw the maid in front of him as a glimmer of hope,
But just in case, he asked again,
"Are you the Empress's personal maid?"
Arian replied calmly.
"That's right."
Joanson suddenly burst into tears. He couldn't believe he finally had a way to find traces of his sister.
Just thinking about it put a lump in his throat, Joanson wailed and apologized,
"I'm sorry I came here out of the blue."
Arian narrowed her eyes, as if this seemed strange to her.
Before she left, Joanson rushed to introduce himself,
"I'm Delise's brother. You know who Delise is, right?"
For the first time there was a real change in Arian's expression.
"Are you Delise's brother? The journalist…"
Joanson nodded hastily.
"Yes, I am. I…"
Joanson was about to speak but stopped.He took a step back and looked around with a growing fear that had arisen belatedly.
If his sister had really disappeared here, he had to be careful what he said.
There might be people around who wouldn't want him to find Delise.
"If you don't mind, can we talk somewhere else?"
But Arian shook her head and hurried away. She didn't even try to turn her head, as if Joanson was a plague. She also seemed to be frightened.
That attitude further aroused Joanson's suspicions.
Joanson followed Arian and called her,
"I want to know about my younger sister. My sister disappeared. Delise was grateful for how much you helped her. Since you worked with her, maybe you can tell me why my sister suddenly disappeared."
Joanson chased after her in tears.
"Please help me find my sister. No, you don't have to help me. Just tell me what you know!"
Arian, who was walking away quickly, stopped.
Did she change her mind because of my desperate attitude?
She turned her head and glanced at Joanson.
From her gaze, she seemed hesitant to speak or not.
"Please, I beg you!"
When Joanson pleaded again, Arian said hesitantly,
"It's hard for me to talk about it for fear of my life."
It was hard for her to talk about it for fear of her life. Was there a more terrifying sentence?
Joanson's fear grew even more. Arian's words sounded as if his sister had already died. As Joanson sobbed in despair, Arian's expression darkened.
She approached him and spoke very quietly so no one else could hear.
"People are not all they appear to be."
"What do you mean?"
"If you think carefully about my words, you will get the answer. Doubt the person you believe in the most. That's all I can say."
Joanson was stunned for a moment. Arian looked at him with mixed feelings, turned and disappeared with hurried steps.
***
Three days later.
When Arian came back to the palace after her brief vacation, she headed to the library to return the book she had rented before.
Writing her name on the return slip, she walked over to the bookshelves that stood alone, saying that she would put the book back in its place.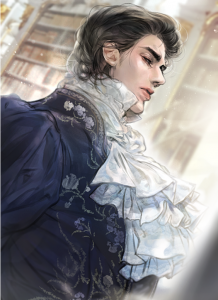 To her surprise, Sovieshu stood among the bookshelves with his hands clasped behind his back.
After politely greeting the Emperor, Arian muttered under her breath as she handed him the book,
"I did as you ordered, Your Majesty."
"Well done."
Sovieshu gave a short answer, took the book and placed it on the bookshelf in front of him.
Everything Arian had hesitantly told Joanson had been on Sovieshu's orders.
She was still afraid of Rashta and thought she was not to be trusted.
No one would be loyal to a person who gives severe punishment for a single mistake.
Arian was realistic, and cautious, so she knew it was better to be loyal to the Emperor with stable power, rather than to Rashta, who could attack her at any moment.
"As long as you do what I say."
Sovieshu spoke quietly.
"You'll be fine."
***
When Koshar woke up, he saw the same face he had seen just before he lost consciousness.
Grayish hair and eyes as black as a squirrel's.
Koshar sat up in bed, putting his hands on his throbbing head,
"How did I get here?"
Looking around, he realized it was a shabby room. There was a bed, a dresser, two chairs, and a table…
"Ah, you fainted. You were brought to this humble inn nearby."
Mastas muttered nervously at Koshar's question.
"Who brought me?"
"I did."
Mastas replied, staring back at Koshar. Then she quickly rose from the chair, bowed and shouted loudly,
"Forgive me, Sir Koshar! I didn't know Sir Koshar was weaker than I thought!"
"… Weaker?"
"I have learned not to bully the weak! Forgive me. I should have been more considerate."
At Mastas' sincere apology, Koshar opened his mouth in bewilderment. But Koshar in the end opted not to tell Mastas, 'It's my fault for letting my guard down.'
'On second thought, the lady-in-waiting wouldn't say anything bad to Navier now that she's hurt her brother. Yes. I'm glad it turned out that way.'
Although he hadn't planned it, Koshar smiled in relief.
Mastas had hurt the empress's brother, so she shrugged her shoulders in fear, but when she saw Koshar's smile, she was stunned for a moment.
His smile was like sunlight shining on water.
Mastas suddenly felt very thirsty, and hastened to drink water that was on the table.
It was hard to believe that the knight would lose consciousness from being barely hit by the shaft of her spear.
However, she was immediately convinced when she saw that subtle smile blossom.
'He must be weak because he's such a handsome man!'
At exactly the same moment, Koshar thought,
'Is she drinking all the water in that huge bottle at once?'
Koshar's eyes widened for a moment, but it seemed impolite, so he quickly turned his head away, pretending not to notice.
After drinking all the water, her thirst decreased, her eyes shone and her mood improved. Then, Mastas asked,
"By the way… there's a festive atmosphere in this place, right? I can hear music everywhere, did something happen?"
***
Comments for chapter "Chapter 279"
NOVEL DISCUSSION