Chapter 283. The Devil Shows His Friendliness (2)
Translator: Aura / Editor: SaWarren
---
In a few hours there would be a tea party.
Rashta arranged the bangs that covered the scar and put on a light, comfortable dress that didn't strain her bulging belly.
Lately, she felt her body heavier, her legs numb and frequent tugging in her belly. She was going to the bathroom more often and her limbs were swelling even when she was still.
Despite Viscountess Verdi's efforts to alleviate her discomfort, it didn't work.
"My baby. It looks like you'll be born soon."
Rashta whispered to the baby as she caressed her belly.
Recently, she had also been worried about the baby's sex.
So far she hadn't cared whether it was a boy or a girl. It was fine with her if it was a boy because it would cement his position as successor at once, but even if it was a girl, she could have a boy later.
Rather, she thought it would be better to have a girl and then a boy.
However, now that she was further away from Sovieshu, she knew that the baby had to be a boy.
The Eastern Empire had never had a reigning empress.
For her child's sake as well as her own, the baby to be born had to be a boy.
At that moment, someone knocked at the door.
It was a maid.
"A knight asked me to deliver this envelope to you."
The maid extended the envelope to Rashta, then added hesitantly,
"He asked me to deliver this envelope to you and for Your Majesty to return a reply… he also gave me money for doing this."
"How much?"
"A lot."
What was the letter about? Rashta opened the envelope and took out the letter, while the maid waited to the side.
Her eyes ran over the letter quickly. After so many reprimands from Sovieshu, she could now read and write fluently.
After reading the letter, a smile of joy appeared on Rashta's face.
"Is it good news?"
"It's fun news."
Rashta went to her desk with the letter in her hand, took out a blank piece of paper and dipped the tip of the pen in ink.
[I do not know for sure if Navier is infertile. However, even though she was married for a long time to His Majesty Sovieshu, she was unable to have a child, that is why I believe it. What is certain is that the reason His Majesty divorced Navier was because of the infertility problem].
'If Sovieshu thought Navier was not infertile, he would not have divorced her to marry me.'
Rashta thought that Sovieshu's divorce with Navier was clear proof of her infertility.
Rashta found it fun to write this.
She was thoughtful for a moment and wrote a final sentence that sounded a little kinder.
[But it would be a shame if she lost her position just because of an uncertain assumption. Navier will be a good empress, so I hope she won't be backed into a corner by uncertainty].
After putting the letter in an envelope and affixing her seal, Rashta handed it to the maid.
Viscountess Verdi began to comb Rashta's hair again, while she hummed in a better mood.
However, that mood changed as soon as she attended the tea party.
The topic of the soon-to-be-born baby came to the forefront, but it was because of the words of a nobleman who said with concern,
"When the baby is born, hopefully it can grow strong…"
It was a voice of desire, but if one listened carefully, one could realize the malice in his words.
Even another nobleman added,
"The Troby Family has been loyal to the Imperial Family for generations. But it may not be loyal to the next emperor."
Are these nobles cursing my child's future?
Disgusted, Rashta stared at them with a frown. The nobleman who brought up the subject of the Troby Family waved his hand and said quickly,
"Well, it's a difficult relationship to handle."
Even after this excuse, Rashta was still in a bad mood. But inside, she knew he was right.
The Troby Family were displeased with her, so naturally they would not be loyal to her child.
Even when that child was raised as the crown prince, or even when he came of age and became the emperor, they might still be displeased and block his path.
Rashta felt chills just imagining it.
Although members of the Troby Family rarely worked as government officials, they had great influence in high society.
Also, Marquis Farang. What of him?
He had inherited the position of marquis as a young man, had a rebellious personality and held a deep grudge against Rashta for the banishment of his friend Koshar.
This man would not support her child either.
'I have to take care of this.'
Once she returned to her room after the tea party, Rashta knew what she had to do.
She had already done some bad things to survive in the imperial palace. She had no problem adding a couple more to the list.
'I'll protect my baby.'
She was going to eliminate anyone who might block her child's path. As soon as Rashta made up her mind, she called Viscount Roteschu's mercenary.
The mercenary appeared less than three hours later. Rashta threw a large jeweled necklace at the mercenary and ordered him,
"You said you also killed for money, right?"
"… Yes."
"You can kill nobles?"
The mercenary laughed as if he had heard a joke.
"There's no difference between killing nobles or commoners."
Those words were pleasant for Rashta to hear.
"Then kill the Duke and Duchess Troby."
"!"
"They went to the Western Empire for a while, but they'll be back soon. You don't have to rush to kill them. Just do it before Rashta's baby is born. So kill them however you want when you're ready."
The mercenary replied after a moment's thought.
"If you want me to kill the Duke and Duchess Troby, you'll have to pay more. It's more difficult and dangerous."
"Never mind the money."
"It's ten thousand krangs."
"Ten thousand krangs?"
Rashta was startled. The amount was higher than she expected.
"Are you saying that to kill one person you need ten thousand krangs?"
"It's not one, it's two. Besides, it's not like killing two passersby. There must be many guards around them, and to kill them I'll have to pass through all of them."
'Still, wasn't ten thousand krangs too much?'
Rashta bit her lower lip.
He was a mercenary that Viscount Roteschu had brought in, and unfortunately he was just as greedy as the Viscount,
"After I kill them I will also have to escape, and the Troby Family will send people to kill me. Their daughter, who is in the Western Empire, may try to kill me as well. If you have to risk your life and even think about your safety afterwards, ten thousand krangs really isn't much, right?"
She had nothing to refute.
Rashta finally sent the mercenary away saying that it was fine.
'Ten thousand krangs…'
But ten thousand krangs was still too much money.
When she asked Baron Lant for money, he would give it to her right away, but if she told him she needed ten thousand krangs, he would ask for the reason. He was an annoying man.
'What should I do?'
In the end, Rashta decided to ask Duke Elgy for help again. There was no one else who could give her such a large sum of money.
Fortunately, this time Duke Elgy took Rashta's hand with a smile,
"Of course I'll give it to you."
"I'm always sorry…"
"It's alright. You'll pay me back for everything, right?"
"Of course. Don't worry."
Whenever Duke Elgy lent her money he made sure to put it in writing on a document.
Rashta wrote her name on the document and stared at the Duke.
When their gazes met, Duke Elgy asked with a smile, "What's wrong?"
Rashta shook her head.
"I was just thinking that the Duke is really beautiful."
"You're beautiful too."
"No, actually… if the devil existed I think he would look like you."
"The devil?"
The corners of Duke Elgy's mouth lifted as if he found it amusing.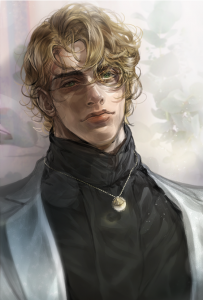 "No offense. It's just that I remembered what I'd heard somewhere. The devil is beautiful so that he can enchant people…"
Comments for chapter "Chapter 283"
NOVEL DISCUSSION