Chapter 286. Navier Angry (1)
Translator: Aura / Editor: SaWarren
---
Before going to bed.
Sovieshu managed to calm down after much sobbing, and began to lament deeply. He considered himself a fool for impulsively buying a Navier painting.
'How many people come and go to clean my bedroom… Worse, there were people who saw the painting as it was being hung on the wall.'
Getting under the covers, Sovieshu vowed to himself to remove the painting tomorrow.
However, what Sovieshu did the next morning was not to remove the painting. On the contrary, he called the palace painter.
When the palace painter arrived, he showed him the painting and ordered,
"Change the direction in which the eyes of the painting are looking."
"What eyes do you mean…?"
The painter asked carefully. There were two people in the painting, both looking in different directions. Navier was looking to one side while Sovieshu was looking at Navier. The sensations conveyed by the painting would change drastically depending on the direction in which the eyes were to look.
The painter thought Sovieshu would tell him to change the direction in which his eyes were looking.
But Sovieshu's request was quite the opposite of what the painter expected.
"Make Navier look at me."
The painter was puzzled for a moment. Is he serious?
Sovieshu had an indifferent expression. At least, he didn't seem to be joking.
'Well, no one would joke about something like that.'
When the painter nodded and stepped back, Sovieshu sat down on the bed feeling more at ease and appreciated the painting again.
***
Grand Duke Kapmen, Heinley, McKenna, the officials involved, and I, met to discuss what happened in Whitemond. We discussed it for several hours.
"Have there been any disputes recently? Not from our perspective, but from Whitemond's, an act that may have upset them."
"No, until now there was no problem."
"What about the Whitemond Ambassador? Does he know anything about it?"
"He is also confused and is contacting the Ministry of Foreign Affairs."
"The team members say they did nothing wrong, but perhaps they did it unconsciously, Your Majesty."
Various opinions emerged, but the reason the team was arrested remained unknown.
McKenna said with concern,
"The worst case scenario would be that Whitemond acted this way because they disliked the self-proclamation of the Western Empire. If that were the case, it will be a small… no, it will be a big problem."
Heinley nodded and instructed,
"That is true. Marquis Ketron, ask those of Whitemond what this action is due to."
"Yes, Your Majesty."
"Grand Duke Kapmen, please tell your subordinate to stay close by, and keep an eye on the situation."
"I will do so."
After nearly three hours of meeting, Marquis Ketron hurriedly left with his followers.
Can he really be trusted? As I watched his distant back with a blank stare, Heinley said beside me,
"I don't think he's that stupid."
However, he had already acted stupid once. Hadn't he tried to heighten the scandal between Christa and Heinley?
… Well. There were a lot of people who saw the secret meeting between Christa and Heinley, so he probably calculated that it was a lie worth taking a chance on, and acted accordingly.
In any case, Heinley knew Marquis Ketron better than I did. So I nodded because I trusted Heinley, not the Marquis.
Heinley nodded too, then we stared at each other.
But it didn't last long. As soon as I remembered how we parted the last time, I blushed. When I turned my head sharply, Heinley rushed to take my hand.
At that instant. Grand Duke Kapmen looked stunned at Heinley, and left as if he was running away, saying he had urgent business to attend to. I don't know what was going through Heinley's head to make Grand Duke Kapmen leave in such a manner…
"My Queen."
When I tried to go somewhere else, Heinley called me and squeezed my hand. Looking back, he had a soulful expression.
"Are you going to leave me alone?"
Although his gaze was capable of making anyone's heart flutter, I had already discovered that Heinley was an excellent actor. I couldn't tell if his look was genuine. Besides, who made us feel awkward in the first place?
"Isn't it time to work?"
I spoke flatly and turned away. I wasn't lying, so I went straight to my office. I was in my living room before, but now that this had happened, I was going to look into some questions about it.
It was possible that the case of the team detained in Whitemond would not be resolved anytime soon, so I would have to consider bringing in another team.
But before I could get to my office, Heinley approached me from behind.
"My Queen, are you angry?"
"Not at all."
"You look angry."
"I'm not angry. I just don't respond to nonsense. "
"You are angry."
"Aren't you busy? You should go to work too, Heinley."
Even though I picked up my pace, Heinley stayed by my side. Perhaps because of his long legs.
Eventually, I stopped and looked at him with my arms crossed. Heinley stopped at the same time and with a very sorrowful expression said,
"I'm sorry. I was very emotional at the time. If I had known you would be so upset, I wouldn't have said anything."
"…"
"I thought we were getting closer, but now we're starting to drift apart… I'm really sorry."
Heinley took my hand firmly and rubbed the back of it with his thumb.
Hearing his apology made me feel guilty. I was the one trying to reduce the time I spent with him against my will.
Although I was upset that he said I only wanted his body, Heinley could be upset too. He had told me on several occasions that he loved me. Maybe out of fear of loving him I made him lonely?
My heart ached as I remembered Heinley smiling broadly with my parents. I had decided to make him happy. How did we get back to this again?
Heinley put his hands on my neck, lifted my face with his fingers and stared at me.
"My Queen. Why do you look so sad? I don't want to see you like this."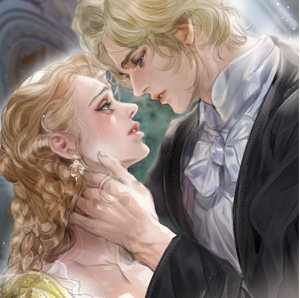 Comments for chapter "Chapter 286"
NOVEL DISCUSSION