Chapter 295. What Matters Is That He Likes It (2)
Translator: Aura / Editor: SaWarren
---
That which is prepared in advance works best.
Heinley's birthday was no different. It was still a few months away, but I began to think about the gift.
Heinley insisted on taking a bath together, but that was out of the question.
At tea parties, the nobles would no doubt ask me, 'What gift did you prepare for His Majesty?'
'I will take a bath with His Majesty. I will be his gift, wet and covered in bubbles.' I couldn't answer something like that, right?
It was very indecent just thinking about it.
It was not a random assumption. The nobles would want to avoid giving the same gift as me, so they would definitely ask me this.
I really needed a gift that I could talk about with confidence when someone asked me what gift I had prepared for Heinley…
A true gift, a gift I could tell others about… What could it be?
After much thought, I finally decided.
A cake. Make him a birthday cake.
When I made him the omelet, Heinley was delighted.
I won't give him just a cake as a gift, but I know he'll be very happy if I add a cake to his gift.
Just the thought of his bright expression made me feel pleased. I rubbed my chest with one hand as I tried to calm my racing heart.
Once I made up my mind, I knew clearly what I needed to do next.
Seek my mother's help. I'll bake him a cake in the Eastern Empire style, Troby Family style.
When my father, brother and I had birthdays, my mother would bake the cake for us to cut in the morning.
It was very strange. My mother didn't like to cook, but she always baked a cake for our birthday, and it was very delicious. I wanted Heinley to try it too.
Coincidentally, my mother was still with me in the imperial palace. Isn't it great? So I immediately went to my mother and asked her for the cake recipe.
"The cake recipe?"
My mother's eyes widened slightly at my request, as if she had no idea why I wanted this. Soon, my mother smiled broadly.
"You don't like to cook, Navier."
"It's for Heinley's birthday, mother. I want it to be a special memory just like it was for us."
"Heinley loves you very much. He won't want you to cook for him if you don't like it."
"Mother, Heinley doesn't know. Besides, it's not that I don't like to cook."
I just preferred not to.
My mother put on an indifferent expression at my words.
"Well. I don't know if you should do that."
But after I repeatedly asked her for the recipe for her special cake, she finally relented, pulled out a piece of paper and wrote something in detail.
"Done. Just do what is written here."
The ingredients and the steps to follow were written on the paper.
"Thank you."
After thanking my mother several times, I borrowed Heinley's kitchen, and practiced baking the cake.
I beat the mixture until my arms were tired and then made the whipped cream.
However, the finished cake tasted completely different from my mother's cake.
I tried a couple more times, but the result was the same.
Finally, I went back to my mother to ask her to make it.
"Mother, the cake doesn't taste the same to me like yours does."
"Did you do it exactly as I wrote it?"
"I followed the steps and ingredients to the letter, but the taste is completely different."
"…"
I handed her back the recipe she had given me and asked,
"Mother, could you show me how to make it?"
My mother looked at the recipe I handed back to her with a cold expression. She looked like she was about to open her mouth and say, 'You can't even make this…?'
But no matter how long I waited, my mother remained silent.
"Mother?"
When I called her because I couldn't wait any longer, my mother sighed and confessed.
"Actually, the cake was made by the chef."
What?
Her words were so shocking that I thought I had misheard.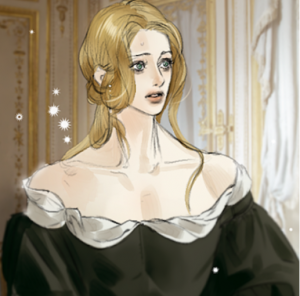 Who was it that made the cake? The chef?
"Mother, you didn't make that cake for our birthdays…"
"No, it was the chef."
I looked at my mother puzzled. My mother still had a blank expression, but she didn't look me in the eye. Then she turned to the side, and asked me as if it was normal,
"Navier, you want to see His Majesty happily eat 'your own cake', right?"
"Yes, Mother."
"Get a delicious cake and say you made it yourself. That's what you must do."
"…"
"Think about it. Eat a tasteless cake made by you, or eat a delicious cake that he thinks is made by you. What would make His Majesty happier?"
In the end, my mother smiled and patted me on the back, saying that I should keep it a secret from my father.
***
While Navier was shocked by the truth she had just learned, Team Bizzarri arrived in the capital of the Eastern Empire after departing days earlier from the Western Empire.
Pirence Danju of Team Bizzarri, entered the Bear Corporation headquarters.
"Welcome!"
The people of the Bear Corporation, whom he had contacted beforehand, greeted him politely.
But they didn't seem to do so out of respect for Team Bizarri; instead, they greeted him with excessive politeness to demonstrate the greatness of the Bear Corporation.
At least that's what Pirence Danju felt.
"Haha, thanks for the hospitality!"
However, despite feeling uncomfortable, Pirence Danju did not express it at all. On the contrary, he raised his voice and laughed as if he was very happy.
In another circumstance, he would have said with a tone of sarcasm, 'Why don't you guys act normal?', but today he had something important to do.
It was a secret request.
Actually, the request itself was not that difficult, but he was nervous because it was from Empress Navier.
"The president is waiting for you in the reception room."
As he looked inside, the Bear Corporation President's secretary approached and kindly guided him in.
When he entered the reception room, he saw the President of the Bear Corporation sitting at the desk with the necessary documents for the meeting laid out on it.
The two exchanged greetings and a few words of courtesy.
Soon after, they discussed a number of issues with the purpose of reaching an agreement at this meeting.
Near the end, the President of the Bear Corporation of the Eastern Empire handed him a promissory note in exchange for the purchase of special jewels from the Western Empire.
"Hmm…"
Pirence Danju accepted the promissory note, and examined it carefully. It was to verify its authenticity.
He usually acted this way, so the President of the Bear Corporation just drank a little of his drink, although he was offended.
However, his behavior turned out to be different than usual as time went on. Danju examined the promissory note much more compared to other occasions.
"Is there a problem?"
Bear Corporation's president asked, annoyed.
"Ah, sorry."
Danju felt the time was right, so he quickly did as Empress Navier had requested.
"I hope you are not offended. I do this because lately I have heard a lot of cases of counterfeit promissory notes."
Comments for chapter "Chapter 295"
NOVEL DISCUSSION