Chapter 299. Premature Birth (2)
Translator: Aura / Editor: SaWarren
---
The President of the Bear Corporation had eaten on several occasions with Empress Navier. Honestly, she was a cold empress. During each meal, he was terrified to think whether the person in front of him was a book of etiquette or even alive.
But he did not hate Empress Navier. Although the Empress did not show him a friendly smile, neither did she betray him with a mask of kindness, let alone change her word after turning around.
Navier was not a warm person, but she was trustworthy and loyal.
Although she did not embrace the poor with a kind and compassionate heart, she certainly cared for them better than chatty people.
When Rashta became empress, the president spent several anxious days with mixed feelings.
It was painful to see how the innocent Empress Navier was displaced as if she had done bad things. At the same time, he was glad that the new empress was of commoner origin and had a kind heart. When she donated a huge sum of money, he marveled that she was truly a good person.
In the end, he simply decided to adapt to the new times. Focusing on further expanding and strengthening his trade team.
But he discovered the dark hidden truth with his own hands. The president closed his eyes and leaned back in his chair as a feeling of emptiness and desolation quickly came over him.
"It can't be…"
Closing his eyes, he muttered with a sense of dejection, tears inexplicably appeared at the corners of his eyes.
Empress Rashta declared that she would donate a large sum of money to numerous institutions in the midst of her wedding, to which Empress Navier had also been invited.
He heard those who praised Rashta mutter that Empress Navier was shameless.
The President agreed to a certain extent. How could she attend her ex-husband's wedding to her new husband?
Of course, it was a state affair, but she could have pretended to be ill and sent a delegation on their behalf.
'As was to be expected of a remarried empress, she must be a little shameless.' He thought at the time as he looked at the cold Empress Navier.
But it had been a misconception. A prejudice.
The President regretted it as he imagined how Empress Navier must have felt when Empress Rashta had distributed her money and received the praise of the people.
It was unfair. She must have felt upset and sad. Even the coldest people had feelings. She must have been speechless.
He remembered the cheers of the commoners toward Empress Rashta at the wedding parade and the near deathly silence as Empress Navier passed them in the carriage.
"It can't be…"
The president groaned inexplicably. He felt sorry for how unfair and how painful it must have been. He got that way even though he didn't particularly like Empress Navier.
The president, who had been sobbing for about 15 minutes, came to himself belatedly when he heard knocking at the door.
"President?"
The secretary, who came in with a stack of documents, approached the president in surprise when he saw his red eyes.
"Are you all right?"
Waving his hand to indicate that he was fine, the president ordered in a cold voice,
"Forget it, forget it. Find a journalist named Joanson and bring him here."
* * *
The journalist wondered why the President of the Bear Corporation would call him. Normally, this would not have been the case.
"Thank you for coming."
The president pointed to the chair across the desk. Joanson looked doubtfully between the president and the chair before taking a seat.
"You sent for me?"
"You don't look so good."
"I have been very busy."
"Have you been busy gathering information to write articles against Empress Rashta?"
Joanson's hand stopped as he calmly opened his notebook. However, he soon looked up fiercely.
"So it turns out that the president is a fervent supporter of Empress Rashta? I had heard that you two had a very good relationship."
The president knew he had found the right person when he saw that expression. But for some reason, Joanson was very upset right now.
"Be more rational."
At the president's stern voice, Joanson cocked his head in bewilderment. The strength with which he held the pen in his hand was also noticeable.
"I don't need a foolish journalist who can't recognize whether a person is an enemy or an ally. Get out."
The president spoke coldly and rang the small bell on his desk.
As soon as the secretary entered, the president said, "Show the guest out." Then, as if he was not at all interested in Joanson, the president turned his chair to one side and pulled out a newspaper.
The secretary tugged on Joanson's arm.
"Please leave now."
Why the hell did he call for me then? Joanson found the president's actions absurd. What does he care if I write bad articles about Empress Rashta?
Joanson snorted and followed the secretary to the door. But after three steps, he returned, sat down in the chair and apologized.
"I'm sorry. I didn't think clearly."
Only now did he understand the strange nuance in the president's words.
Couldn't I recognize whether a person was an enemy or an ally? Normally an enemy would not say this. Instead, a person who wanted to be an ally would say it.
His rationality, which had been buried in all sorts of negative and intense emotions after his younger sister's disappearance, slowly returned. It did so at just the right time.
"I'm not that foolish."
The president let out a laugh and turned the chair back to the front. The secretary left, closing the door discreetly.
Joanson opened his notebook again, placed it on his lap and looked at the president with burning eyes.
The president first tested him with the articles he wrote against Empress Rashta, and then hinted that he was not an enemy. It was clear that what the president wanted to tell him was related to Empress Rashta.
"Empress Rashta caused a stir in the middle of her wedding by declaring that she herself would donate twenty million krangs in promissory notes. Do you remember?"
As he expected, Empress Rashta's name came out of the president's mouth.
The corners of Joanson's mouth curled up.
"How could I not remember? I praised her for a week for that. It was the only good thing she did."
"Hmm… do you know whose the promissory notes are?"
'Why is he asking that question?'
For a moment, Joanson's expression was a little hesitant.
"Are not the promissory notes from Empress Rashta?"
When the president nodded, his expression turned cold.
"So the Emperor was trying to raise his wife's prestige."
"Unfortunately, the Emperor has not made use of his promissory notes."
"…"
Joanson, who blinked in bewilderment, stood up terrified after belatedly understanding his words. The chair fell to the floor with a crash.
"No way…!"
"The promissory notes are from the Empress Navier."
"What… what the hell are you saying?!"
Joanson's hands trembled as he listened to the president tell what he himself had found out. Joanson was stunned to learn that Rashta had taken advantage of those promissory notes in front of Empress Navier in the middle of her wedding.
Empress Navier, born into a good family, ate well, lived well and reached the pinnacle of power. She only lacked the love of her husband. At first, Joanson found it absurd that people who had to think about how to make ends meet would worry about Empress Navier.
Concubine Rashta, who had gone through all sorts of hardships to get to that position, was more pitiful than Empress Navier.
Even after she became a concubine, the nobles mocked her and the Empress treated her coldly, but did people still pity Empress Navier? He considered it truly absurd.
Although she later suffered a bit from the divorce, Empress Navier eventually remarried the king of a neighboring country. Joanson came to think that she had been born with some natural blessing to be able to lead such a quiet life.
But was the money that Empress Rashta donated from Empress Navier? Did she even do it in front of Empress Navier and was praised by those present?
Joanson was speechless. The world he until now thought he knew seemed to have been turned upside down.
Just as he was surprised that Empress Rashta, the light and hope of the commoners, was linked to his sister's disappearance, he was also surprised that Empress Navier, a cold-hearted noblewoman , held back as she watched Empress Rashta's strange behavior.
"This… this is really…"
The president ordered him firmly.
"Write an article about this. We don't know what reprisals the imperial family might take, so don't assert it completely, just enough to cast doubt."
Joanson was caught up in his emotions, but the president was a completely calculating man.
The president ordered him firmly.
It was not because of his emotions that he called Joanson and gave him this order.
He had lost confidence in Empress Rashta and had decided to disassociate himself from her because he had a bad feeling about her future.
"Be sure to make it clear that the Bear Corporation and Empress Rashta have nothing to do with each other. I mean to draw a line."
***
Sitting limply in her armchair, her maids brushed her hair and washed her face with a soft cloth.
As they continued to fix her hair, Rashta took a newspaper from another maid to read.
The maid's expression was very strange, but Rashta didn't think much of it. She just thought there would be some interesting news.
After a while, Rashta's hands trembled as she read the newspaper. The trembling gradually spread throughout her body.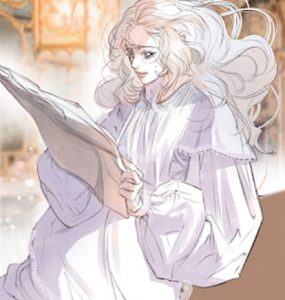 "Your Majesty?"
The maid looked at the empress in surprise as she combed her hair. Rashta's face was as white as snow.
"Your Majesty!"
"My belly… my belly…"
The newspaper Rashta had held in her hands spread as it fell to the floor.
The maid's gaze shifted to the article that raised suspicions about the empress' promissory notes. Her eyes widened for a moment, but as Rashta's body swayed, the maid took her eyes off the newspaper and held her.
Rashta began to scream in pain as her entire face was drenched in cold sweat. Suddenly, she collapsed completely.
"The doctor, the palace doctor! Bring the palace doctor!
* * *
"Your Majesty, the Empress is going into premature labor!"
Comments for chapter "Chapter 299"
NOVEL DISCUSSION