Chapter 301. Rashta's Disappointment (2)
Translator: Aura / Editor: SaWarren
---
"Did Rashta give birth? ​So soon?"
The news did not come at a good time.
We had gathered as a family to celebrate my brother's return after solving the problem with the thousand eternal bandits.
It was a really bad time.
My family's faces contorted in different ways as the news broke.
The secretary, who brought the news of the birth of Rashta's baby, had first murmured that it was 'sensitive news'.
In fact, the secretary indicated to Heinley that he preferred to tell him in private, since it was news from the Eastern Empire.
But Heinley ordered the secretary to say it in the presence of everyone, probably wanting to show a dignified image in front of my parents, my brother, and me.
In the end, the celebration of my brother's return fell apart.
Leaving my parents and brother behind, Heinley asked his secretary in a heavy voice.
"If she gave birth now, it's a premature baby, right?"
"Yes. It's a girl, a princess."
This time the secretary looked at me when he answered.
I kept expressionless and just walked casually.
"Hmm… Your Majesty. Besides.. the Emperor sent an invitation."
"What invitation?"
"An invitation to a banquet to celebrate the birth of the first descendant of the imperial family."
"He invited us both?"
"Well. At the bottom of the invitation was a sentence that said, 'It is not necessary to attend.'"
The corners of my mouth curved reflexively.
It was not usual to add that sentence to an invitation.
What Sovieshu meant in other words is— 'I sent the invitation out of formality, but do not attend'.
I could understand him. If I appeared next to Heinley on the day of his child's birth celebration, Sovieshu would feel uncomfortable.
"The baby was born prematurely. What an irony of life."
After the secretary walked away, Heinley snorted in a cold voice.
"Isn't it, My Queen?"
"What do you mean?"
"Didn't she indiscriminately attack Lady Nian about her premature baby? But now her baby was also born prematurely."
"That's true. "
I had heard that Sovieshu did all the work, so I don't think she gave birth prematurely because she was overwhelmed.
"Something bad must have happened."
Four hours later, I learned from Nian what had happened.
"I heard that woman donated a huge sum of money at her wedding. Apparently, suspicions have been raised that this money might be from Your Majesty."
Surprisingly, it seemed that the incident of the promissory notes I had uncovered to protect my parents was what shocked Rashta so much that she gave birth prematurely.
Well, I don't think that's the only reason she gave birth prematurely.
"It's pleasant. Don't you think, Your Majesty?"
"Yes…"
Nian, who didn't know that I had been the one to uncover the promissory notes, smiled with satisfaction at what had happened.
But I felt strange.
Even if unintentionally, wasn't this the first time I had hurt Rashta?
I wonder how Sovieshu would react if he found out it was me.
Although I knew how he would react if I were the empress and Rashta the concubine, it was unclear to me now.
"Is the baby healthy?"
"She's a healthy baby girl despite being born prematurely. She's just a little small."
"Sovieshu must be very happy to have gotten what he wanted most."
I couldn't help but smile as I imagined Sovieshu. Not out of joy, but out of disgust, helplessness.
For Sovieshu, that baby symbolized the happy family he wanted to protect, even if it meant getting rid of me.
And for me, that baby was what drove us completely apart and almost dragged me to the bottom.
I knew it wasn't the newborn baby's fault, but I couldn't feel happy.
To tell the truth… now I cared less about what it had to do with them. I was more drowsy than surprised by the news.
I think I even fell asleep on an armrest of the couch because when I opened my eyes again I couldn't see Nian or my ladies-in-waiting.
"Lady Nian? Countess Jubel? Miss Rose? Miss Laura?"
Confused, I called them one by one and realized that I had spent too much time asleep.
I guess they all left without waking me up when they saw that I had fallen fast asleep.
I think I've relaxed too much since I've been here.
As the Empress, I shouldn't be like this.
As I reproached myself, I saw the end of a golden feather through the half-open door.
"Queen?"
I called out to him as I stood up.
Why does Heinley stay there?
"Queen."
By the time I opened the door, Queen was gone.
"Queen?"
When I looked up puzzled, I saw a plump butt running away quickly, wiggling from side to side.
Did he want to play hide-and-seek?
He looked really lovely running around like a penguin, so I deliberately followed him with slow steps.
But strangely, he passed through the corridors turned into a bird.
"Queen?"
Why was he walking around the palace like that?
When I quickened my pace in surprise, Queen flapped his wings and also quickened his pace.
Although it would be difficult to catch him because of how fast he moved his feet, I had to do it. I don't know why, but I felt I had to catch Queen firmly.
I lifted my skirt a little and ran towards him.
I ran through long corridors and down a spiral staircase.
Queen approached the throne in the hall and finally stopped.
"Why did you come here?"
Relieved to have finally caught him, I lifted Queen up.
Queen then pointed one of his wings towards the throne, groaning anxiously.
What about the throne?
As soon as I looked in the direction Queen pointed, I was startled and took a step back.
A huge eagle clung to the throne with its wings. It had a fierce look as if it belonged to it.
What does this mean? Does that eagle covet Heinley's throne?
When I swooped over furiously and swatted the monstrous eagle's butt, it reluctantly left the throne, stared at me, and suddenly began to shrink.
In an instant, the monstrous eagle shrunk to the size of Queen, then became smaller than Queen, and finally much smaller.
Its beautiful golden feathers turned into white fur as soft as a baby's skin.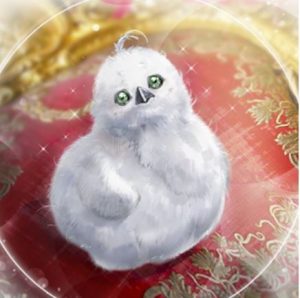 When I hugged the monstrous eagle because of how lovely it was, it chirped and began to act as if it were docile, rubbing its face against my palm.
The eagle was as cunning as Heinley… just when I thought this.
"Your Majesty?"
Hearing Nian's voice, I suddenly woke up.
"Are you alright?"
"Where's the baby monster?"
"Huh?"
Comments for chapter "Chapter 301"
NOVEL DISCUSSION