Chapter 306. Rashta's Despair (1)
Translator: Aura / Editor: SaWarren
---
After that day, time passed very slowly. But when I thought about the pregnancy at night, it seemed to go by too quickly again.
Perhaps because of the situation, Heinley just hugged me tightly even when we were lying in the shared bedroom.
This naughty eagle, whose eyes were always full of lust, did not usually behave in this way.
However, he never brought up the subject of pregnancy or talked about babies.
Heinley probably didn't want me to feel overwhelmed. I had already decided to have the palace doctor check me out again.
Snuggled up against Heinley's chest, I stroked his chin and cheeks to calm my anxiety.
It must be difficult for a chatterbox to keep his mouth shut.
I admired the effort he made for me by not saying anything for two weeks.
As I stroked his hair a day before the checkup, I untied the knot of his robe and rested my ear on his chest.
Once I heard the pleasant beat of his heart and felt the warmth of his body, my chaotic mind gradually calmed down.
Since when did this man begin to mean so much to me? Did it make any sense now to try not to love him?
I lamented inwardly, letting out a slight sigh.
How will we feel tomorrow when we lie down here again?
Tomorrow we'll know if…
"Do you want to kill me, My Queen?"
"Heinley?"
"Oh my…"
Heinley, who let out a moan, kissed my forehead and pulled his body out from under me, saying, "Wait a moment."
Then he scurried away like a mouse and moaned again.
At that moment I realized that I had groped his naked body a lot, which had greatly stimulated that part of Heinley.
"Are you all right?"
"You're cruel…"
Heinley muttered helplessly and left the shared bedroom.
As I looked toward the door that led to Heinley's room, I grabbed his pillow and hugged it.
With the pillow that still held his warmth between my arms, I fell asleep.
* * *
The next day.
The palace doctor who came to see me, almost at noon, seemed very tense.
He even had a tragic expression before beginning the checkup, as if the salvation of the world depended on his next words.
Heinley squeezed my hand affectionately as the palace doctor pulled out his medical tools, but immediately withdrew it at the palace doctor's request.
I swallowed hard and breathed slowly.
My heartbeat felt like the ticking of a clock.
… How long is he going to check me?
It was time to know the result. The palace doctor put aside the medical instruments, and bowed deeply to me,
"Congratulations, Your Majesty! There is no doubt that you are pregnant! You have a baby in your womb!
As soon as he finished speaking, a sob was heard from the side. As I turned my gaze, I saw Heinley looking at me with tear-filled eyes.
No sooner had our gazes met than he rushed to take my hand and embraced me with the other.
The palace doctor didn't stop him, this time he didn't say anything.
Only Heinley's sobs could be heard in the quiet room.
Nothing crossed my mind again, the palace doctor smiled as if he expected to see me happy, but eventually looked at me with a puzzled expression.
It wasn't until he left after giving some instructions that I realized my head was empty.
As my thoughts returned, I wanted to call the palace doctor to check me again.
Is he really sure? He didn't make a mistake? Do I really have a baby in my womb? Me?
"A baby…"
"Seems like that nasty baby eagle was our child, My Queen."
"It wasn't nasty. It was lovely and cuddly."
At my firm words, Heinley kissed me several times on the cheek and said, "You're right, it was a very lovely baby eagle."
Then he picked me up and held me in his arms suddenly, so I clung to his neck reflexively.
"Heinley!"
"If I spun around like this a lot, you'd feel dizzy, right?"
Heinley kissed me all over my face, then set me down on the couch, turned into a bird and started dancing.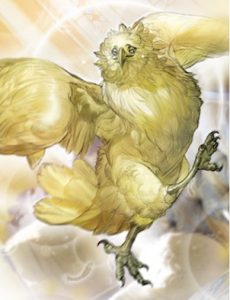 He didn't look like the same man who hadn't said anything in two weeks.
Not even before those two weeks had he mentioned that he wanted to have a child. Was he that happy about this?
As I watched Queen dance, who could not be said to be a good dancer, laughter finally broke out as the tension dissipated.
Suddenly, I was touched and my eyes filled with tears.
I'm pregnant. I… I'm going to be a mother.
Although I never dreamed of being a mother, I never thought I wouldn't be.
Becoming Empress, I naturally must have a child. This was tied to the position of the Empress.
But this… was different. Knowing that I actually had a baby in my womb was completely different from what I had imagined.
It went beyond a matter of obligation and happiness.
"My child."
The life growing inside me in a totally unexpected way gave me a strange excitement and fear at the same time.
This baby taught me how amazing a woman was to be able to procreate, and also the fear of knowing that its life depended solely on me to be born healthy.
When I thought that in a few years this baby would grow up to be just like us, talk about all kinds of things, laugh, and play a role in the world, I realized how amazing it was to be a parent.
It was a perspective I had never considered before.
This life, which was in my womb and whose existence was uncertain two weeks ago, would become a lovely baby in less than a year.
When I placed my hands on my belly, tears finally spilled down my cheeks.
Queen stopped dancing and approached me, resting his face on my belly. Then he spread his big wings, covering my belly and my waist.
We stayed like that for a long time…
"The more I think about the child we will have… the more my heart races, My Queen."
"Are you happy?"
"The very existence of the baby to be born is the fruit of our love."
***
Comments for chapter "Chapter 306"
NOVEL DISCUSSION