Chapter 308. Real Father (1)
Translator: Aura / Editor: SaWarren
---
Once Viscountess Verdi also left, Sovieshu anxiously asked the palace doctor,
"How is the princess?"
"She was very frightened, but fortunately nothing of consequence happened to her. If she had fallen straight to the bare floor, it would have been dire, Your Majesty. A baby is fragile, it can suffer serious injuries if thrown with a little force on a hard surface."
It was a relief that the baby was wrapped in thick blankets and that the place where she fell was a soft rug. Otherwise, the baby could have ended up with irreversible injuries.
As the shock wore off, anger came over Sovieshu.
He thought Rashta was being sly to protect herself, but she had gone too far by throwing the baby to the floor.
Just thinking about it made him want to depose her right now.
However, he imagined the kind of comments he would receive if he kicked out the woman he had been married to for less than a year, besides the fact that she was the mother of his newborn daughter.
Even people who despised Rashta would feel sorry for her. People change their minds constantly. They could despise Rashta at the same time they pitied her.
If he made public what Rashta had done to the baby, he could not only kick her out, but also imprison her for life, but he was worried that the adult princess would be shocked to find out about this.
"If she had stayed quiet, she could have lived surrounded by luxuries like a former empress for the rest of her life. What a fool."
So far, Sovieshu had documented every one of Rashta's crimes.
He ignored it all to silently assemble a list of crimes, to the point where others might wonder if he didn't care what she did.
However, these documents were firewood.
Firewood that he did not yet know if he would use, but that if he did, it would burn brightly. It was the kind of firewood that the more it was stacked, the more intense the fire would be. In the end, that firewood would turn into a big fireball.
What Rashta did to the baby was beyond what Sovieshu could ignore.
Sovieshu rocked the restless baby, trying to control his anger.
But his eyes sank dreadfully.
'It definitely won't be a simple divorce, Rashta.'
***
Meanwhile.
Rashta felt betrayed by Viscountess Verdi and was very hurt that she had thrown the baby on the floor. Returning to the West Palace, Rashta screamed and started breaking all the things in her room.
"Ahhh… Ahhhh! Daughter! Mommy didn't mean to do that!"
As she sobbed, she was more affected by what she did to the baby than by the betrayal.
Then, Rashta knelt on the rug where the baby had fallen, and wailed with her hands on her cheeks.
"Daughter, Mommy really didn't mean to do that…"
Although she was devastated to have thrown her precious daughter to the floor, the eerie sensation of holding a dead baby in her arms remained so vivid in her memory that she wasn't sure she wouldn't do it again.
"Ah… Ah… baby… my baby. My daughter."
'How painful it must have been. How scared she must have been.'
Rashta looked as if she had half gone mad as she thumped her chest miserably.
At that moment, there was a knock at the door.
"Beat it! I don't want anyone to come in! Nobody come in!"
Rashta shouted angrily, lifting only her upper body.
But the person on the other side of the door immediately entered without giving importance to Rashta's shouts.
That person was Viscount Roteschu.
"Why are you here? Why!? Get out! That's an order! I said that's an order!"
Despite Rashta's shouts, Viscount Roteschu approached her and said,
"This is no time for this. Get up. Your real father has come to the capital!"
Viscount Roteschu was able to enter thanks to the guards. Rashta had locked herself in her room screaming, so the frightened guards deliberately allowed Viscount Roteschu to enter.
The guards, who believed that Viscount Roteschu and Rashta had a good relationship, thought that the Viscount could calm Rashta down.
The maids thought the same. Not to mention that they were commoners. Even if Viscount Roteschu entered without permission, they would not even consider stopping him.
However, contrary to what they expected, Viscount Roteschu was completely unaware of what had happened to Rashta.
He thought the matter of Rashta's real father was more important than anything else, so not only did he not comfort Rashta, he didn't even care about her.
Rashta staggered limply and her expression became blank. Then she grabbed Viscount Roteschu by the collar and shook him with all her might as tears spilled down her cheeks.
If only this bastard hadn't given me a dead baby! If only I had not held in my arms the dead baby, whom I believed to be the son I had waited for nine months! Then I would have been able to calmly hold my daughter in my arms, sing her a lullaby, whisper that I was her mother and tell her that I was happy to see her. I would have knitted bonnets for the baby, who looked like me, and I would have put on her scarves the beautiful embroidery I had recently started to learn.
As soon as the warm little body in her arms, the tiny fingers reaching for her, the adorable black eyes, and the fresh baby scent came to her mind, Rashta's heart broke. She whimpered and slapped Viscount Roteschu.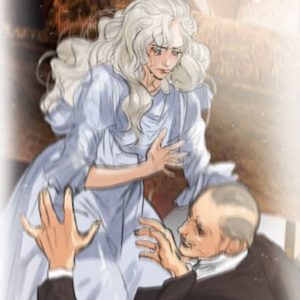 "You bastard! You're a bastard! A damn bloody bastard! Die!"
Rashta lashed out at Viscount Roteschu.
"Stop it! Stop it! Stop it!"
Viscount Roteschu shouted, unable to shake off Empress Rashta.
Soon after, Rashta loosened her grip and released him helplessly, only then did Viscount Roteschu snort and straighten his disheveled clothes.
"The Empress must not act like this."
"Shut up!"
Rashta tried to slap him again, but this time the Viscount nimbly dodged her by pulling his body back, and clicked his tongue.
"How can I tell you the news of your father if I keep quiet?"
Finally, a mysterious light appeared in Rashta's anger-filled eyes.
"My father? Viscount Isqua?"
"Is it necessary to act in front of me? I'm not talking about your fake father. I'm talking about your real father. That swindler."
Her black eyes twitched quickly. A moment ago she was a little out of it, so she couldn't understand his words. Only now could she understand the Viscount perfectly.
"My real father?"
Rashta asked with a look of bewilderment.
"How can there be news of my father?"
Viscount Roteschu clicked his tongue again.
"That's normal, I suppose he's come for a piece of the pie upon learning that you've become the Empress."
Her pale face abruptly distorted.
"Really?"
"Well, he didn't come directly to ask for money. He came to my house and showed me your portrait. Then he said, 'our Rashta has made it'—"
"Maybe… he only came to you for that."
"He said he'd be back."
Rashta spoke coldly.
"It is not possible that I have the blood of a filthy slave."
"I tried that excuse too, but he was sure."
"Get rid of him."
Rashta spoke firmly, she had a determined look.
He had abandoned her when she was a slave, but now he was looking for her. Evidently, he did not seem to have good intentions.
However, Viscount Roteschu was indifferent.
"Why don't you ask His Majesty?"
"What?"
"Doesn't His Majesty know all about your background? Yet he turns a blind eye. I think this matter would be better resolved if you ask His Majesty instead of me, don't you think?"
"What are you saying? Don't you ask me for money to help me in cases like this?
Viscount Roteschu's expression immediately twitched,
"I told you Rivetti had disappeared."
"… You still haven't found her?"
"That's right, I haven't been able to find her. So in addition to finding my own daughter, I have to find the real daughter of your fake parents as you ordered me to do."
Rashta bit her lips. 'That's all, can't he do three things at once?'
The words, 'Can't you get rid of him while you look for them?' came to the tip of her tongue. However, Rashta was responsible for Rivetti's disappearance, so she couldn't open her mouth.
"Not that it's a bother, but because I've been so busy lately. I can hardly see Alan's face."
Viscount Roteschu sighed, and raised his head to look at the wall clock. As if trying to let her know he was very busy.
"I'll leave tonight in a carriage to go all over the Parme Region. So don't look for me even if it's urgent."
In the midst of this, Viscount Roteschu took a handful of jewels. The reason was that he needed to pay for a lot of travel expenses to get around.
'What should I do?'
Once Viscount Roteschu left, Rashta stood up and nervously paced the room.
Comments for chapter "Chapter 308"
NOVEL DISCUSSION