Chapter 313. I Love Any Side Of You (2)
Translator: Aura / Editor: SaWarren
---
The man got up from the couch with a wide grin.
'Rashta, my daughter.' Rashta shuddered as she compared her childhood father to the man before her.
The man was not a father like Sovieshu. He called Rashta sweetly, but he didn't love her, he didn't mistreat her, but he didn't take care of her either.
The man always had an excuse for Rashta. 'Because of our status, I can't take care of you.'
He was a very carefree man in that sense. He didn't even remember her birthday, and sometimes confused her name.
"You've grown up well. You've become a great person."
'Even a stranger could say that.'
Rashta looked at the man coldly and asked,
"Why have you come?"
The man put on a sad expression.
"Why did I come? I came because I heard about my daughter, Rashta. I heard that my daughter was doing well, so naturally I wanted to find her."
"Why didn't you think to find your daughter when she was suffering?"
"Oh.. you're angry."
The man raised his eyebrows in surprise, and approached with open arms.
Rashta turned to the side to avoid him. She felt nauseous. She wanted this man to take care of her before, but now she didn't even want him to touch her.
"Go away! Go away and don't appear in front of me again. For me you ceased to exist from the day you left me. It's better for me not to have you. Don't cling to my ankles and go away."
Rashta glared at him. She didn't say it thinking that he would really leave. He had come to ask for something, he wouldn't obediently leave after being insulted.
Still, the reason she said this was in case he made a difficult request. She wanted to make him feel at least a little guilt for blackmailing his own daughter. If he felt guilty, he probably wouldn't come back.
The man's eyes widened. He was taken aback that Rashta, who had always longed for affection, had coldly scorned him.
"Are you very angry with your father, my daughter?"
When Rashta was about to leave the drawing room without answering, the man hurriedly said,
"Rashta. Do you know a man who is very tall and handsome?"
"There are so many men like that."
"His hair is a mix of brown and blond. His eyes are green. He gives the impression of being very strong. Ah, he wore his coat over his shoulders."
Immediately, the image of Duke Elgy came to Rashta's mind and frowned. 'He talks about Duke Elgy? If so, why is he suddenly mentioning Duke Elgy?'
The man smiled broadly.
"He told me how to meet you."
"What?"
"Although I accepted his help, he didn't seem to have good intentions. I'm your father, your real father. I had to tell you."
Rashta smiled forcedly. 'What the hell is he saying?'
Duke Elgy cared for her better than her real father, who never gave her a bit of love.
'Did Duke Elgy give him any information? Still, didn't he come to blackmail the daughter he abandoned?'
Rashta didn't bother to refute him, just went into her bedroom and closed the door.
"Rashta. Rashta."
The man hurried after her and knocked on the door. After knocking several times on the bedroom door, Rashta came back out and looked at him with disdain.
"Haven't you left yet?"
"I'm sorry, Rashta. If it's someone you like, I shouldn't have said anything."
When one is in love it is natural to turn a blind eye.
The man realized that Rashta was in love with that nobleman. So no matter what he said, she wouldn't believe him.
As soon as he came to that conclusion, rather than speak ill of the terrifying nobleman, the man smiled and went to the point.
"Rashta, actually… these days have been hard for your father. I hope my daughter can help me."
The man cared more about profit than revenge. He would have liked his daughter to deal with that nobleman for him, but his true interests came first.
"What kind of help? Money?"
"Yes. Uh… your father wants to set up a trade team."
"How much do you need?"
"Good things happen when one has a good child."
The man smiled happily and said the amount.
While she was glad that the amount was less than she had expected, she was annoyed by her father's false words. Rashta eventually realized something strange.
"How? Trade team?"
Rashta had been a slave because her father had been. Her father had become a slave because he had committed a scam.
Normally, if one committed a crime punishable by life imprisonment as a commoner, one and one's family received the punishment of becoming slaves, and even if one did not commit a crime of such magnitude, one could become a slave for a term.
The 'term' here was not a question of time, but of money.
In general, those who received this type of punishment the most were those who were convicted for money matters. Those sentenced to be slaves for a term, could only be released from slavery immediately if a certain amount of money was collected, one part was returned to the victims and the other part was paid as a fine to the state.
This was the case with Rashta's father. And as far as Rashta knew, slaves could not set up a trade team.
Rashta's father answered casually,
"Your father worked hard to raise the money to be freed from slavery."
Rashta looked at the man in astonishment. How could he say that so calmly?
"And me? What about me?"
Rashta asked angrily.
"I became a slave because of you, but you abandoned me so you could be a commoner? How could you do that?"
Although she was now the empress, she still felt uncomfortable because of the slave certificate. If it were not for that certificate, her situation would have been much better.
Of course, Rashta could have been officially freed when she became a concubine, but then everyone would have found out that she had been a slave, so Sovieshu chose to create a false image of her, despite not having destroyed the slave certificate.
Had she been freed from slavery before she became a concubine, none of this would have bothered her.
'How could he do that? Did he raise the money to free himself from slavery alone?'
"Ah, obviously I also thought of freeing you."
Her father smiled awkwardly and made up what happened,
"But when I went to see you, I found out you were dating Viscount Roteschu's son and I assumed you had a good life, so I thought he would set you free. He certainly had a lot more money than I did."
"Are you serious?"
"Really. I went to see you. I left when I heard you were well."
"Don't lie! Did you leave when you knew I was well? No! You left because of a selfish decision."
Rashta staggered as she screamed angrily. She almost fell over, but her real father didn't help her. He merely clicked his tongue instead.
"Jeez, why do you have to yell."
Rashta leaned back to regain her balance. After taking a deep breath in that state, She stared at her father and said firmly,
"I won't give you a penny! If you really want to set up a trade team, that's your business! ​Rashta doesn't care!"
Her real father looked at Rashta with an expression of disbelief. Then he frowned and asked sternly,
"Gosh, you're a bad daughter. Is that the way to treat your father who saw you born and raised?"
"How about you? Do you want to take money from your own daughter who was a slave because of you?"
"It's all thanks to me that you became the Empress. You owe me that pretty face of yours. You don't know what reciprocity means… How ungrateful!"
Rashta was shocked to the point that she found it hard to breathe. How could such a person exist?
After speaking angrily, the man suddenly smiled and said,
"Rashta, do you think I'll stay calm if you throw me out like this? I'm your father and it's your duty to take care of me. If you abandon me, I'll have no choice but to tell everyone what an ungrateful and bad daughter you are."
***
As I cocked my head to the side, I could feel a burning gaze behind me. Ah, Heinley caught me digging into his past!
"McKenna?"
'Take me with you!' I swallowed these last words.
"I forgot something."
Then I tried to follow McKenna with quick steps as I strove to maintain the empress' dignity.
"Where are you going, My Queen?"
However, I was immediately stopped.
When I turned around awkwardly, Heinley looked at me with a mocking expression.
"I just remembered that I forgot something."
At my excuse, Heinley's eyes widened, he reached over and stretched my cheeks.
"Don't be bold."
I purposely tried to sound cold, but Heinley smiled casually.
"I learned something new about My Queen. You know what it is? When you are in an awkward position you are more cold and dignified."
How did he notice that? It was a secret method I used to hide it.
Because I was in an awkward position, I showed a more determined expression. Heinley put his hands on my cheeks, kissed the tip of my nose three times and smiled.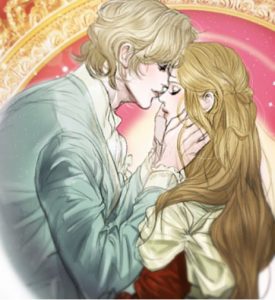 "How lovely. How beautiful. I love every time My Queen acts like this."
When I avoided his gaze, he moved his body to make eye contact with me and when I lowered my gaze, he leaned in to look me in the eye.
Stop!
In that posture, Heinley quietly asked with a broad smile,
"My Queen, what were you talking about with McKenna?"
"I just… wanted to know about your childhood."
I confessed sincerely. Although I kept the intention behind it hidden.
No, he had heard it all, so why was he pretending not?
"I want to know more about you."
When I answered again without revealing my intentions, Heinley smiled with even more narrowed eyes. He seemed to be in a good mood.
"You lie."
"!"
"My Queen, you don't lose your elegance even by lying."
Heinley pulled his hands away from my cheeks and straightened his back. Then, I looked him in the eyes. Could he be angry?
"Are you angry?"
When I asked carefully, Heinley shook his head.
"No, it's not that. It's just that I'm embarrassed."
"What embarrasses you?"
"I was a little naughty as a child. I didn't want My Queen to know about it."
"I'll also tell you about my childhood. What do you think?"
"My Queen seems to have grown up without causing any trouble, right?"
"…"
"I knew it."
Heinley chuckled as he rubbed his forehead against mine. Then he picked up a small portrait McKenna had left behind.
Heinley held up the portrait of himself with puffy cheeks as a child and looked at it with a smile.
In a way, he looked lovely. Heinley's mother…Heinley's mother, who ordered a portrait to be made of him whenever he caused trouble, probably thought the same.
Maybe that's why each of the portraits had been kept despite being a punishment?
As soon as I thought about this, I realized that I had worried unnecessarily until now. Whether it was a naughty child, or a quiet child, I would love my child. It made no sense to fear at this point.
"I think it would be nice to have twins."
I muttered naturally.
Heinley, who was taking the portrait out of the picture frame, asked in surprise,
"What?"
"One child who looks like you, and one who looks like me. I think it would be nice to have twins like that. Or to each have a bit of both of us?"
"My Queen…"
"And give me the portrait. Don't even think about destroying it."
As soon as I raised my hand, Heinley handed it to me sullenly as in his childhood days.
I held Heinley's portrait tightly in my arms and smiled triumphantly.
***
Comments for chapter "Chapter 313"
NOVEL DISCUSSION