Chapter 315. Joanson's Warning (2)
Translator: Aura / Editor: SaWarren
---
"Daddy. Try it. Daddy."
The baby went "aba, aba" and laughed. Sovieshu smiled as happily as if the baby had called him dad, gave her a kiss on her belly and repeated,
"Daddy. Try it. Daddy."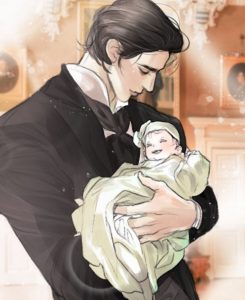 When the baby went "aba, aba" again, Sovieshu was moved and murmured,
"My princess, my princess is very smart."
The baby burst out laughing again.
Viscountess Verdi smiled ruefully at this scene as she brought a bottle of warm milk for the baby.
Although Sovieshu looked good with the baby in his arms, how many people did he have to sacrifice for this? Just thinking about it made her feel bad.
The princess looked really lovely waving her hands. The Viscountess was wrong to think that she would not be able to love her because she was Rashta's daughter.
After becoming the princess's nanny, Viscountess Verdi grew more attached to the lovely princess with each passing day.
When Viscountess Verdi approached, Sovieshu handed the baby into her arms.
Viscountess Verdi received and held the princess deftly.
But in the midst of the pleasant moment, there was a knock on the door.
"Your Majesty, it's Marquis Karl."
Seeing the princess laughing in Viscountess Verdi's arms, Sovieshu reluctantly left the baby's room.
"What's the matter?"
"Your Majesty. There is something you must see."
Marquis Karl spoke seriously. Just by looking at his expression, one could tell that he had not come for anything good.
"I'll show you in a quiet place."
Sovieshu led Marquis Karl into his drawing room and asked,
"What is it?"
Marquis Karl took out a folded newspaper he had inside his suit.
"There is an article about the Empress."
While the Marquis did not dare to say it directly, Sovieshu accepted the newspaper and opened it. His eyes quickly swept over the contents of the newspaper.
Soon after, Sovieshu found out what Marquis Karl wanted to show him.
"What does this mean?"
Sovieshu's expression also darkened.
***
The article itself was not very relevant within the newspaper. It was in a small section at the end of it.
However, the content of the article was shocking.
The journalist related that he had met with a man who claimed to be Rashta's real father and, although he made it clear that he could not be sure, he detailed each of the man's statements.
The man who claimed to be Rashta's real father made three main statements. He worked so hard to support his daughter that he didn't even know she had become the Empress. His daughter seemed to have sought fake fathers among the nobility because she was ashamed of being a commoner. He visited his daughter, but was rejected and thrown out.
This was a summary of the extensive article, but some people would be confused by the convoluted statements.
Sovieshu rubbed his temple. These articles about high-status individuals were usually written anonymously by journalists. However, this journalist proudly revealed his name.
Even this was unfavorable for Rashta. By revealing his name in an article like this, he gave it more credibility, which would lead to the formation of a certain public opinion.
Although now it was just a baseless claim…
"What about the slave certificate? You still haven't found it?"
"It's hard to find because you have to look for it secretly."
A burning lump rose in his throat. Sovieshu sighed, trying to calm his anger. However, his anger rose even higher instead.
Although Rashta would soon leave the position of empress, that was not the case with his daughter. His daughter would be in a difficult situation if Rashta was confirmed to be a slave.
Even a normal princess would be. But it was especially true for Glorym because she would become the first reigning empress of the Eastern Empire.
"Where is this journalist now? Who is this man who claims to be Rashta's real father?"
Sovieshu shook his head.
"No. First I have to check if what this man says is true, where is Rashta?"
***
Rashta was in the Western Palace with the journalist.
Initially, she had been reluctant to call the journalist because Sovieshu had greatly reduced her power, asking to be informed first when she exercised her authority as empress.
But as soon as she saw the name of the person who wrote the article about her real father, she changed her mind, convinced that she couldn't stand idly by.
The journalist was Joanson. He was the journalist who went to the audience chamber and asked to find his sister. Before that, the journalist who described her as the hope of the commoners after interviewing her.
Each time this journalist met her, his expression was different. At the first meeting, he looked at her with bright eyes; at the second, he looked at her with eyes full of despair, and now he looked at her more coldly than ever.
Rashta asked Joanson with a sad expression.
"Do you hold a grudge against Rashta?"
"No at all, Your Majesty."
Joanson answered immediately. But even as he said this, he had a somber expression.
"Rashta has seen all the absurd articles you've published, but Rashta has turned a blind eye because you should be free to publish whatever you want. Still, this time, have you not gone too far?"
Rashta looked at Joanson with tears in her eyes.
"You interviewed Rashta before the wedding, so you know how much Rashta suffered for her parents. Don't you think it's heartless to do this?"
Rashta couldn't sleep after throwing the baby on the floor. Because of that, she had dark circles under her eyes and a pale face, her appearance was very pitiful. Even the coldest person's heart would soften at the sight of Rashta like this.
But this was not the case for Joanson. He felt deeply betrayed by the Empress. He was also convinced that Rashta had hurt his sister. Therefore, he didn't care about anything she said, he would not be moved.
Joanson crossed his legs and responded calmly,
"As a journalist, it was my duty to publicize the claim of that man, Your Majesty."
Meanwhile, he carefully observed Rashta's attitude.
Nobles hated it when commoners crossed their legs in front of them. At best, the nobles would merely scowl, and at worst, some ordered their subordinates to break their legs.
Knowing this, Joanson crossed his legs to watch Rashta's reaction.
Of course, Empress Rashta grew up among commoners, so she might be different in this respect, but he still thought that if she really had noble blood, she would react to such a posture.
So Joanson continued to speak naturally.
"Didn't I write it clearly in the article? 'There is a man who makes such a claim'."
It wasn't just an excuse. In fact, in the article he published about the man who claimed to be Rashta's real father, the journalist did not assert that he was.
Since his words were coherent and his face had a certain resemblance to the empress', Joanson wrote the article, but added the sentence, 'there is such a claim'.
Rashta's face turned red with anger.
"Do you publish any nonsense that is said? Even if a child claims to be the Empress' bastard child?"
"The words of the man who claimed to be the Empress's real father were coherent."
'Because he's a swindler!' Rashta swallowed the words that were about to come out of her mouth.
Joanson's eyes narrowed as he examined Rashta. She didn't react to the fact that he was sitting cross-legged…
"Do you remember my visit to the audience chamber, Your Majesty?"
"I remember."
"My request has not changed. Please return my sister to me. That's enough."
"Rashta has nothing to do with your sister's disappearance. Why won't you leave me alone?!"
"Nothing I have written has been made up. Every published article has research behind it."
Joanson uncrossed his legs and stood up.
"Until my sister returns, I will not leave Your Majesty alone."
Comments for chapter "Chapter 315"
NOVEL DISCUSSION