Chapter 317. Why Is He Here? (2)
Translator: Aura / Editor: SaWarren
---
Silence reigned in the rattling carriage.
Although I still had no appetite, I didn't feel dizzy from the motion of the carriage and the wind was fresh. With this clear sky, the weather was perfect for a trip.
'I really wanted us to come together.'
As I leaned against the carriage window watching the green landscape transform into magnificent buildings, I couldn't help but feel a little sad. The image of Heinley chattering beside me kept coming into my mind.
'Since when did he invade my mind so naturally?'
"Looks like we're almost there, Your Majesty."
I was deep in thought when I heard Countess Jubel's animated voice. At that moment, I remembered what had happened before I left and laughed.
The fact that I could become a mage was also a secret, but I would only keep it as a trump card.
I didn't need to hide it from everyone like I did with my pregnancy, so I told my ladies-in-waiting about the purpose of this trip.
My ladies-in-waiting were so excited that they all wanted to accompany me.
Seeing Rose and Laura complain together, Countess Jubel couldn't help but laugh.
"You seem to be cheerful, Your Majesty."
"Well, I was thinking that next time I should come with Miss Rose and Miss Laura…"
Just as Mastas was about to speak, the carriage stopped and Viscount Langdel opened the door.
"We have arrived, Your Majesty."
Viscount Langdel extended his hand to me and I stepped down from the carriage.
"Thank you."
By the way… was he all right? He had a somber expression in the sunlight.
Could it be because he was far away from Duchess Tuania?
"I'm sorry you had to escort me on this long trip."
I apologized, thinking it might be my fault, but Viscount Langdel immediately responded.
"What? No, no. You are my savior, my mistress if only temporary."
Although he denied it, he did not have a good face….
As I pondered whether it would be impolite to ask, Viscount Langdel murmured as he extended his hand to Countess Jubel to step down from the carriage as well.
"Actually it's because of Nian."
Countess Jubel asked hurriedly before stepping down from the carriage.
"What happened to Nian?"
In the Eastern Empire, Nian was the focus of high society gossip.
Since I had arrived here, rumors about me had not stopped circulating, so she had remained a bit behind the scenes. The Countess seemed curious because she hadn't heard anything about Nian in a long time.
Viscount Langdel responded sullenly.
"It's all because of Marquis Liberty."
Why him? Marquis Liberty was the eldest son of Duke Liberty. He did not officially hold the title of marquis, everyone called him marquis because he was the successor. He was also the older brother of William, Mullaney's adoptive brother.
After Countess Jubel stepped down from the carriage, Mastas refused Viscount Langdel's hand and asked,
"You mean the shy lizard?"
"Yes, that lizard."
'Why a lizard?'
Countess Jubel's eyes sparkled as if she heard a man had stepped between Viscount Langdel and Nian, so she asked,
Viscount Langdel answered grimly,
"I think he fell in love with Nian. He shows up at any party Nian hosts or attends, no matter how small or large."
Countess Jubel let out a laugh and shook her hands as if he had made a fuss over nothing.
"I thought it was serious. He's not the first man or the second behind her, why do you care so much?"
"He has a higher status, more stable… and has a gentle appearance."
Mastas quickly stepped in and comforted Viscount Langdel,
"The Viscount also has a gentle appearance."
"Is that a compliment?!"
"Of course! The Viscount is also a great lizard."
"Is that really a compliment?"
At times like this, Viscount Langdel did not look like a fearsome commander of the transnational knights. Seeing Viscount Langdel nod at Mastas' apparent compliment, I bit my lips to contain my laughter.
But Viscount Langdel, who was walking leisurely, suddenly stopped and his expression became rigid. His innocent face disappeared, and the fierce expression of the knight commander instantly emerged.
What's the matter?
I turned my head in the direction he was looking.
The reason was easy to understand.
Sovieshu…
There was Sovieshu.
He too had a stiff expression, as if he didn't expect to see me here. The knights behind Sovieshu looked uncomfortable. The bright atmosphere suddenly turned heavy.
We looked at each other awkwardly for a moment, then carefully approached each other as if someone had pushed us.
We both occupied too high a position to pretend that we had not seen each other. As emperor and empress of powerful countries, we had to show mutual respect.
Besides, this was a straight road. If I wanted to avoid him, I would have to pass through the bushes on either side. It would look like I was running away.
About three paces away, we stopped again. I greeted him politely with the smile of an empress.
"I heard about the baby's birth. Congratulations."
"… Thank you."
Sovieshu answered awkwardly.
I lifted the corners of my lips and nodded without saying a word. Then I added,
"Did you give the baby the gift from me, or did you throw it away?"
When Rashta became pregnant, I chose a sword as a gift for her child. A splendid and beautiful, but decorative piece. A sword that meant living without working, or living effortlessly.
Sovieshu's expression froze quickly.
"Well. That gift you gave to Rashta, so I don't know where it is."
"I understand."
I nodded and looked in the direction I was supposed to go. That was the direction from which Sovieshu appeared.
I was undecided. Could I say goodbye and be on my way? Could I tell him to let me pass, that I had business to attend to?
"Stand back."
I guess not.
Sovieshu ordered his knights to stand back. Then, I directed a look that expressed the same to the knights behind me.
Viscount Langdel frowned, but said nothing. Although Wirwol functioned as an autonomous region, it was still territory of the Eastern Empire, so Sovieshu could ask, 'What is an exiled person doing here?' For some reason though, he seemed to be trying to avoid him.
Lastly, I also asked Countess Jubel and Mastas to stand back.
I could not ignore his request lightly, he was still the Emperor of the Eastern Empire.
As soon as everyone walked away, Sovieshu asked,
"I thought you would live well. Why have you lost so much weight?"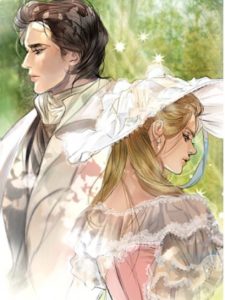 Surprisingly, he sounded quite upset.
It was true that I had lost weight, I hadn't eaten much lately.
But I couldn't say that I had lost my appetite because I was pregnant. While I remained silent trying to find an answer, Sovieshu asked again.
"Is it because of your husband?"
***
Comments for chapter "Chapter 317"
NOVEL DISCUSSION