Chapter 333. I'll Give You A Chance (2)
Translator: Aura / Editor: SaWarren
---
Heinley finally learned the method to sense the flow of mana from Grand Duke Kapmen.
The last few days had been so boring that I was eager to learn it. Although I had not revealed my impatience, I wanted Heinley to teach me how to control mana as soon as possible.
Once I learned to control mana, I would show my parents what I could do, so I told them in advance, "There's a surprise I'll show you soon."
However, Heinley shook his head when I asked him to hurry up and help me control mana.
"Not now, My Queen."
"Why?"
"I just learned it. It's dangerous."
"Wouldn't it be more dangerous if you forgot it over time?"
"First I have to test if I can do it right."
'What kind of test? How was he supposed to test it?'
I frowned and looked at Heinley with a face like, 'Are you serious?'
However, Heinley remained adamant,
"It's useless for you to look at me in such a lovely way."
I let out a sigh. He would never give in on an issue that could put my life at risk.
"How do you plan to test it?"
Finally, when I asked a little uneasily, Heinley responded with a meaningful smile.
"I have a test subject."
"A test subject?"
"Yes, so please be a little patient, My Queen. After I test it, I'll help you control mana."
"Okay…"
"Are you upset, My Queen?"
"No."
"I think you're upset…"
"Not really."
"My Queen…"
"What do you want?"
Heinley, who looked at me stunned for a moment, shook his head with a sad face.
"Well. If My Queen says no, it's no. I was worried because you answered me with a few words, but I'll trust My Queen."
***
"Your Majesty? Who did you fight with?"
Heinley lifted his downcast gaze at the sound of McKenna's cheery voice.
"What happened? Why are your eyes puffy?"
McKenna took a step back, amazed at his depressed expression.
"Nothing. Where is Marquis Ketron? Has he not arrived yet?"
"It's almost time for him to arrive…"
Just as he answered, an attendant entered to announce that Marquis Ketron had arrived.
McKenna hurried to sit down and straightened his back proudly.
"Let him in."
Heinley spoke in a firm voice. Then he watched Marquis Ketron enter with his arms folded on the desk.
There was no force in the Marquis's steps as he entered. The corners of his mouth drooped, and his arrogant eyes wavered.
Normally he looked like a seahorse, but today he looked like a half-dried seaweed.
His pale, dark complexion hinted that the rumors of his recent family troubles were true.
'Maybe it's also because of his cousin Christa's death,' McKenna thought to himself.
However, Heinley's expression did not change as he watched the powerless Marquis Ketron.
He did not have a face of happiness, nor of compassion.
Heinley remained in a crossed arm posture, and once Marquis Ketron came within five paces of his desk, he asked in a deep voice,
"What is old Duke Zemensia's weakness?"
Marquis Ketron looked at Heinley very surprised.
After the news that Christa had committed suicide everyone was in shock. The old Duke went to visit Marquis Ketron today and told him that Heinley was surely involved in this, so he asked Marquis Ketron for his help in making a plan because no doubt the Emperor intended to eliminate everyone who had any connection with Christa.
A couple of hours later, he received the imperial order to go to the palace.
Now, Marquis Ketron's mind was a mess.
His cousin's suicide, his uncle's request, the series of private meetings with the Emperor, the conflict with his wife, the cold stares of his children…
Everything was a mess. He was afraid, but the confusion was greater.
'Now he asks me about my uncle's weaknesses?'
"Why do you ask me that sudden question…?"
"Don't you understand, Marquis?"
"!"
"I'm giving you a chance to change sides."
Marquis Ketron's eyes fluttered intensely.
"You mean…"
"Sell your uncle."
Marquis Ketron's eyes fluttered even worse.
"Your Majesty, what are you saying?"
"What's wrong with that? Old Duke Zemensia sold his daughter to cover up his own crimes."
Heinley continued to corner him, not giving him time to think calmly.
"It's not as difficult a decision as the old Duke's. If you tell me your uncle's weaknesses, I'll forget all you've done."
"But…"
"I don't know why you hesitate so much. It's easy. Look at it this way. Do you think the old Duke who sold his daughter to save his life would not sell his nephew?"
After thinking about it briefly, Marquis Ketron opened his mouth.
"His weakness is his two grandchildren."
A smile came across Heinley's face.
"I see. He loves them so much that he didn't mind sacrificing his daughter."
Marquis Ketron's heartbeat quickened. Is it true? Is it true what he is saying? Did the old Duke really abandon Christa? Or is he trying to separate me from the old Duke?
It was hard to imagine that the old Duke would have abandoned Christa for his own sake, but it would be different if it were for the sake of his son and grandchildren.
He adored his two grandchildren very much. Even at the state council before Christa left for Compshire, the old Duke didn't open his mouth.
Still, what on earth had happened to make him abandon Christa again? From the time Christa left for Compshire until now, the old Duke had been silent. This was strange.
Heinley stared at a puzzled Marquis Ketron, and eventually opened his mouth.
"Thank you for telling me his weakness. But that was too easy to erase your crimes, don't you think?"
Marquis Ketron looked at Heinley in surprise. This was something even McKenna didn't know, so he was surprised as well.
"What else do you want…"
"Your body."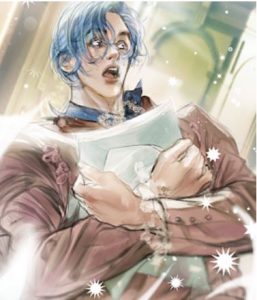 McKenna dropped the papers he held in his hands instantly, while Marquis Ketron took a step back.
"What?!"
Comments for chapter "Chapter 333"
NOVEL DISCUSSION