Chapter 341. Cornered (2)
Translator: Aura / Editor: SaWarren
---
I asked Evely to sit down again, but she looked awkward sitting alone, so I pulled up another chair and sat down across from her. Evely still looked awkward and tried to get up.
"You must be tired after all you've been through. It's okay for you to sit still."
"But that would be rude…"
"Don't worry."
As I tried to keep Evely from getting up, Laura brought a refreshing fruit juice made from a mixture of apples, grapes, ice, and sugar.
Evely hesitated as soon as she received the drink, but finally calmed down. She then took a few sips and explained the situation.
"His Majesty Sovieshu asked me to deliver a gift to you. He entrusted it to me because it is a personal gift apart from the official gifts. On the way here, suddenly one side of the carriage collapsed completely."
"Oh my!"
"In the end, we got out of the carriage to try to find our way back, but it wasn't easy… the carriage was also packed with official gifts for the Empress. They were precious and heavy, so it was difficult to carry them. Still, we all helped each other as we tried to orient ourselves in the dense forest. Fortunately, the knights arrived soon."
"That's a relief."
"It's all thanks to Your Majesty."
The credit is not mine. However, I couldn't say this because Evely would feel awkward again.
Instead of refusing to receive her thanks, I asked her about the magic I was curious about.
"Did you heal the wounded?"
I didn't know if Evely could heal with her magic. Even when I helped finance her studies, I was only informed that she had been admitted to the magical academy, but I didn't hear anything about her magic.
Many people tried to hide their magic, so I never asked.
However, now things were a little different. I wasn't curious about what kind of magic Evely used, what I wanted to know was if she had recovered her mana.
Although I thought Evely would answer without hesitation, she remained silent with her eyes down.
"Evely?"
When I called out to her in surprise, her face blushed and she clasped her hands together nervously.
While I wanted to know, I also didn't want to push her. So I didn't insist and changed the subject.
"What kind of personal gift did the Emperor of the Eastern Empire send me?"
"Ah, that…"
"?"
"It got a little ruined when the carriage broke down."
"It's fine."
Evely rose from the chair, squatted down in front of the slightly battered satchel that lay on the floor against the dressing table, and undid the clasp.
After a click was heard, the satchel opened to reveal a small box wrapped in a handkerchief. The box was also dented in one corner.
"Your Majesty, here you go."
Evely handed me the box and said,
"I don't know what it contains."
I wondered what Sovieshu had sent through the girl I used to be a benefactor for. After we exchanged a few more words, I went back to my room and put the box sent by Sovieshu on the table.
I was confused as to why he sent me this. I wasn't sure I should open it.
He had already sent several official gifts. One was a racing chariot sent through Grand Duke Lilteang and the others I had not yet seen. In any case, they were gifts brought by the delegation that came with Evely.
So what could this be? No matter what it is, should I see it?
The other gifts had been given by the emperor of a neighboring country. This was clearly a gift from 'Sovieshu' to 'Navier'.
After I stood still pondering for a while, I carefully held the box in my hands and opened it.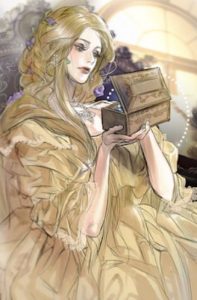 ***
Ever since it became public that the child in Alan's arms was identical to Rashta, the imperial palace employees had been talking about it every time they met.
"My goodness! So the child is the Empress'…"
"He definitely is. They're like two peas in a pod."
"You didn't see it wrong?"
"It wasn't just me who saw it. When the hat flew off, the Empress' face turned pale and she cried out in terror, "Nooo!"
The servant who imitated Rashta laughed. All the employees who sat down to talk about what happened found it funny and clutched their stomachs.
A maid who worked at the Western Palace before Rashta became the Empress sneered with her arms folded.
"It's a real disaster. She never revealed that she had had a child. It is obvious that she cheated on His Majesty so that she could marry him. Isn't that how a swindler acts?"
"His Majesty didn't know?"
"Of course he didn't know! Otherwise, he wouldn't have left Navier to marry her."
Not only servants and maids gossiped, the high-status nobles also talked about the child who resembled the princess.
"So that young man named Alan is the father of her first child?"
"First we have to find out if that child is the Empress' child."
"He must be. That's why that young man went to see the Empress."
"Isn't the Empress an incomparable beauty? If the little boy looks like her, he's definitely her child."
"Her child… That's terrible!"
"A terrible scandal. If this is true, wouldn't her position as Empress be questionable?"
It was inevitable that there would be such an uproar. That day, many witnessed the scene. Even those who at first didn't know what was going on turned their heads when Rashta cried out in shock.
In the midst of this situation, Alan had refused for days to answer whose child it was that looked so much like the princess.
There were people who spread rumors that Rashta had previously had a child, and that she had hidden it in order to remarry. However, those who raised such rumors were the kindest.
Those who spread more provocative rumors whispered,
"Even though they come from the same womb, it's amazing how much they look alike."
"It seems that fathers should also be doubted."
"Who knows if her first child and the princess are from the same father."
Of course, behind the provocative rumors was Marquis Farang and his followers.
These rumors also reached Rashta's ears one after another.
'What should I do?'
Rashta wondered in tears, alone in her room.
She wanted to wait for the rumors to die down, but the rumors grew louder as the days passed.
'That damned Marquis Farang is trying to destroy me with his filthy mouth!'
Despite the rumors that spread, Alan did not step forward to deny them. Even if he did, no one would believe him. However, since he kept his mouth shut, the rumors snowballed.
Rashta asked Grand Duke Lilteang to organize a great banquet, and at that banquet she said flatly, "The princess is my first child and I was never married before. That little boy is not my child."
She had taken a firm stance, but even that didn't work.
After many saw two virtually identical children, no one believed Rashta's words.
— People keep coming to the mansion to investigate. Rashta, help me.
Alan, who was the cause of the trouble, sent a letter with these words.
'I should have killed that bastard! I should have taken care of him, not Rivetti!'
As soon as Rashta received the letter, she tore it to pieces in a rage.
'What should I do… what should I do, what should I do… even in this situation, His Majesty hasn't spoken. Isn't he supposed to quell the rumors for the princess' sake?'
Rashta racked her brain and finally came up with an answer.
'Why not pass the role of 'society's chewbone' to someone else, as I did in the past with Duchess Tuania?'
However, that would not work now.
Back then, this ruse had been made possible by the enormous popularity of Duchess Tuania. Currently, such a person did not exist in high society.
As time went on, people began to talk that Emperor Sovieshu should take a paternity test.
Sovieshu, who had not spoken out until now, gave his approval.
— If this can put an end to the unfair rumors about the princess and the empress, of course I will do it.
After this, people began to whisper that Emperor Sovieshu was also not sure that the princess was his daughter. He had taken advantage of people's doubts so that Rashta couldn't refuse.
'No!'
However, Rashta could not accept the paternity test.
"It is perfect. Now that Her Majesty has to go to the temple, she can also prove that Viscount Isqua and Viscountess Isqua are her real parents, which has always been a subject of controversy."
Marquis Farang lashed out at her again!
Comments for chapter "Chapter 341"
NOVEL DISCUSSION