Chapter 346. One Step Closer (1)
Translator: Aura / Editor: SaWarren
---
Thinking that Sovieshu had taken care of her real father, Rashta summoned Viscount and Viscountess Isqua.
It was Duke Elgy who brought the couple. Sovieshu seemed to know that the couple were fake parents, but Rashta wanted to make them leave on their own just in case.
"… this worries me because of the rumors that have arisen lately."
After Rashta told them about the situation and asked them to go away for a while, the couple answered with tears in their eyes.
"Alright. We would never do anything to hurt you."
Although when they asked for money to find their real daughter they were a nuisance, at least they were better than her real father at times like this.
"Thank you. I'll call you to come back when circumstances improve."
"Remember that you can also call us if you need help."
"Of course."
Rashta sobbed and hugged the couple.
"I wish you two were my real parents."
As soon as Rashta said this, Evely came to her mind, so she took a startled step back.
Then, she handed the couple the money she intended to give them along with the money she originally intended to give to her real father.
Unless Evely died or disappeared, she would never call the couple again. This could be the goodbye and the last great present for them.
'Given such generosity, they won't say anything bad about me even if they leave for another country.'
The Viscount sighed, accepted the money and said sadly,
"Thank you, Rashta."
The Viscountess hastened to add.
"We will never forget you."
"If we leave at once, people might find it strange, so it's best to wait for the right time."
Rashta also thought it would be best, so she nodded in agreement.
Later, she went to visit Sovieshu. The guard told her that Sovieshu would only receive her in his bedroom.
Rashta had not wanted to enter his bedroom because of the blue bird, but Sovieshu confirmed in the incident with Viscountess Verdi that the bird was afraid of her, so now it did not matter.
Rashta had no choice but to enter Sovieshu's bedroom. But as soon as she entered, she opened her mouth in surprise, she didn't even have time to remember the days when she had been loved by Sovieshu.
It was because of a large painting hanging on the wall.
The painting had been hung so that it could be better seen from the front as one sat on the bed.
"That's…"
Rashta frowned and hesitantly approached the painting.
Actually, there were two paintings. One showed Princess Glorym, lying comfortably in the cradle with a beautiful smile on her face.
And next to it… was the painting that surprised her, in which an unpleasant face appeared.
The Empress Navier.
Sovieshu appeared lying on Empress Navier's lap as she looked at him with a cold expression.
Rashta felt something pop in her head, she was stunned.
Regardless of what anyone else said, she was now Sovieshu's wife. The High Priest personally approved of Empress Navier's divorce from Emperor Sovieshu, and he also approved Rashta's marriage to Sovieshu.
'How dare Sovieshu hang in his bedroom a painting of a woman who is already the wife of another man!? And next to the painting of the princess!'
Rashta clenched her fists, she felt her blood boil.
Sovieshu came out of the bathroom and looked at Rashta's back with a complex expression.
But Sovieshu's expression became indifferent and dull when Rashta, who noticed his presence, turned around.
Rashta glared at him resentfully, but Sovieshu showed no change in his expression.
The bird let out a strange high-pitched screech as it rattled itself against the cage. The bird's screech broke the tense atmosphere.
"Do you have something to tell me?"
Sovieshu asked as he approached the cage to calm the bird.
Rashta initially planned at first to ask Sovieshu if he had killed her real father. If Sovieshu answered yes, she would thank him with some sadness. She wanted to thank him because now she didn't have to harm her real father with her own hands. She wanted to tell him that he had been the one who had always saved her in the most difficult times, who had always supported her, even though the relationship had recently taken a turn for the worse. She also wanted to tell him that he did not have to worry about the princess affair.
Saying this, she thought that Sovieshu would feel bad about killing his wife's father despite the reason.
However, she lost confidence as soon as she saw the painting of Empress Navier in his bedroom.
She began to wonder if Sovieshu would really feel bad about killing her real father.
When the firm belief that Emperor Sovieshu loved her was shaken, it all seemed to collapse.
Sovieshu, who calmed the blue bird, sat indifferently on the bed, dried his wet hair with a towel and ordered.
"Speak at once."
'He's not worried that others will see the painting of his ex-wife in his bedroom.'
Rashta's face contorted. Her finger, in which she didn't even feel pain when the ring sank into her flesh, began to ache.
"Your Majesty…"
In the end, what came out of her mouth was not what she meant to say,
"Do you love Rashta?"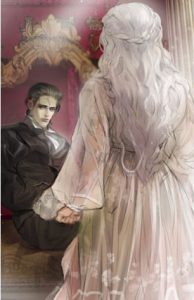 She was serious. But Sovieshu answered with a frown,
"What does that matter now?"
"Please tell me. It's very important!"
"Rashta. I don't have time for your tantrums."
"If instead of Rashta it had been someone else who fell into the trap, would Your Majesty have saved that person?"
"Rashta, I have no bizarre taste for collecting injured humans. Of course, if it had been someone else, I would have saved and treated that person as well."
"If it had been another a woman…. would Your Majesty also have taken her as your concubine?"
Sovieshu looked at Rashta with a complicated expression, but did not answer.
Rashta didn't know whether Sovieshu's silence meant 'yes' or 'no', so she eventually mumbled reluctantly,
"I came here to tell you that I will take a paternity test…"
***
When Rashta agreed to participate in the paternity test, the suspicions that had spread like wildfire slowly began to fade.
"It seems to be a false rumor that the princess is another man's daughter because of how sure she is."
"Even so, isn't it true that she concealed the existence of her first child in order to become the Empress?"
"That is true, but it is too serious to doubt the princess' father ."
"If the princess is proven to be the emperor's daughter after the paternity test, all those who have spread absurd rumors will be in trouble."
"Hmm. The answer will be revealed in the temple."
People believed that Rashta had a reason to be so confident.
Of course, even if the princess was proven to be the emperor's daughter, Rashta's innocent image would be completely destroyed because she had hidden her past. But the rumor that 'the princess was not a princess' was so scandalous that it caused this to be relatively buried.
Both nobles and commoners paid attention to the paternity test. However, contrary to everyone's expectations, the paternity test was somewhat delayed.
Soon it would be Emperor Heinley's birthday. Regardless of the paternity test result, there would be chaos for a while.
If the imperial family went to a place full of high-status nobles from other countries all in a mess, they would become a laughing stock, so it would be better to end this dishonorable matter after the foreign event was over.
It was a great relief to Viscount and Viscountess Isqua. Now the couple did not need to leave as if running away because they would have enough time.
They would stay for a few more days, and then leave for a reasonable reason before the day of the paternity test arrived.
This time was also valuable and useful for Rashta.
She visited Duke Elgy even though she knew the absurd comments that would arise again.
Comments for chapter "Chapter 346"
NOVEL DISCUSSION