Chapter 349. Gift (2)
Translator: Aura
---
The day before Heinley's birthday I changed my mind about the gift. I opted to select different types of gifts and leave the final choice up to Heinley. I would separate each gift into a box and have Heinley choose one at random.
Of course, I'll tell Heinley in advance that, 'each gift was prepared with the opinion of people close to me in mind.'
In this way, Heinley will find it as much fun as a game. Even if he chooses the sexy underwear, it won't look like I put that gift in for an ulterior motive.
Once I made up my mind, I really enjoyed doing it all. I looked forward to tomorrow.
However, Heinley told me at night,
"Queen, there's something special I want as a gift."
To be honest, I was disappointed. I had prepared everything carefully, but now there was something special he wanted. I tried to hide my disappointment as I asked him,
"What is it? Do I have time to get it?"
"Of course."
"Tell me."
What exactly did he want? When I asked him to tell me, Heinley was silent with hesitation.
"Heinley? What do you want?"
Did he notice my disappointment? Is that why Heinley is like this? I was worried, so I put on my best face again and asked in a soft voice.
"You can ask me whatever you want. It's your birthday."
Heinley stared at me as he said,
"Are you sure it doesn't matter what I ask for?"
I don't think he would suddenly come out with, 'I want to take over the Eastern Empire'.
"Of course."
I nodded with a smile and caressed his face. Heinley finally confessed in relief,
"The jewel that Emperor Sovieshu sent you. Can I keep it?"
I didn't expect him to want that at all.
I couldn't say anything for about fifteen seconds. I was really puzzled. Why that?
"… You mean the fairy tear?"
Shortly after, I asked him because I thought I had misheard. But that wasn't the case.
"Yes. It's a jewel I've always wanted."
It may be because it's a well-recognized jewel…
When I looked at him curiously, Heinley smiled awkwardly,
"The jewel is not to blame, Queen."
I knew he liked jewels, but not to this extent.
For a moment, I didn't know what to say. I was confused as to whether it was right to give the precious gift my ex-husband sent me to my current husband.
But on second thought, it wasn't inappropriate. Sovieshu had wanted to give my ring to Rashta, though in the end he couldn't.
"Okay. You can keep it."
Thinking about it brought back bad memories, so I didn't object.
However, I had no idea what Heinley wanted it for.
***
The day of his birthday was hectic from dawn.
Carriages of various sizes entered the imperial palace one after another. At the place where the carriages were parked, the coachmen conversed happily while the servants took out the loads.
The boisterous atmosphere reached its peak at nightfall, when the party began.
However, not everyone was laughing and chatting merrily. At first glance, some people had a particularly stiff face.
Among them, the most obvious were the Whitemond delegation, the son of Old Duke Zemensia together with his daughter-in-law, and Count Pirnu, Sovieshu's secretary.
Why did he suddenly invite the Zemensia Family, with the exception of Old Duke Zemensia? Why did he suddenly invite Whitemond, despite the strained relationship between the two countries?
Heinley really couldn't be stopped.
Also, why did he wear the 'fairy tear' that Sovieshu sent me as a necklace?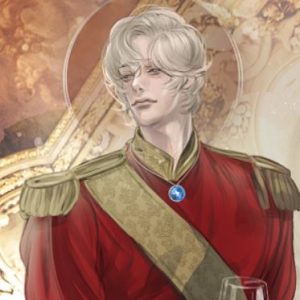 If his intention was to have one of the members of the Eastern Empire delegation recognize the 'fairy tear', he had succeeded. Count Pirnu had a very grim and unpleasant expression.
Heinley smiled more than usual every time his eyes met mine as he ignored the fierce stares. Still, there must have been dark clouds behind that radiant face.
After a while, the special ambassador of the Whitemond delegation approached me.
"Ambassador Klein."
As soon as I pretended to know him, he greeted me politely.
I looked up discreetly at Heinley. The Whitemond matter had to be handled carefully, so I preferred Heinley to be at my side to talk to the special ambassador.
But Heinley approached Grand Duke Lilteang, perhaps he didn't notice that the Whitemond Ambassador approached me.
Unfortunately, it would be impolite to call Heinley over to my side, who was in the middle of a conversation with someone else.
In the end, I decided to deal with Whitemond's special ambassador in my own way, I greeted him in a calm voice and showed the splendid smile of an empress.
"Earlier, I could not express my thanks properly. I appreciate your coming here for His Majesty Heinley. Whitemond's gifts were also really thoughtful and nice."
"It is an honor to know that our gifts were liked by the Imperial Family, Your Majesty."
"How about the party? Are you having fun?"
"Although high society birthday parties are similar in Whitemond, I am always surprised by the cultural differences. Especially this hall, it is decorated with so many jewels that it blinds my eyes. It's very glamorous."
This extravagant decoration was not part of the culture of the Western Empire, but of Heinley's taste… I still nodded with a smile.
After we exchanged a few words, the Ambassador of Whitemond finally brought up the real issue.
"Your Majesty, as you know, our two countries that have always boasted of a solid alliance now have serious differences."
"Yes, I did not expect the sudden arrest of the trade team by Whitemond."
When I pointed out that Whitemond had initiated the conflict, while the special ambassador tried to blame both sides, his expression became stiff.
"Of course… it's our fault."
But he soon let out a deep sigh and confessed.
"As you may also know, the King of Whitemond personally visited His Majesty Heinley to seek reconciliation between the two countries after that incident. However, His Majesty Heinley has still not responded to the reconciliation and continues to send troops near the border, so the whole country is afraid."
I didn't know Heinley was sending troops near the Whitemond border. Is that some kind of threat?
The special ambassador helplessly confessed with folded hands,
"Whitemond definitely does not wish for war, Your Majesty. It only hopes that the Western Empire, which will only become more powerful in the future, does not look down on Whitemond."
"In that case, why did you arrest the trade team?"
"Your Majesty has never lived in a small country, so you may not understand our position. Any movement of a powerful country scares us, that's why we react that way."
"…"
"Your Majesty, please mediate between Emperor Heinley and Whitemond. Your Majesty Navier's reputation is well known. We are sure that you will be able to convince Emperor Heinley. Please, I hope you have mercy on the people of Whitemond, if a war breaks out there will be countless dead and wounded."
After the special ambassador finished, he extended an envelope to me.
"And this is a gift."
"Didn't Whitemond send the gifts already?"
"These were gifts for His Majesty Heinley. This is a gift for not being able to attend the banquet for her pregnancy. It is a gift for the unborn baby."
When I checked the contents, there were two drawings. One of a warship and the other of a merchant ship. As well as two documents in which the right over these ships was indicated.
Once I looked at him in surprise, the special ambassador said hurriedly,
"We have prepared a warship and a merchant ship that look exactly like the ones in the paintings. I'm sure the baby will like them."
They prepared the gift in all seriousness. Do they think I can exert that much influence over Heinley?
Comments for chapter "Chapter 349"
NOVEL DISCUSSION