Chapter 351. Determination (2)
Translator: Aura / Editor: SaWarren
---
"Your Majesty! I didn't push him! It is the truth!"
Inside the Moon Hall, Grand Duke Lilteang insisted on his innocence with a pale face. But it was useless.
"Duke Zemensia's accusation is true. I was there when you pushed his son."
Grand Duke Lilteang looked like he was about to cry.
"I didn't push him! I just…"
"You hit him in the shoulder. Well, it might have been bad luck for him to fall into the pond."
"Yes! I just hit him in the shoulder, I didn't expect the little boy to trip and fall into the pond!"
"But it happened. The little boy fell into the pond, so you, Grand Duke, dared to harm the son of a high-status noble of the Western Empire."
Grand Duke Lilteang protested with tears in his eyes.
"If Your Majesty hadn't told me in the first place that he was Old Duke Zemensia's grandson, I wouldn't have done it!"
Heinley raised an eyebrow,
"You say that as if I pointed out the Old Duke's grandson for you to push him."
"You said that Old Duke Zemensia even abandoned his daughter to protect his grandson! Your Majesty knows… knows… that I lose control easily!"
"No more excuses. It is embarrassing."
Grand Duke Lilteang pursed his lips, but Heinley was right.
Although Emperor Heinley's intention could be doubted after what had happened, it was definitely not strange.
As Emperor Heinley said, he did not talk about pushing the Old Duke's grandson. He only said who the little boy was and that Old Duke Zemensia was very fond of him.
After that, Heinley went to greet other people.
However, Grand Duke Lilteang did not believe that Heinley, who had attended countless high society events, had told him that without any intention.
Grand Duke Lilteang caused trouble whenever he got carried away by his emotions, a flaw that had always worried those around him. Even once, when the Western Empire was still a Kingdom, he made a mistake by speaking impulsively.
With that in mind, did Emperor Heinley really inform him about his old enemy's weakness without any intention?
Moreover, it was strange that Duke Zemensia saw exactly that brief moment of the push, and that Emperor Heinley was by his side. As far as he knew, the Zemensia Family had completely lost Emperor Heinley's support.
However, it was Grand Duke Lilteang who ended up in an unfortunate situation.
"I will make a formal complaint to Emperor Sovieshu about this matter."
Heinley was sorry that this had happened on his birthday, and ordered that the Grand Duke be locked in a room for distinguished guests.
Two Underground Knights, who waited inside the hall, approached and held the Grand Duke by both arms.
"Your Majesty! Your Majesty!"
The two knights mercilessly pulled out Grand Duke Lilteang as he resisted. It was completely different from the behavior of the knights outside, who did not touch him so as not to disgrace him in front of the others.
After Grand Duke Lilteang was dragged out the back door, McKenna, who watched quietly, clicked his tongue and stepped forward.
"I had imagined it when he mocked Empress Navier in front of Your Majesty, but he really is a person who acts more than he thinks."
"Yes. In any case, I didn't expect him to push the little boy directly into the pond. How is he?"
"He was quickly rescued by the maid, so his life is not in danger."
"Hmm… send him some medicine that's good for the common cold."
"I don't think his parents will give it to him."
"It's just a show of goodwill."
"I understand."
McKenna, who answered dutifully, reflected for a moment and asked,
"By the way, even if we make a formal complaint to the Eastern Empire about what happened, won't Emperor Sovieshu ask us to send back the Grand Duke? His Majesty might say that he would be duly punished. I know they are not close, but the Grand Duke is still one of the few members of the Imperial Family."
"In a normal situation, it would be like this."
Heinley sighed and rose from the throne.
"But now, isn't there a stir in the Eastern Empire because it is not known whether the princess has the Emperor's blood?"
"Right."
"If it turns out that the princess is not the daughter of Emperor Sovieshu, then Grand Duke Lilteang and his son are next in the line of succession. But Emperor Sovieshu is young and Duke Lilteang is much older, so it is actually his son who could become the successor."
The corners of Heinley's lips twitched.
"Won't Emperor Sovieshu want to get rid of Grand Duke Lilteang just in case?"
"Oh."
"Let Emperor Sovieshu know that what Grand Duke Lilteang did was heinous, and as he himself confessed, it was worse than expected. In order not to damage the image of the Imperial Family of the Eastern Empire, he will only be locked in a tower for about five years."
"Yes, as you command. In which tower will the Grand Duke be locked up?"
"In the Red Tower."
The 'Red Tower' was a scary place from which it was rumored that one could not leave without bloodshed. The name 'Red Tower' was due to the fact that the stairs of the tower were stained red by blood.
The inside of the tower was spotless, as it was used to lock up high status nobles, but no one wanted to go in there.
"Yes."
McKenna responded with a smile, to which Heinley added with a smile as well,
"One more thing."
"Tell me."
"Keep his mouth shut with stones."
***
After I waited about two hours in my room, Heinley rushed in and apologized.
"I'm sorry, My Queen. I was told late that you were expecting me."
"It's all right. I asked Sir Yunim to let you know after you finished your business."
"Still, Yunim is an inconsiderate knight."
"Heinley, I asked him."
When I spoke firmly, Heinley approached me like a tame fox and laid his head tenderly on my shoulder.
"If I had known earlier that My Queen was waiting for me, I would have put aside my business to come at once."
"That's why I did it."
Heinley gently bit my neck and then my ear. His warm breath brushing against my skin tickled, so my shoulders rose naturally.
"Stop."
"I'm just so happy to see you…"
"I'm happy too. But you're a bird, not a dog."
Heinley laughed softly, accepting my words. That's when he saw the pile of gifts behind me and asked in surprise,
"My Queen? Are they all for me?"
"I already gave you the gift you wanted."
"That was just to show off…"
Heinley seemed to remember that he deliberately wore the jewel that Sovieshu sent me in front of his secretary. Heinley quickly became depressed.
"Just kidding. This is the gift I really prepared for you."
But as soon as he heard my words, his shoulders rose again, he smiled broadly and asked, "All of them?"
"Just one."
Then, I gave him a kiss on the cheek and asked him to sit on the bed as he was about to get depressed again.
"There's something I have to tell you first, Heinley."
"Why don't we open gifts first?"
I wanted to talk about Whitemond, but… it's Heinley's birthday.
In the end, I put off the Whitemond issue. I then explained before asking him to unwrap a gift,
"These are gifts that I prepared based on the suggestions of people close to me. What each gift box contains is different, so choose one."
"Can't I keep them all?"
"That wouldn't be fun."
In fact, I would give him all the gifts. It may be tomorrow or the day after tomorrow, but today only one.
Heinley sighed regretfully at my words, but soon agreed, walked over to the pile of gifts and began to think seriously.
Then he chose the box that was located at the bottom.
"I'll take this one, My Queen."
When he finished speaking, he grabbed one end of the ribbon wrapped around the box. At that instant, I rushed to stop his hand, which was about to pull the ribbon.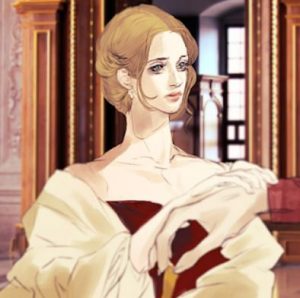 Comments for chapter "Chapter 351"
NOVEL DISCUSSION