Chapter 359. Love (2)
Translator: Aura / Editor: HB168
---
The hearts of some weak nobles were softened by Rashta's miserable screams, but most did not bat an eyelid.
The two knights released Rashta once her blood was drawn. Rashta staggered back, then cried and pushed the knights. But that didn't relieve her anger, so she clenched her fists and struck the knights who treated her harshly.
As she was still the Empress of the Eastern Empire, the knights received Rashta's blows without resistance, as Sovieshu gave no special orders.
But their faces turned darker with each blow, and some of the smart nobles clicked their tongues. They knew that if Rashta divorced or was removed from her position in the future, it would be these knights who would remain with her. It was foolish to make them her enemies.
"Hurry up."
Once Sovieshu spoke coldly, two other knights grabbed Alan and dragged him to the structure.
Rashta stopped hitting the knights.
The knights' attitude towards Alan was harsher than before, even hard to see.
As soon as they dragged him into the structure, they forcibly extended his hand and cut the center of his palm with a dagger without hesitation.
"AHH!"
As Alan screamed in pain, a lot of blood fell onto the plate.
'It doesn't take that much.'
The priest trembled as he dropped some of the princess's blood, previously extracted with the special tool, and mixed it with the clear liquid from the temple.
Just as before, it bubbled. But this time the blood completely cleared.
"The princess is this man's daughter. The Princess is this man's daughter, Your Majesty!"
At the priest's declaration, the murmurs suddenly became louder.
Sovieshu felt tears fall down his cheeks as he ran his hands over his eyes. Surprised to see the Emperor's tears, those present took pity on Sovieshu, who had been deceived by Alan and Rashta.
"No, it's really not true, Your Majesty! I even hate to see this man's face! How could the princess be the daughter of someone so loathsome?!"
Rashta screamed madly and knocked over everything on the structure.
"There is no way I would have a child with such a man, when I had Your Majesty by my side! Your Majesty, the princess is your daughter! Your only daughter!"
Rashta screamed in despair, but the nobles present considered her more pathetic.
"No matter how difficult the situation is, how dare she speak to the Emperor like that."
"It is disrespectful."
"Even if she wears fancy clothes and sits on the empress's throne, she will never be able to purify her blood."
Those present scorned Rashta due to the disrespectful manner in which she addressed the Emperor. Joanson laughed in the distance as he wrote an article. What will happen when it becomes known that Rashta's story was a sand castle built on a lie…? A vicious smile appeared on Joanson's face.
People liked heroes, but at the same time they secretly envied them. A hero with a high approval rating wouldn't have much trouble, but it was not easy to maintain.
Even Empress Navier, who had impeccable behavior, was criticized for her cold-as-iron and inhuman attitude.
Rashta's current approval rating was well below that level. With all the scandals she had been involved in, her approval rating was dropping day by day.
The commoners had high expectations for Rashta, and even revered her as the hope of the commoners. Despite her origin, they expected Rashta to be much better than Empress Navier and save their pride.
But since she failed to measure up and only bad rumors arose one after another, the high expectations turned into a bitter sense of betrayal that made the criticism louder.
If Rashta started to fall amidst all of this, those who secretly envied her would enjoy it because they could proudly display their dislike, while those who sincerely appreciated her would turn high expectations and affection into fierce hatred.
Joanson himself was the epitome of affection for Rashta turned to hatred, mostly due to his sister's disappearance. The more disappointed he was in Rashta, the more ashamed he became to have admired her. To hide this shame, he criticized her harshly in his articles.
"Your Majesty, Your Majesty, I really have no relation to the princess!"
Alan grabbed at Sovieshu's shirt, but the latter pushed him away mercilessly. The knights kicked him so that he would not dare approach the Emperor again. Alan groaned as he wrapped his arms around his battered body, but no one took pity on him.
Sovieshu detested him to the point that he wanted to rip his head off.
He was very angry because this foolish man not only humiliated him, but now he dared to call his own daughter 'the princess'.
The priest looked around as he gathered the instruments that had been thrown on the floor by Rashta.
Just then, a person appeared who had not been called, a person who had not exactly come to observe.
"Oh. Are the test results out yet?"
It was Duke Elgy.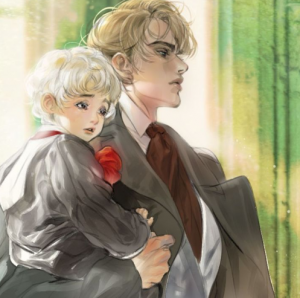 ***
"I was very surprised to see you suddenly appear."
The meeting ended after Princess Charlotte communicated the unexpected request to me, and I went out with Heinley for a walk in the garden.
Heinley laughed as he rubbed his chest. As if he was still surprised that I had suddenly appeared.
I wouldn't have done it if I had known that the princess didn't mean to become his concubine. So I pretended to ask, puzzled,
"Did that surprise you so much?"
"My Queen, you had a very angry face."
"That…"
"Besides, you looked away as soon as you saw me. You were trying to suppress your anger."
That was true.
There was a little misunderstanding. No, there was a serious misunderstanding. I thought Princess Charlotte wanted to become Heinley's concubine.
That's why I felt so ashamed that I couldn't even raise my head after I found out that it had been a misunderstanding.
I especially felt sorry for Princess Charlotte. I was glad I had done my best to smile in front of her.
If I had shown her a bit of my cold side, I'd probably be locked in my room right now not wanting to see anyone.
"It's just that…"
"Yes?"
"I was a little confused."
I answered weakly in a low voice.
Although it was due to Sir Yunim that I misunderstood the situation, I still felt an ache in my chest at the memory of what happened.
The mere thought that Heinley might have a concubine was painful and it broke my heart.
"My Queen…"
I had decided not to accept his love completely, not to love this man so deeply, so that I could walk away even if he hurt me.
Unbeknownst to me, this man had penetrated deep into my heart.
When I found out that he could turn into a bird, I should have realized that this man could easily break through my shield. At some point he managed to reach my heart.
Did he notice how I felt?
"My Queen."
Heinley called me quietly, took my hand between his, placed it on his chest and said,
"You can rest easy. I will never allow my brother Koshar to marry someone he doesn't want to. I will never pressure him to marry for political reasons, so you don't have to worry."
Ah. He didn't notice at all!
"You're not a perceptive person."
"What?"
While I spoke to Princess Charlotte, Heinley approached with a serious expression, almost stopping our conversation. Now that Heinley said these words to me, it seems he approached me in haste because he feared that I would be offended by Princess Charlotte's request to marry my brother.
"I'm not trying to brag, but I'm very perceptive, Queen."
"If someone told you that, you'd better doubt what that person tells you in the future."
"My Queen, even you told me once that I'm perceptive."
"… I'm the exception. Always."
"Of course, My Queen is the exception. Always."
"I am the exception because you love me."
"That's right."
"You are the exception for me."
"Really?"
"You are the exception because…"
I omitted the last words and turned my head. Although I looked in another direction, I could feel Heinley flinch because he still held my hand against his chest.
When I looked back at him, his purple eyes were wide open, full of confusion.
"My Queen, a moment ago…"
"A moment ago?"
"My Queen. What were you about to say a moment ago?"
"Don't you say you're very perceptive? If it's true, you should be able to figure it out yourself."
"I can guess, but I want to hear it from you."
"I'll ask my brother what he thinks about Princess Charlotte's request."
"No. Why do you suddenly change the subject, My Queen?"
"I love you."
"My Queen, don't make too much of it…"
Heinley froze, unable to even finish his words. He lifted his hand and shut his jaw.
Heinley looked at me with a strange expression, unable to laugh or cry.
***
Comments for chapter "Chapter 359"
NOVEL DISCUSSION